A book of adventures for
Call of Cthulhu
including
Down Darker Trails
and
Cthulhu Invictus
.
Dungeons & Dragons
and OSR RPGs get crab miniatures, a leprechaun class, and adventures including a freaky horror one about unicorn meat.
Transformers RPG
and Renaissance Italy get RPGs.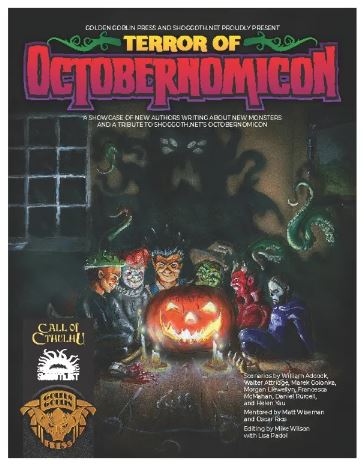 ​
Note:
RPG Print News
covers new RPG releases and some classics, reprints, and sales available from retailers. It does not cover products that are only available directly to customers through kickstarter or as print on demand.
Terror of Octobernomicon
by Golden Goblin Press
SYSTEM: Call of Cthulhu
PRODUCT TYPE: softcover adventures supplement
RETAIL PRICE: $39.95
DESCRIPTION: A collection of seven adventures each one featuring an original creature selected from the Octobernomicon collection on Shoggoth.net. There are four classic 1920s scenarios, one Down Darker Trails scenario (Old West), and one Cthulhu Invictus scenario (Ancient Roman Empire). Examples: in Suspended Pending Resolution the investigators are hired to assist in an insurance review of a shipwreck in on the coast of Great Britain and find more than they bargained for. A picturesque river cruise down the Nile river in Egypt turns into a fight for survival as plague spreads among the passengers and crew in The Hounds of Sekhmet.
Island of the Crab Archon - Epic Encounters
by Steamforged Games
SYSTEM: Dungeons & Dragons 5th Edition
PRODUCT TYPE: 21 unpainted miniatures and box set
RETAIL PRICE: $54.95
DESCRIPTION: Confront cruel cut-throat crustacean creatures. Crab folk. The Karkinos. Any sailor worth his salt has learned to fear them. They strike with the speed of the tides, slipping forth from the water for brutal slaughter, leaving behind a mound of severed heads and a rumor of death from the deeps. Includes an adventure book woven with information to set adventures adrift on the tides.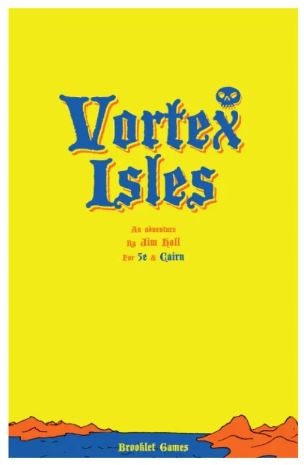 Arbon and the Rot Dragon
|
Vortex Isles
by Exalted Funeral
SYSTEM: Dungeons & Dragons 5th Edition and Cairn/OSR and D&D
PRODUCT TYPE: softcover supplements
RETAIL PRICE: $12 each
DESCRIPTION: In Arbon and the Rot Dragon, the Droadine society has tended the ancient towering tree known as Arbon and the surrounding woodlands for centuries. Now, druids have been disappearing in the forest, thousands of leaves have turned a deep red and are covered in brittle black spots, and tree trunks crumble to reveal a mysterious rot. Amidst the decay, humongous fungi have begun growing. A crack has formed in the base of the great tree and some believe the source of the rot can be found within. The Droadine are forbidden to enter but are ready to pay skilled adventurers to investigate the rot and save the forest. PCs in Vortex Isles have learned the location of a great treasure, the lost hoard of legendary Captain Lolligo, who violently pillaged countless towns before disappearing. The only problem: it is inside a giant whirlpool crawling with pirates from the nearby archipelago. The PCs need to find a crew, steal a ship, and descend into the deep unknown in search of riches.
The Leprechaun
by Necrotic Gnome
SYSTEM: Old-School Essentials (Basic D&D)
PRODUCT TYPE: softcover supplement
RETAIL PRICE: $6
DESCRIPTION: Includes a leprechaun class and Advanced race. Finally, the enigmatic leprechaun, a staple of folklore and fairy stories, is available for players to run. Will they choose the good leprechaun of Talisman the board game or Warwick Davis' horror version?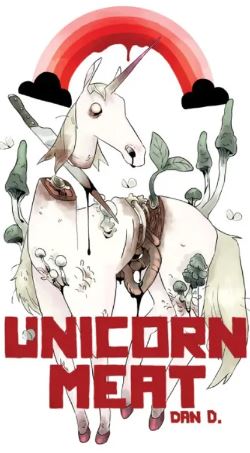 Lost Roads
| Unicorn Meat by Exalted Funeral
SYSTEM: unique/systemless fantasy
PRODUCT TYPE: softcover supplements
RETAIL PRICE: $15/$25
DESCRIPTION: Humans, once rich with magic, technology, and resources, exploited nature to collapse. Barren and twisted landscapes are the norm, with pockets of civilization connected by defunct, reclaimed pathways. Lost Roads is a journey role-playing game set in an alternate fantasy world. PCs are Tarnished characters, traveling the Lost Roads to find a home. They wield the magic of nature, bear the scars of survival, carry the fire of shared humanity, and risk betrayal from those they have no choice but to trust. Features a D6 die pool resolution system with varying degrees of success and failure, handles one shots and short campaigns, and has eight magical Domains for up to 40 unique combinations. Unicorn Meat is a southern gothic horror adventure. Deep in the monster-haunted backwoods, Sunny Smiles Unicorn Farm lies in ruin. The overseers vanished months ago. Gangs of feral children lurk in the shadows of a vast blood-stained factory. Knife season has come. Food is running out. PCs find themselves in the decaying ruins of the last unicorn farm in the world. PCs are Carvergirls attempting to escape or adults unravelling the horror at the center of the Rochefocauld Company's great sin. Includes the Carvergirl character class, new items and spells, spiritual combat and mutation mechanics, streamlined card-based wilderness exploration system, and the MEAT ECONOMY: - food is money. This is a horror adventure which includes fictional depictions of child abuse, intense violence, gore, body horror, disease/starvation, implied assault, alcohol and drug abuse, religious trauma, and slavery.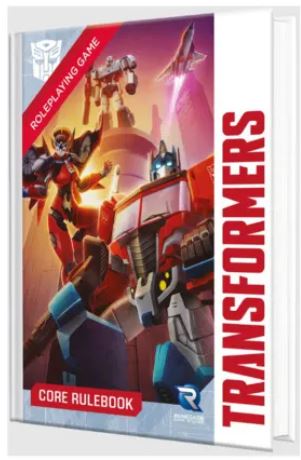 Transformers RPG
by Renegade Games Studios
SYSTEM: Essence20
PRODUCT TYPE: hardcover core rulebook
RETAIL PRICE: $55
DESCRIPTION: Players create their own Autobot character and wage a battle to destroy the evil forces of the Decepticons. They might defend Earth against Megatron's plans of attack, search for elusive stores of Energon, or protect innocent humans and Cybertronians alike. Contains character creation tools, weapons, equipment, vehicles, villain dossiers, combat and exploration information, details of secret bases and special equipment, and tools to get a campaign started. Also includes an introductory adventure for 1st-level characters.
Gran Meccanismo
by Osprey Games
SYSTEM: unique
PRODUCT TYPE: digest hardcover core rulebook
RETAIL PRICE: $35
DESCRIPTION: PCs explore fantastical inventions and play Machiavellian politics in Renaissance Italy. In the Year of Our Lord 1510, Niccolò Machiavelli, the military commissioner of the Republic of Florence, unleashes a technological revolution where primitive computers, decorated with delicately painted cupids, run on water clocks; spring-powered tanks whir across the battlefield, cannons thundering from their flanks; and gliders flit across perfectly blue Tuscan skies. PCs engage in swashbuckling adventure in a Renaissance Italy where Florence's winding alleys play host to spies, scholars, and sell-swords alike. PCs are nobles, mercenaries, inventors, and artisans who may find themselves crossing wits with Machiavelli, avoiding the dangerous charms of Lucretia Borgia, or hearing Christopher Columbus telling tales of the new world he has discovered.
​