Dungeons & Dragons 5th Edition
gets new adventures, a planar monster book, and supplements including a pirate setting.
Dungeon Crawl Classics RPG
gets an adventure and the OSR gets a new RPG offering. Finally, there are Yog-Sothoth dice.
Note:
RPG Print News
covers new RPG releases and some classics, reprints, and sales available from retailers. It does not cover products that are only available directly to customers through kickstarter or as print on demand.
Crypt of the Devil Lich (Sanjulian Cover Art Edition) (DCC)
|
Crypt of the Devil Lich (Sanjulian Cover Art Edition) (5E)
by Goodman Games
PRODUCT TYPE: hardcover Smythe-sewn supplement
RETAIL PRICE: $54.95 each
DESCRIPTION: An adventure designed for four to six 7th level DCC PCs or 15th level D&D PCs. It is a conversion of the DCC #13: The Crypt of the Devil Lich, originally published in 2004 as an homage to the classic meatgrinder-style trap-filled dungeons. Notes are included on modifying the adventure for campaign play. The PCs are sent into the Devil Lich's crypt to destroy her before she can return to power. However, they have actually been tricked into entering her crypt to free her from her prison. They must uncover the deception and defeat the evil Devil Lich before she can unleash her dark designs on the surface world. Includes dozens of player handouts, in the tradition of the classic modules Tomb of Horrors and Expedition to the Barrier Peaks., six fully developed pre-generated PCs, and an original team tournament scoring system.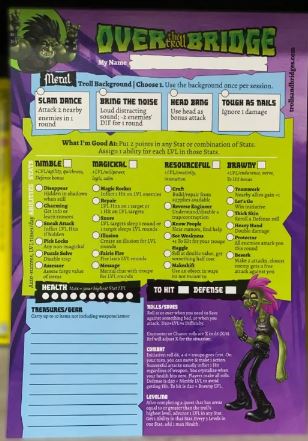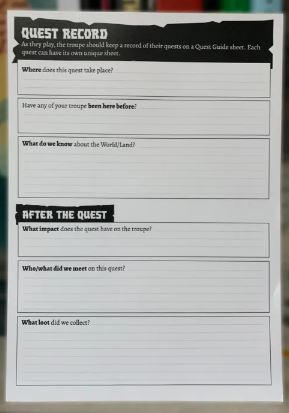 Over the Troll Bridge
|
Character Sheet Tear Pad
|
Quest Record Tear Pad
by Creature Curation
SYSTEM: OSR
PRODUCT TYPE: softcover core rulebook with tokens/tear pads
RETAIL PRICE: $55
DESCRIPTION: In Over the Troll Bridge, PCs are trolls in a group called a troupe. The troupe of trolls go on quests in unknown lands and works together to bring back as much loot as possible. The shifting metropolis known as Magick City is a place of wonder. Its bridges take trolls to countless exciting lands, and their influences make its districts and neighborhoods dynamic. Unique cultural inspirations cause them to constantly change, but they also physically move and shift as power is diverted to keep the city afloat. The Character Sheet Tear Pad has six copies of each of the four main Troll types printed in full color. The Quest Record Tear Pad has 25 pages tracking adventures. Both pads match the size of the core rulebook.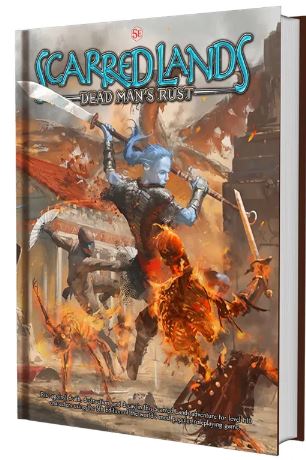 Scarred Lands - Dead Man's Rust
by Onyx Path Publishing
SYSTEM: Dungeons & Dragons 5th Edition
PRODUCT TYPE: hardcover supplement
RETAIL PRICE: $55
DESCRIPTION: A complete campaign taking PCs from level 1 to 10 including new races, subraces, subclasses, monsters, and magic items. The PCs are hired to escort an aging bard to the Broadreach Horizon. The perilous voyage takes the group through titanspawn infested lands to the Hornsaw Forest. There they meet the clans of the Broadreach elves and a century of allied hollow legionnaires. However, the necromancers of Glivid-Autel sew corruption and death throughout the Hornsaw Forest. The people of Broadreach call upon the adventurers to stand against these foul machinations. Includes detailed write-ups of four major locations in central Ghelspad: the Broadreach Horizon, The Gleaming Valley, the Hornsaw Forest, and the necromancer's stronghold of Glivid-Autel.

The Curse of Bloodstone Isle Bundle
by Lostlorn Games
SYSTEM: Dungeons & Dragons 5th Edition
PRODUCT TYPE: hardcover books, poster map, and GM screen
RETAIL PRICE: $99.95
DESCRIPTION: Within a raging tempest of teeth-rattling thunder and terrible winds, a small island is lost and hidden. Founded by pirates, it was once wealthy, enriched by the bloodruby mines. It is now a war-torn hellscape since the Three Captains turned on each other, ripping the island's society apart. The great city is in ruins, the port is a haven of foul blight and debauchery, sand dunes bury the great temples and palaces, and a volcano spews toxic fumes. Includes three books, Player's Gazetteer (lore, maps, and NPCs), Game Master's Cyclopedia (adventures and creatures), and Covenant (new rules like the fighter subclass The Iron Knights and new combat options), a poster map of the island in the shape of a sea turtle, and a GM screen.
The Eye of Chentoufi
|
The Heart of Chentoufi
by Trick or Treat Studios
SYSTEM: Dungeons & Dragons 5th Edition
PRODUCT TYPE: softcover adventures
RETAIL PRICE: $19.95 each
DESCRIPTION: An
The Eye of Chentoufi and The Heart of Chentoufi are adventures for PCs of level 6 through 8. These adventures are the first two of three planned adventuress in Luke Gygax's Okkorim setting. Four ancient relics controlled the four elements but when an empire crumbled the relics were lost across the land of Okkorim. These adventures revolve around these relics.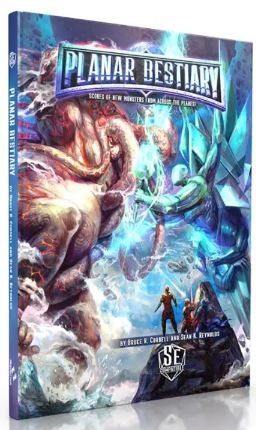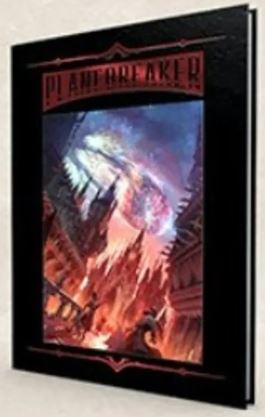 Planar Bestiary
|
Path of the Planebreaker (Limited Edition)
by Monte Cook Games
SYSTEM: Dungeons & Dragons 5th Edition
PRODUCT TYPE: hardcover supplements
RETAIL PRICE: $44.99/$99.99
DESCRIPTION: The Planar Bestiary includes 150 creatures from across the planes with encounters at every level with challenge ratings from 1/4 up to 29 (most creatures are 14 or lower). Monsters include the abolisher of sorrow (it erases memories so pleasantly its victims don't realize they're dying), the galvanic scar (that springs from a wizard's lightning bolt to inhabit living bodies), or a vicious dream sprite known as a morpheusian (seeped down from a hidden layer of the Astral Plane after acquiring a taste for the meat of the real). Pairs well with the Path of the Planebreaker sourcebook. Path of the Planebreaker features a cursed moon that hurtles through the multiverse crashing from one plane to the next, never at rest, forever fleeing a catastrophe that predates existence itself. Some of these planes, demiworlds, and dimensions are known to sages and planar travelers, but the number of previously uncatalogued planes is vast. The Path that trails behind the Planebreaker creates a route that links them all. Includes: the Planebreaker and its planar city of Timeborne, dozens of exotic planes to explore such as the Grove of Crows and the Tomb of Tomorrow, new creatures, NPCs, magic items, playable species like the changeable chimeran, feats, subclasses like the Shadow-Stitched rogue, and spells. Plus, two plane-hopping adventures.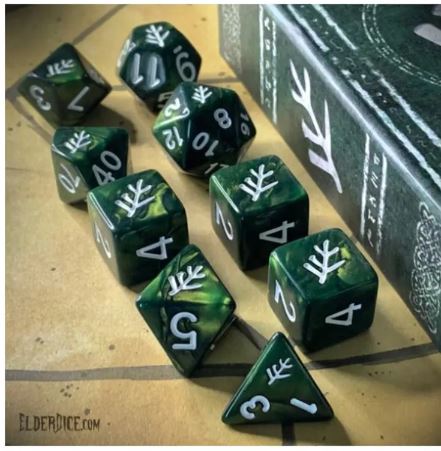 Dice Set – Yog-Sothoth, Green w/Aegis White (9)
by Infinite Black
PRODUCT TYPE: nine dice in a matching spellbook box with a magnetic clasp
RETAIL PRICE: $24.99 each
DESCRIPTION: Each set includes a 4-sided die, three 6-sided dice, an 8-sided die, a ten-sided die, a ten-sided percentile die, a twelve-sided die, and a twenty-sided die Its interior features "Yog-Sothoth Knows the Gate", a work of art by David LaRocca.