So much d20 fantasy this week including a new world and kingdom event cards for
D&D
, spell cards for
Pathfinder
,
and
Lankhmar
and adventures for
DCC/MCC RPG
. Also,
Stargate SG-1 RPG
is out and uses the OGL derived from
D&D
.
Deadlands
gets a cattle drive from hell adventure and
City of Mist
and
Zombicide Chronicles
get supplements. And there is a new world and a new city to explore via new RPGs. The secrets in
City of Mist
Shadows & Showdowns
are especially intriguing and I can't wait to dive into that supplement.
Note:
RPG Print News
covers new RPG releases and some classics, reprints, and sales available from online retailers. It does not cover products that are only available to customers through kickstarter, directly from a publisher website, or as print on demand.
Eldritch Century
by Draco Studios
SYSTEM: Dungeons & Dragons 5th Edition and Draco System
PRODUCT TYPE: two hardcovers in a slipcase
RETAIL PRICE: $89.99
DESCRIPTION: A pre-apocalyptic alternate-history world. Starting in 1918, Europe has been consumed by the Miasma, a thick fog that corrupts everything within. By the year 1984, the Wounded Earth has changed, with six powerful factions threatening each other and fighting the coldest of wars. Includes an Eldritch Bestiary.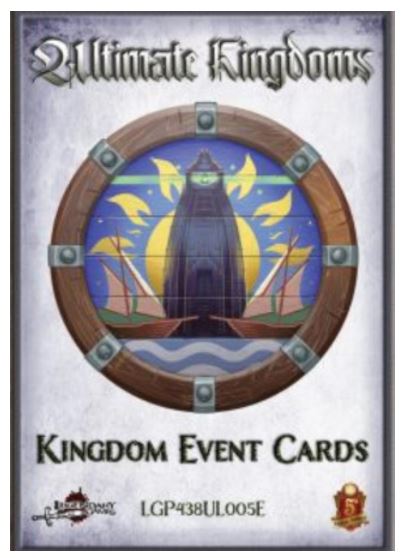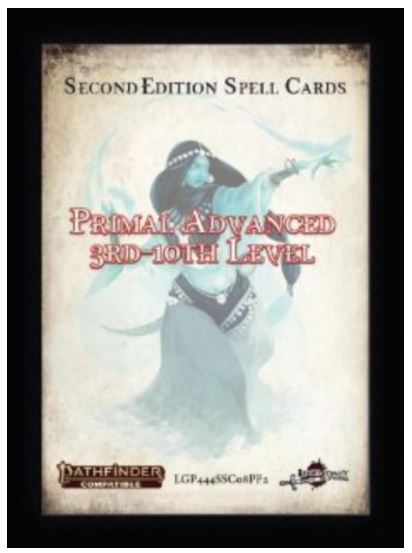 Ultimate Kingdoms - Kingdom Event Cards
|
Primal Advanced Spell Cards - 3rd-10th Level
by Legendary Games
PRODUCT TYPE: deck of 56/104 cards
RETAIL PRICE: $14.99/$21.99
DESCRIPTION: Kingdom Event Cards features dozens of beneficial and dangerous special kingdom events from carnivals and smugglers to an inquisition or assassination attempt. Works well when combined with Ultimate Kingdoms. The Primal Advanced Spell Cards include all primal spells from 3rd-level standby spells to the mightiest 10th-level enchantments with complete rules for every spell. Spells are placed one to a card, save a handful of highly complex spells spread over two to three cards. Check out the companion Basic sets for each spellcasting tradition.
Stargate SG-1 RPG
By Wyvern Gaming
SYSTEM: OGL derived from Dungeons & Dragons 5th Edition
PRODUCT TYPE: hardcover core rules
RETAIL PRICE: $59.99
DESCRIPTION: PCs are recruited by Stargate Command (SGC) to defend the galaxy against the Goa'uld System Lords. Stationed at the secret Phoenix Site, PCs adventure through the Stargate on journies to known and unknown worlds where the future of civilizations may be decided. Includes five races, six classes, and a several origins. Also has classless leveling after lever 5, Determination Points and Moxie for social turn order, and new Goa'uld, planets, allies, and life forms.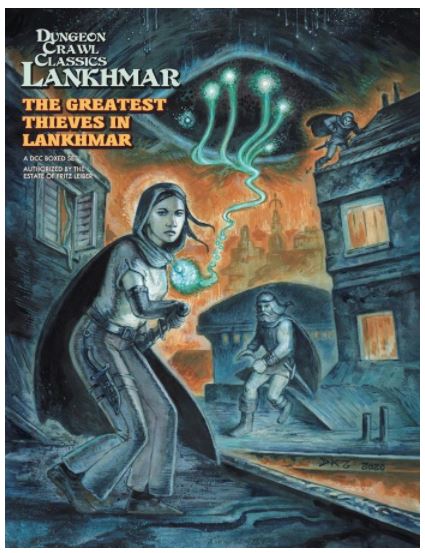 The Greatest Thieves in Lankhmar
By Goodman Games
SYSTEM: Dungeon Crawl Classics Lankhmar
PRODUCT TYPE: boxed set adventure
RETAIL PRICE: $59.99
DESCRIPTION: From the most famous city in the history of fantasy comes a sword-and-sorcery adventure to test the finest gamers! The Greatest Thieves in Lankhmar is a level 3 Dungeon Crawl Classics boxed set that sends characters into the hot cellars beneath Thieves House, across the sooty rooftops of the City of Sevenscore Thousand Smokes, and on to a mad dash through the palace of the Overlord. Featuring design leads Harley Stroh and Marc Bruner with cover art by Doug Kovacs, this boxed set comes with everything you need to run an epic adventure over several sessions, whether you run it as a tournament or as part of an ongoing campaign.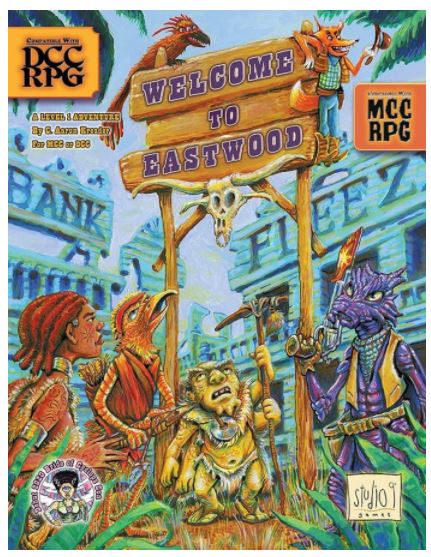 Welcome to Eastwood
by Studio 9 Games
PRODUCT TYPE: softcover module
RETAIL PRICE: $9.99
DESCRIPTION: PCs stumble upon a strange "village" that mysteriously appears overnight. Getting into Eastwood is simple, but surviving its madness and escaping proves to be a deadly challenge. The ultimate futuristic vacation theme park was equipped with a temporal field so after weeks in the park visitors returned home at the exact time they left. But neglect of its systems throws the entire park into distant pasts and futures.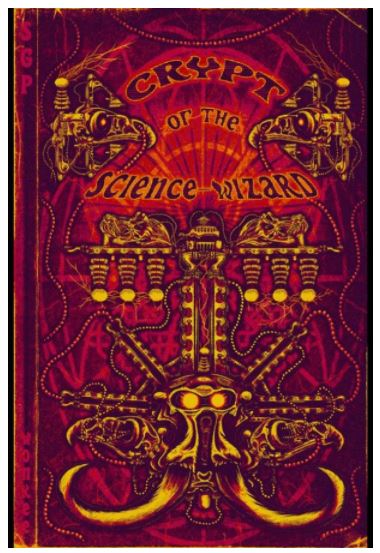 Crypt of the Science-Wizard
by Skeeter Green Productions
PRODUCT TYPE: adventure with alternative cover
RETAIL PRICE: $30
DESCRIPTION: For 1st-level PCs who find the lost crypt of Kersete. The PCs heard there were fabulous treasures to be had if one could only navigate the tricks and traps of his tomb. Of course, no one who ever sought his tomb has returned to tell the tale. But PCs tend to have a high level of grit, guile, and greed. This version appears to be the hardcover version based on cover and price but Noble Knight lists it as softcover.
Blood Drive
by Pinnacle
SYSTEM: Deadlands – The Weird West
PRODUCT TYPE: hardcover adventure with extras
RETAIL PRICE: $84.95
DESCRIPTION: An old-fashioned cattle drive from Hell. This twisted tale takes a PC posse of hard-riding drovers and their Texas Longhorns from the rolling hills of Texas through swollen streams in Colorado, the mountain passes of New Mexico, the haunted prairies of Wyoming, and more. The weirdness escalates along the way, slowly exposing the PCs to the true horrors of the Weird West.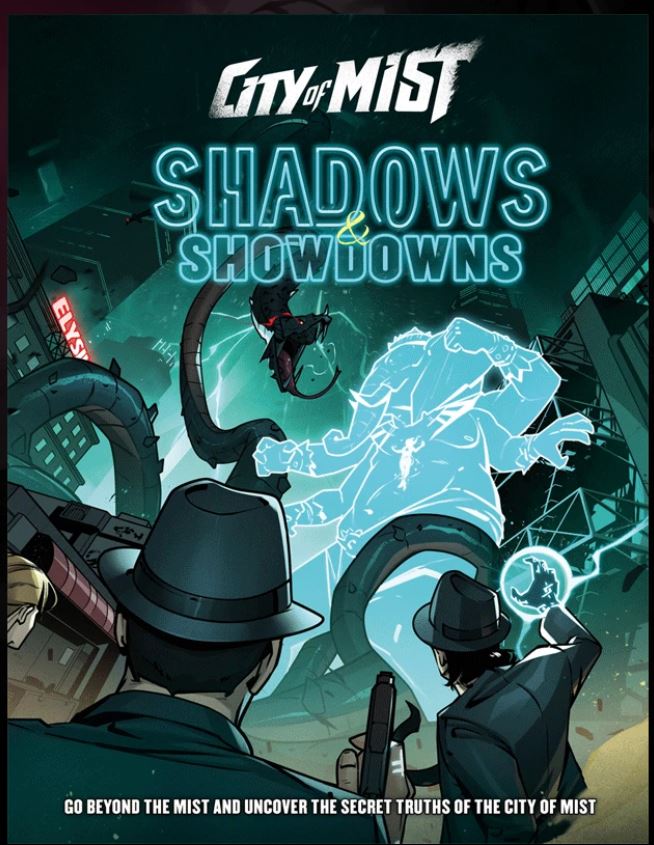 Shadows & Showdowns
by Son of Oak
SYSTEM: City of Mist
PRODUCT TYPE: hardcover supplement
RETAIL PRICE: $45
OTHER RELATED RPG NEWS: City of Mist Starter Box First Look, City of Mist review
DESCRIPTION: In the City, PCs are neo-noir Rifts, a mix of mundane citizen and legendary myth whose powers are cloaked by the Mist. This supplement unravels what lies behind the veil of the Mist, more about the City, the power of the Mist, and what lies beyond the Mist.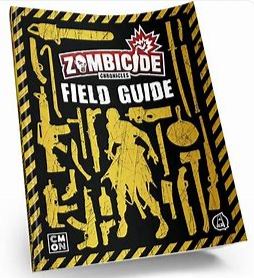 Zombicide Chronicles Field Guide
by CoolMiniOrNot (CMON)
SYSTEM: Zombicide Chronicles
PRODUCT TYPE: hardcover core rulebook/GM starter kit/softcover adventures
RETAIL PRICE: $24.95
DESCRIPTION: Adds new Survivor archetypes, new weapons, new gear, rumors, and new skills.
Wanderhome
by Possum Creek Games
SYSTEM: diceless, GMless, Belonging Outside Belonging Engine
PRODUCT TYPE: hardcover rulebook
RETAIL PRICE: $66
DESCRIPTION: A pastoral fantasy role-playing game. PCs are traveling animal-folk who explore the world of Haeth and the way the seasons change. PCs might be opossums in sundresses or salamanders with suspenders experiencing mossy shrines, starry night skies, and beautiful sunsets. Other PCs might be a tamarin who dances with small and forgotten gods, a leporine mail carrier who relies on moths to get packages where they belong, or a little lizard with a big heart and a mysterious past.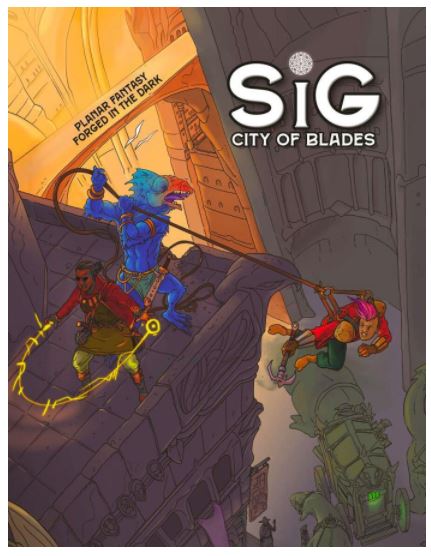 Sig - City of Blades
by Genesis of Legend
SYSTEM: Forged in the Dark
PRODUCT TYPE: hardcover rulebook
RETAIL PRICE: $50
DESCRIPTION: PCs play Freebooters in service to one of the factions of the mighty city of Sig. Sig is the nexus of the multiverse where eternal planes and infinite primes meet. It's a city driven by greed and profit inhabited by gods, demons, and stranger things. The throne lies empty and criminal factions battle for control. PCs are clever spies, renegade sorcerers, and reckless smugglers; the best of the best and the worst of the worst. The PCs faction depends on them to perform vital missions to seize territory and coin from their rivals. It's a place where opposites meet, trading knives and kisses in equal measure.