Notorious Liquefactionist
I've long been a defender (ahem) of martial classes in D&D. After all, there are numerous archetypes in fantasy, but one of the enduring one has always been that of the warrior. Whether it's Conan or Aragorn, Zatochi the Blind Swordsman or Drunken Master, Sir Gawain or Prince Colwyn, serious or chock full o' the cheese, the idea of the martial archetype is entwined in a great deal of fantasy. There is a reason that the first two classes in D&D were Fighting Man and Magic User, the yin and the yang of D&D.
And because of that, I have defended the role of the fighter in 5e. It has been my experience that many, many players enjoy martial characters in 5e; arguably, new players especially (in my observations) are attracted to martial archetypes. Not all of them, of course.
But watching new players over time, a distinct pattern tends to emerge. Eventually, most new players who are into ... leveraging rules (is that a good way of putting it) migrate to the spellcasting classes. In the most favorable light, it would be because they are provided more options. In a less favorable light, it would seem that some players who choose spellcasters do so because spellcasters put you on third base, and those players can claim they have hit a triple. It almost seems like every spellcaster is an Audi RS8, while the poor martials are Toyota 4Runners, and the spellcasting players think they are Lewis Hamilton because they are given a faster car.
That's the gnawing truth of what I have realized- and it's taken me a while. The thought crystalized in the
Lankhmar
thread I just put up. I expected people to disagree with the premise regardless of what I said in the OP- after all, this is the internet, & U KANT TEL ME WUT 2 DO! But the specific objection I saw repeatedly is what surprised me. Here's one example I will quote that is illustrative:
But seriously, the bottom line is, you have to replace magic in combat with something and it can't be 'really bad mundane combat'. Even if they're not casting spells, they should be able to legitimately contribute and have meaningful choice in combat.
(Bold in original)
Here's why this idea (which was repeated by numerous people) surprised me- first, that it focused on combat exclusively. Second, that it contemplates that all classes must be "balanced" (equally effective) in combat at all times. Third, that it implicitly rejects the idea that other pillars (exploration, social interaction) matter at all when it comes to balance.
And that's when I realized why I have been having recurrent issues with spellcasting in 5e. It's not just the ubiquity of spells, it's the lack of balance created by the evolution of the game toward this concept. A quick explanation-
In OD&D and 1e, the martial characters (Fighters and their subclasses, specifically) were fearsome for many reasons. In combat, they had the ability to use any weapons and any armor- which included numerous magic versions of the same. Their armor class was usually, by far, the lowest. Their hit points were, by far, the highest. Their ability "to hit" was the best. They could eventually get multiple attacks (which were a rarity). With 1e came additional advantages- the ability to use percentile strength and high constitution scores, for example. Magic Users, on the other hand, were incredibly weak (d4hp), struggled to get a good AC, did not have attack cantrips, and generally struggled in combat outside of their spells. There was a rough balance- Fighters being much more powerful early, MUs catching up later, Fighters being absolutely necessary for combat but MUs having numerous necessary spells.
In 5e, that balance is upended because of that prior thought. What should a fighter be, other than a character who is superior at fighting (it's almost a truism)? And yet, it would seem that spellcasters should have:
A. The ability to use cantrips every round that gives them roughly the equivalent of the martial character's attacks; and
B. The ability to use combat spells that aren't cantrips- from damage, to control, to buffs, to whatever, because that gives them variety in combat ... you know, meaningful choice; and
C. The ability to have numerous out-of-combat spells because spellcasting isn't just about combat, man, and that's what they have cantrips for anyway; and
D. The ability to use their numerous spells to affect the game in all of the pillars in a supernatural way, because ...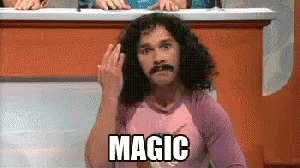 Which I totally understand. I, too, want my characters to be the awesome-est at everything! And yet, if spellcasters are required to be just as good as the martial characters at, um, martial stuff (combat), and spellcasters also get all the other goodies that spellcasters will get outside of combat, and if martials don't have that ... then, that kind of sucks for the martial, doesn't it?
And you're left with either giving martial spells (spell inflation), or not.
And maybe I'm missing something on this, but the specific thoughts (that spellcasters had to be just as good as martials at combat) surprised me somewhat. Is it because everyone is playing 5e as a tactical combat game (I didn't think so)?
So I'm putting up a poll, with a plethora of choices. Choose from one, and use this thread to explain your principles in the comments.