Something a little different for me... I haven't done a pilot and craft shot in about 4 years... I think I did a cut-down millenium falcon awhile back. The patron supplied Macross reference and a bit of modern pilot shots... I combined the two modes of reference into this shot. Hope y'all like.
I also played around with ink line, by inking the pilot, but leaving the ship a bit softer (color right onto the pencils themselves)... letting be a little softer and hopefully, push back into space a bit. As one of the things I liked from the Macross reference was pilot and plane were close in color... and to separate the two, I let the ink line diffrentiate the two similar color schemes.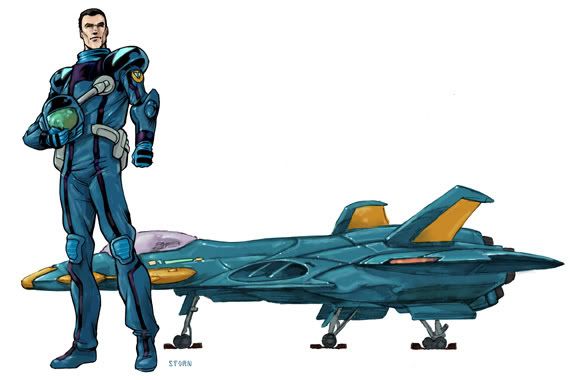 These works are licensed under a Creative Commons Attribution-NonCommercial-ShareAlike 2.5 License.
http://creativecommons.org/licenses/by-nc-sa/2.5