There are several other things to consider with attacks:

It is much easier to gain advantage on an attack roll than impose disadvantage on a saving throw.
There's no such thing as Legendary AC you have to burn through to score a hit.
Magic weapons are far more common than spell-boosting items.
There's no such thing as critical save damage
Multiple attacks benefit more from bonuses (whether magic items or spells like Enlarge)
Once you have a magic weapon, you never really need to worry about damage resistance again

So, on paper, it might not initially look like martials are that big a deal, but at the table (at least, didn't at a first reading of the 5e rules when I first got them), they really do dump out a lot of damage.
All good points & I'm glad that the thread didn't die after you posted that
(very bad)
chart back in
75
like it looked. You can't model damage over time with different hit rates using one line. The chart would need one line for each % chance to hit unless you are modeling something misleading or hard to visualize like damage over a specific number of rounds. I think it was probably a well meaning mistake rather than an attempt at obfuscation through "lies damn lies and statistics" though so moving on
The data below assumes +5 to relevant stat for both caster & martial. The
specific
damage type is irrelevant as it's easier to just model one with resistance & one without just as +1 +2 +1d6 weapons are easier to give their own lines. I'm going to give the martial the best odds to prove 5e still plunges into LFQW rather than inverting it though & say that the caster is using a d12 cantrip like toll the dead & the martial a d10 weapon like a longsword rather than modeling every possible choice.
I'm not going to make a pretty graph but I'll save others time & attach the sheet below
at 100% hit rate, right away you can see that the numbers aren't even close to supporting LFQW & at least with 100% hit rate/0% save chance it's
massively
inverted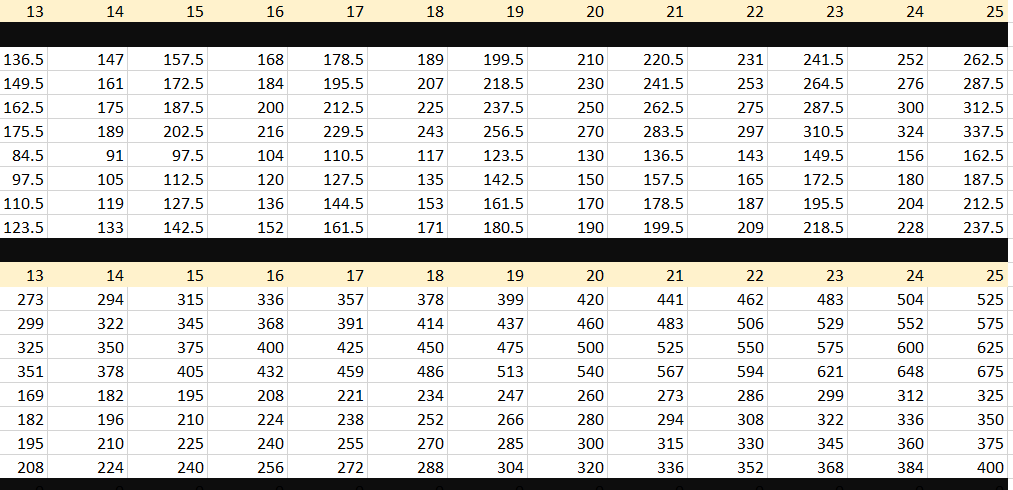 ..
Those numbers are
massively
skewed to an eye popping degree because every
attack
the longsword deals +5 from the relevant attrib
and
an
extra
+1 +2 or +3 while the cantrip never adds +5 from the relevant attrib and
never
adds the +1 +2 or +3 more than once per round
This next set is the same numbers with a 75% hit chance & 25% save chance. Since this is played out over rounds I don't need to model it by fiddling with average damage & can just show an accumulation of the numbers that actually deal damage. every third attack will miss & every fourth cantrip will save for none. Frankly the numbers at 100% are so bad that I questioned if there was even a point but decided to do it anyways for the sake of people who are struggling with the math (which is fine if someone is having trouble keeping up).


The first round of longsword data assumes there was a miss then every fourth attack or cast is a miss or save. That first round inverted for the cantrip with the first round assuming no save just because it was easier to model that way. Since this is showing damage over time in rounds it doesn't really matter.
The numbers are so stark that I'm not going to model what happens with only one attack with 75% hitrate & will jump straight to


at 50% the numbers are still horriffic & show just how much leveled spells need to bring to the table. If leveled spells were available in dramatically higher amounts that would be easy, but the numbers are so grossly out of wack that they need to be things like "every fireball hits the max number of targets and they mostly fail their saves" to bridge the gap because you can't cast a cantrip+a spell like you can attack+sneakattack or attack+action surge & already leveled spells barely just kinda break even rather than pull ahead
I tried to stack the deck in favor of showing LFQW was still a thing as much as possible & my reasoning was because for whatever reason Wotc chose to have both higher damage and more attacks on the weapon side of weapon to cantrip damage so the damage won't ever invert even if you get to very low hit rates. Paradoxically Wotc took that inverted LFQW one step further with the bewildering damage resistance magic resistance ac's almost guaranteed to hit excessive concentration use often unused by design spells & legendary resistance situation. If DR were still a thing on more than a handful of almost never used plant creatures or vulnerability to energy types were quite common there could conceivably be situations where the cantrip user would pull ahead but that's not the case either
edit:I originally flubbed the sheet by including strength looking at it & saying "oh I left out strength" to add it again
Last edited: