The 2nd edition of AD&D sold well when it was released. Combined, the Dungeon Master's Guide and Player's Handbook sold over 400,000 copies in their first year. That's a lot of books. Not the most ever sold by TSR, but a lot. To give some historical comparison, the 1981 D&D Basic Rules Set sold over 650,000 copies in its first year. To compare to previous editions of AD&D, the 1st edition DMG and PHB together sold over 146,000 copies in 1979. Putting those numbers together makes AD&D 2nd edition look like a solid hit. But it hides a deeper problem.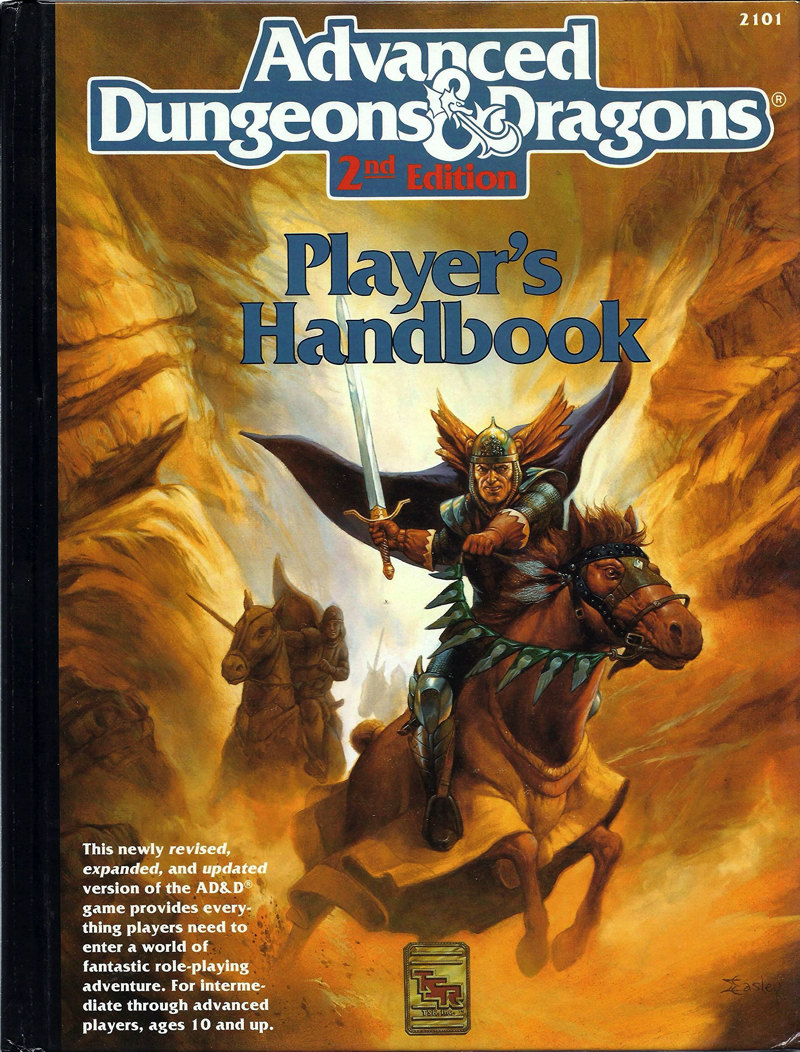 ---
Benjamin Riggs
shares some D&D history
! This was posted on Facebook and shared with permission.
---
AD&D 2nd edition didn't have the legs that AD&D 1st edition did. Combined sales of the 1st edition DMG and PHB actually went up at first, selling over 390,000 in 1980, over 577,000 in 1981, over 452,000 in 1982, and 533,000 in 1983 before finally sliding to just over 234,000 in 1984, at the time when TSR began its first crisis. Meanwhile, the 2nd edition DMG and PHB would never sell more than 200,000 copies in a single year after 1989. In short, 2nd edition wasn't selling like its predecessor.
But if AD&D 2nd edition looks small in comparison to1st edition, both shrink before the altar of Dungeons & Dragons. Including 1st, 2nd edition, revised 2nd edition, and introductory sets, AD&D sold a total of 4,624,111 corebooks between 1979 and 1998. Meanwhile, D&D sold 5,454,859 units in that same period, the vast bulk of those purchases coming between 1979 and 1983.
TSR could no longer put up the sales numbers it once did. Even D&D, which sold better than AD&D in either iteration, didn't sell in the 90's like it did in the 80's. What had changed? Something changed, but what was it? Was it that Gary Gygax was gone? Had something gone wrong with 2nd edition? Was a rule changed that shouldn't have been? Was it too complex? Not complex enough? Had RPGs been a fad that faded? Should the AD&D lines be canceled entirely to focus on the historically better-selling D&D?
These numbers should have been an occasion for self-reflection and correction all over TSR.
But they weren't.
These numbers were left in the offices of upper management. Zeb Cook himself said he never saw any concrete sales numbers for 2nd edition. The decision by management under Lorraine Williams to keep sales numbers like those above restricted to the top of the company must be seen as a mistake. The inability of the game designers to know how their product was selling cut them off from economic feedback on their product. I see those numbers, and what I read is that TSR's audience bought the 2nd edition books, read them, and just weren't crazy about them. (Although I myself am quite partial to the rules, as they are what I grew up playing.) But Zeb Cook didn't know that, so how could he make changes to improve his craft in the future?
Benjamin went on to note his source: "I have a source who sent me a few pages of sales data from TSR. It's primary source material. I don't have everything, but I do have the data contained in the post above." He is currently writing a book on the sale of TSR to Wizards of the Coast.