Weekly post: 5 xp
HPD: Not so much authority as hired goons
| | |
| --- | --- |
| OOC: | The Runners have character knowledge that the Houston police will not interfere with your investigation. You are free to pursue the shadowy figure unhindered. You could have the target of your contract on their knees in front of them and blow their head off and HPD wouldn't do a thing except process your contract as completed. Therefore, it strikes you as strange that Towers would come by to speak with you, and her warning is ridiculous. Of course it's illegal to kill someone you don't have a contract for. |
You scrutinize Captain Towers, her partner still in the car, and the squad cars. Nothing seems fake. Not only do they have the right equipment, but it shows the right kind of wear and tear from regular use. None of you have seen Captain Towers before, but there are thousands of HPD captains scattered over the city.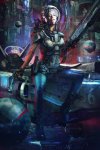 How are we to contact you?
Captain Towers replies,
"Let me know personally in the VR if you got the proof of guilt and death."
She shakes her finger at you in a playful manner, but you feel the weight of the threat behind it.
"Don't you try to go to anyone else once you're through. I have a personal stake in this case, but the Billingtons wanted Freelancers to handle their justice."
Deciding you've heard enough, the three of you turn your attention to the dark figure in the skyscraper across the street.
You see the figure turn to go and you pursue.
State intentions and give rolls for actions that you think would need rolls. If you wish to use previous rolls that you have not been used yet from your latest post, you may repeat them.
Last edited: