Here is the March 27th, 2020 Friday Freebie map. It is the upper most level of a fortress built in the side of a cliff. Click to enlarge.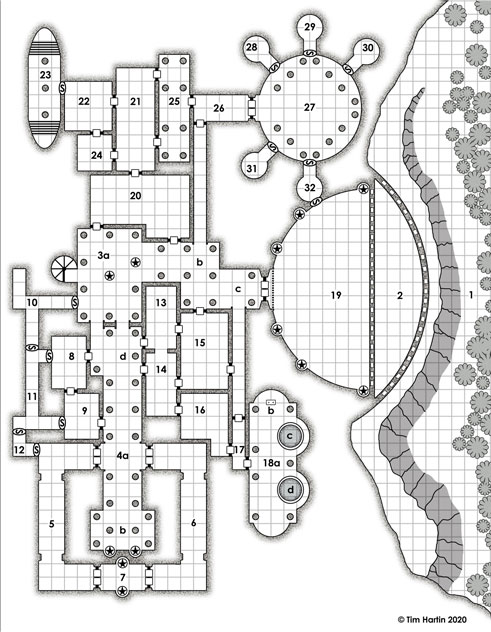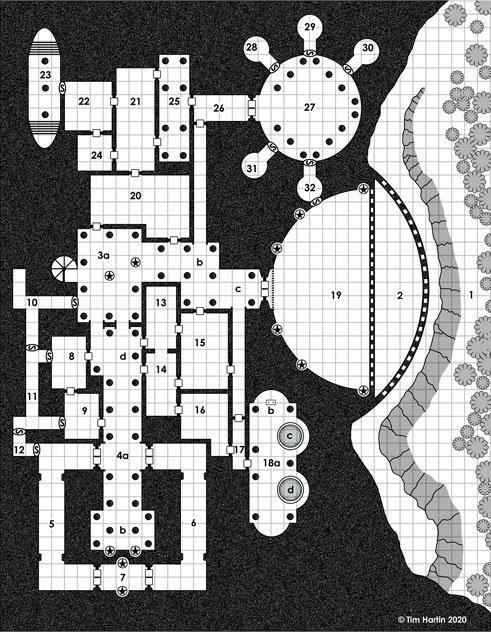 Map Details:
Area 1. Natural landscape; see the March 13th, 2020 Friday Freebie/Enhanced Map for details.
Area 2. Lower balcony; see the March 20th, 2020 Friday Freebie/Enhanced Map.
Areas 3 a), 4 b), 7, and 19 have statues.
Areas 3 a) - d), 4, 18 a), 23, 25, and 27 have pillars.
Area 18 b) is an altar.
Areas 18 c) and d) are pools/fountains.
Area 19 is the upper balcony with parapets. There is a portcullis blocking access to the double doors.
Area 23 is in the shape of a sailing ship. This is a ship of the mind, a psionic ship that allows physical access (all those sailing in the ship) to the astral plane.
I have an Enhanced version of this week's Friday Freebie for sale here:
Friday Enhanced Map: 03-27-2020 - Paratime Design | Dungeon Maps | DriveThruRPG.com
The March 27th, 2020 Friday Enhanced Map product contains a multi-layered PDF (allowing the options of white or black backgrounds, numbered or non-numbered areas, secret doors on or off, and grid or no grid, and all permutations) and a zip file with all relevant (16) map files as individual jpg images. All for a $2 (US)!
Cheers,
Tim