This month's
Unearthed Arcana
, by James Wyatt, introduces four new
Ravnica
player races!
"A group of races from the world of Ravnica have arrived in Unearthed Arcana: loxodons, Simic hybrids, vedalken, and viashino. While native to Ravnica, these folk could potentially be used in any D&D world. They are destined for the upcoming book Guildmasters' Guide to Ravnica, out this November. Now is your chance to help shape their final forms!"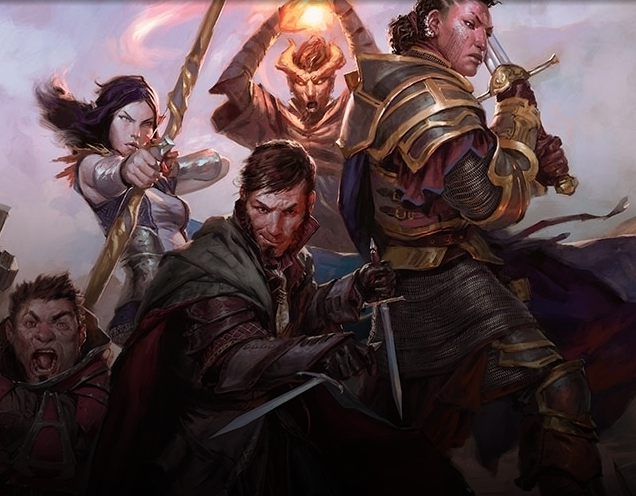 The
5 page PDF
details the following races:
Humanoid elephants, loxodons are often oases of calm in the busy streets of Ravnica. They hum or chant in their sonorous tones and move slowly or sit in perfect stillness. Provoked to action, loxodons are holy terrors—bellowing with rage, trumpeting and flapping their ears. Their still wisdom and their furious strength—as well as their fierce loyalty and unwavering conviction— are tremendous assets to their guilds.
The Simic Combine uses magic to fuse different life forms together. In recent years, they have extended this research to humanoid subjects, magically transferring the traits of various animals into humans, elves, and vedalken. The goal of the so-called Guardian Project is to build a Simic army of superior soldiers, perfectly adapted to a variety of combat situations. These hyper-evolved specimens are called Simic hybrids, though they sometimes call themselves guardians.
Nothing is perfect—vedalken believe this and rejoice in it. Every imperfection is a chance for improvement, whether it's in law or in science, and progress is an endless march toward a state of perfection that might never be reached. This leads vedalken to pursue their work with delighted enthusiasm, never deterred by setbacks and excited by every opportunity for improvement.
Many reptiles derive their body warmth and energy from the sun, but the humanoid viashino are fueled by an inner fire of zeal. Open with their emotions, viashino can be hot-tempered, but they are also quick to their hissing laughter. And they easily form close bonds of friendship. They are fierce warriors and passionate advocates for their guilds and causes.