I wanted to post some of my dungeons I've begun printing: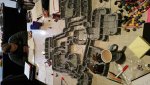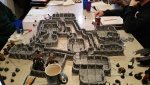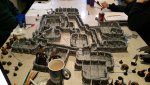 This is the first one I had created. I have done two others, One i'm not sure where the pictures are, but, I've got one in play right now I'll take pics of as well. These are all based on Fat Dragons Games Dragon Lock 3d print models. Using a $400 3d printer and on the table is around 50 - $65 worth of printed plastic.
There's traps, doors, angled doors, timberframe modular houses, and keep tiles that I've Printed so far... So far, my players seem to really enjoy it and are willing to contribute some cash to the purchase of plastic for the dungeons.
If I stay on top of it I can do about 8-12 pieces in a 24 hour period of decent quality and strength.