Oh let fate decide the other night. Parked near town and cold crappy night. Went to the Indo Nepal place but it was packed out and it's a hole in wall place. Other options were burger/pizza place, Turkish or Khmer but went to a Chinese/Khmer place that we used to go to on D&D night.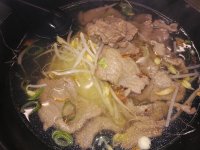 Wife wanted hot rice type meal it was cold and wet and had a satay beef. I ordered a beef noodle soup which was a bit bland but I guess that's what the various condiments were for. Bit of Sriracha and chilli flakes later and it was pretty good. Not a massive soup fan but it was cold and crappy.
Place was more or less empty as well so social distancing. Favorite place for cheap Chinese that's not a fish and chip shop.