I love candy corn and I have never made a candy corn pizza. One day....
Oh no. Ralif ... do you know what you've summoned?

You've crossed the streams ....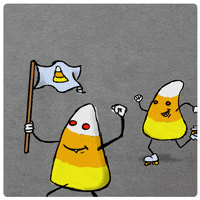 Candy Corn in a peanut butter sandwich is a delight.
Candy corn + salted peanuts + chocolate chips is a great combo introduced by someone back when I still worked in the office instead of from home.

I eat healthier at home, though.
Definitely. For all magic's ability at higher levels to reshape the universe, sometimes it's those lower level spells that would be the ones truly reshaping society.
umm... thread tax:
The Plant Growth line of spells is HUGE in an agricultural society. Farming communities should prefer having a druid over having a priest. I could see a druid riding a circuit (like an old-style preacher or judge in 1700s America) where he visits each town once every few weeks to heal, help crops grow, etc.