I'm just starting running a 5e Play-by-Post
Against the Giants: Steading of the Hill Giant Chief
here on ENWorld.
If you are one of my players, stay out of this thread until we're done playing, please!
Because I want to talk to the community about the differenced between the Tales From the Yawning Portal version, and the Chris Perkins - written 4e version from Dungeon Magazine.
Playing 5e, I had assumed that I would use the TFtYP version. I only looked at the Dungeon one (I had run it years ago, when it first came out, back in 4e) because I like the sweet, sweet Mike Schley version of the map better than the one included in YP, and you gotta use maps in PBP (well, you don't
gotta
but it saves a lot of back-and-forth).
So I started populating the map from Dungeon, with the monsters from YP. Trouble was, they didn't fit very well. Giants, in 4e were only Large size, and in 5e, they are Huge. So I compared the maps. There are differences, but they're basically the same size. In fact, there's more "room" on the Dungeon one for giants to get around. Let me show you some examples, so you can see how egregious this is:
Looks like a "fun" fight, right?
Here's what it would look like in 4e: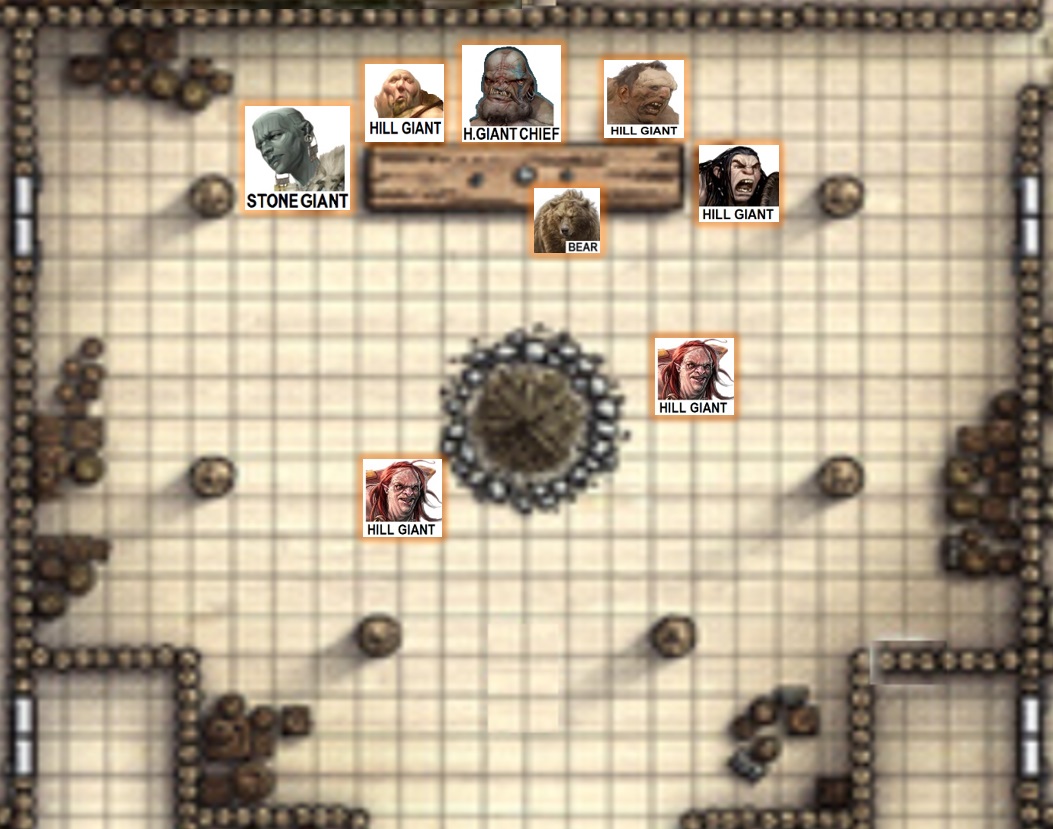 Now, back in 4e, those Hill Giants would not have all been the same, having different abilities to challenge the players.
I have more examples to discuss, but I think I'll stop here to let you chime in. PLEASE, I am not looking for an edition war. I am looking for a discussion of the relative merits of the adventures as they are presented in these two products (AND I'd be happy to hear from someone familiar with the Original!)
Your thoughts?
Last edited: