Curse of Strahd
by ??​
The Festival of Fools rages on behind you as you enter the tent of Madam Eva, a fortune teller by the sign out front. Getting your fortune read was not on your agenda, but perhaps a bit of insight into your future wouldn't hurt.
A strong incense fills the dark tent with a thin smoke and a spiky musk. In the center of the room sits a small round table with an ornate oil lamp atop it. Behind the table sitting on some red tasseled cushions is a middle aged gypsy in full regalia. Her hair is covered in a jeweled piece of cloth and her clothing is bright and seems to wrap around her lithe form.
"Please come. Come. I have been expecting you."
She says as her hands beacon you in and to a cushion of your own.
"You wish to see something of your future? You wish to know what destiny wishes of you? Yes, yes. I will show you. I will read the cards after you have cut them so."
She demonstrates by cutting the cards into what looks like a cross in the center of the table. Three stacks across and one stack at the top and at the bottom. She then re-stacks the deck and starts to shuffle, mumbling arcane words as she does. After a long minute she puts the deck in the center of the table and tells you.
"Now cut."
The stacks are uneven, but Madam Eva doesn't seem to care. She waves her hands above the cards and again recites some ancient anarchic ritual.
"The first card tells of history. Knowledge of his past will help you to better understand your enemy."


[sblock=Abjurer]
I see a fallen house guarded by a great stone dragon. Look to the highest peak for the knowledge you seek.
[/sblock]
"The next card tells of a powerful force for good and protection, a holy symbol of great hope, that you will need."


[sblock=Anarchist]
I see walls of bones, a chandelier of bones, and a table of bones - all that remains of enemies fought long ago and now forgotten.
[/sblock]
"The card of power and strength. It speaks of the weapon of vengeance: a sword of sunlight."


[sblock=Beggar]
A wounded elf has what you seek. He will part with this weapon to see his dark dreams fulfilled.
[/sblock]
"This card will shed light on someone who will help you greatly in the battle against the ancient darkness."


[sblock=Beast]
A werewolf holds a secret hatred for your enemy. Use her hatred to your own advantage.
[/sblock]
"Your enemy is a creature of darkness, whose powers are beyond mortality. This card will lead you to him!"


[sblock=Darklord]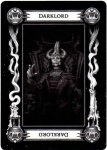 ​
He lurks in the depths of darkness, in the one place to which he must return.
[/sblock]
"It can not be! Are you the ones? Leave! Go! GO! I say,"
she screams as she stands and ushers you to the front of the tent.
"The Darklord has been drawn. He calls you to him, he waits for you to destroy him!"
Looking back and trying to ask questions as you are hurried along is no good. The gypsy seems scared and lost in what she has seen in the cards. She thrusts you outside into... the Mist.
The Festival of Fools is gone, the world is gone. All there is, is a thick fog and the ground beneath your feet. Turning around even the tent of Madam Eva is gone. The sun is muted as the Mist covers everything and everywhere. You start to move but are not sure in what direction you should go. Then a small breeze starts up and the fog starts to thin. Soon you can see more than a foot in front of you. There is the road your standing on before you, the Mist behind you, and three others along the road whose faces you know mirror your own.
| | |
| --- | --- |
| OOC: | And that is how you get a bunch of unrelated PCs together. Happy Halloween and happy RPing. |