So here is the group...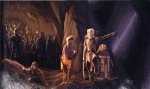 These characters are found throughout the artwork in the adventure and I found myself wondering what class they were (race was easy), where they came from and could they make their way out of the Underdark. I also Remembered a time when I tried to play a game with my group where I controlled the character builds of the PCs and my players were to put character into those stats and features.
So I wish to try that here. I will be controlling the build of the following characters, but I wish for each player to be the soul of those stats, features, and spells. Your actions during the game and your RP will also drive what may or may not end up becoming an ability of the character.
Examples: If your character is always hiding and then sniping at opponents, you may just get the Sniper Feat. Or your always getting stuck in melee you may learn to become more mobile or find a better weapon for fighting in melee. This is D&D skys the limit (and then beyond if you know how to Spelljam).
Please post any questions in the OOC:
EB's Out of My Abysmal Mind
And the IC:
Escape the Underdark, Fear the Madness and get Out of the Abyss
Last edited: