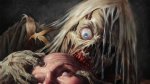 ​
Gwylla tries to get to the end of the tunnel in time to help, but the muck pulls at her skirts slowing her down. Emmyr emerges from the tunnel ready to fight as he watches poor Templeton scratch his flint and steel to get a torch lit enough for him to fight in the almost complete blackness. The dwarf lets both hiss handaxe fly, but had to angle one up to avoid the paladin and it flies wide of its mark, the other clipping the side of the creature's head. Meanwhile a dagger from the rogue takes and bounces off the moving shield of the paladin, deflecting back to towards the rogue to land near his feet.
Rana grumbles as she continues forward, and Bekah is almost in tears as she crawls through the mud.
Zanword keeps his shield between him and the ghouls as he reaches a hand towards Aridha. He feels the cool sensation of magic pass through him as Beory helps heal his friend. With its back towards the druid the ghoul tries again and again to claw the paladin into submission, not ready for the huge dire wolf to come up from the floor and nearly tackling the undead minion. The ghost white wolf is large and blue-eyed, with what looks like a large spot of blood on its forehead. Its jaws latch onto the things leg and worry it nearly apart.
Hexiros had edged his way as far from the tunnel as he could to let the others get out, but he felt he still need to get some space between himself and these foul creatures. He thrusts and swipes at the last ghoul fighting as he circles it slowly.
[sblock=Combat]
Emmyr
AC:16 HP:30/33, 3/3 HD,
aid
Zanword
AC:17 HP:24/24, 1/3 HD,
00/15 Blessing of Beory
Hexiros
AC:16 HP:22/28, 3/3 HD, atk #4 [roll0], dmg [roll1]
Bekah
AC:14 HP:16/16, 2/3 HD,
prone, 2/3 inspiration(d6)
Gwylla
AC:15 HP:19/19, 3/3 HD,
prone, mage armor, arcane ward
9/9
Ardiha
as dire wolf
AC:14 HP: [roll2] (10/25), 1/3 HD,
1/2 wild shape
Templeton
AC:14 HP:23/23, 1/3 HD
Rana
AC:10 HP:07/07, 3/3 HD,
prone
Ghouls
AC:12
1: 03/12 HP, hiding
2: 01/17 HP, hiding
3: 00/28 HP
, dead
4: 14/26 HP, atk-Hexiros [roll3], [roll4]
[/sblock]
[sblock=Map]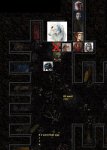 [/sblock]