The sun had been up for only an hour or so when the All-wake entered the Bay of Chult heading for Port Nyanzaru. Syndra Silvane's assistant Joffrey Hillstand brought all of the traveling party in common room and requested that everyone remain quiet. He cleared his throat and then began to talk quietly,
"We are almost to Port Nyanzaru, but before we make landfall we have to pay the toll the Lord of the Bay of Chult demands. Now usually payment of a tribute isn't that exciting of a thing, but I believe you may want to see Lord Aremag."
The ship begins to rock and anyone that looks through the portholes can see the sea ahead roil and churn, and waves crash over the bow of the ship, driven by saw-toothed hills rising from the heaving foam. Water streams off the rising crags like rivers crashing down a mountainside. At last the emerging island stops growing in size, although the sea around still tosses the ship like a drifting feather. Then a huge blast of steam erupts from the waves, and through the drifting, rainbow-crossed mist, you see an immense beak and a milky eye the size of a hogshead cask staring blindly in your direction. As the water calms, you also spot a dozen or more shark fins circling the ship.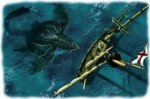 A deep voice rocks the ship,
"Tribute!"
Joffrey talks softly to the group,
"The captain will now try to negotiate an amount that will get us to Port Nyanzaru, this is usually a formality but it's best to be ready."
After another moment the sound of a chest being lowered into the water can be head and then the ship is again on its way.
Joffrey lets out a deep breath,
"Welcome to Chult everyone, if we are lucky that will be the most out of the ordinary thing we see today. Now once we make landfall Syndra and I will be staying with the Merchant Prince Wakanga, I suggest you spend the day finding lodging, the Thundering Lizard is good if you want to enjoy yourself and Kaya's House of Repose is good if you want to sleep, and perhaps look around for a guide and gather supplies. We will meet midday tomorrow at the races to discuss your progress. Any questions?"


OOC Thread:
http://www.enworld.org/forum/showth...b-of-Annihilation-(ooc)&p=7285722#post7285722
RG:
http://www.enworld.org/forum/showthread.php?607891-Tomb-of-Annihilation-RG&p=7310909#post7310909
Last edited: