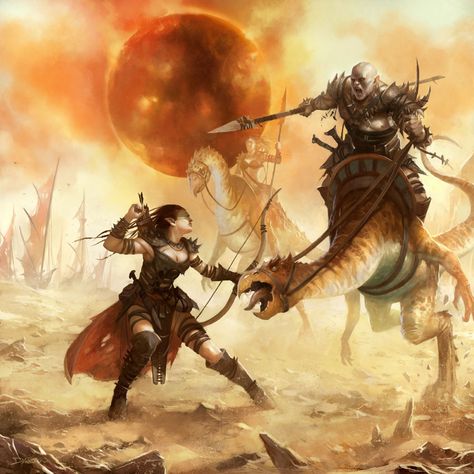 Prologue
The walls and floor sway and creak as the rolling fortress travels east in a cloud of dust. The lower hold area where you sit has 4 dozen slaves and half as many guards. The upper floors contain the caravan merchants, a few driver and additional supplies and goods. A pair of 16-ton Mellikots pull the great wagon, one of three in the caravan. Warriors on scaley 2-legged Cardocs surround the caravan. You were all told that the
Merchant House Klethira
was buying gladiators for a new school in Draj. All the slaves in the hold seem fit, mostly gladiators, although there are a few older slaves as well.
The small trading house just outside the city of Urik sent out another caravan the afternoon before you left with 1 of 4 of its Mellikot wagons, and many of the cheaper slaves. The first caravan did not seem to have as many guards as usual. The night after the first caravan left, your caravan was loaded, the entire fortress of the trading house was emptied out into this caravan, you helped load even beds and chests of papers into the massive wagons. Then this caravan left at night with only the larger full moon providing light. You also saw the Matriarch's Inix, an oversized 20' long lizard saddled with a fortified but posh battle platform... At meal times you have been given water, and more food than you expected. This isn't just an ordinary journey this is the entire trading house abandoning its compound and fleeing.
The guards in the hold seem nervous several the peering out cracks in the back door. The 20 guards are standing or sitting around the loading door out the back of the wagon. There are probably a few gazing in your direction most of the time, But none of them are showing any interest in whispered conversations.
Your hands are all tied with hemp and connected to one braided strand of nearly unbreakable giant hair rope. You have enough slack to stand or sit.
An older house slave named Sysra says
"We should tell stories to pass the time. What is your favorite memory?"
As the slave next to him begins to tell of a great meal she once had, Sysra adds in a whisper:
"This road leads on to Raam. What have you heard of the cities, what lies on the way, or what we flee from?"
OOC: Feel free to use player knowledge, outside resources or just make up stuff. Really entertaining things may turn out to be true/important. You can also take part in the covering conversation – other slaves are involved in one or both discussions. Don't worry about order just post when you can.
Just in Case - (not the palyer)
Rogue Gallery
Last edited: