#050 Spellfire by Ed Greenwood (Shandrill's Saga 1)
Read 10/2/20 to 13/2/20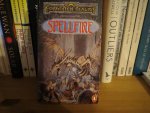 It's a corker, and I was loving it from the get-go. Here's the thing- this is the first Ed Greenwood Forgotten Realms book to be published (July '88), so Elminster existed before then- in other fiction? If so, where? I'm just interested.
Why? Well, this version of Elminster (as opposed to some of the skewed incarnations which appear later- fruity, know everything Elminster, if you like), is the original. I guess, if I were reading these books in the order they were published, anyway- this version of Elminster is A-Ok, groovy even- cool, a bit of a blabbermouth (fond of the sound of his own voice) but, he's a hero- and smart, and forthright, and honest, and he doesn't appear to know everything about everything, all of the time. I like that. I like that, a lot.
But that's not (really) what this book is about.
Shandril works at the The Rising Moon Inn (for Gorstag), she's busy all of the time- she wants to be free, she wants to adventure. Cue scene in which Thief (from passing adventuring party) is killed (for being a Thief). Shandril demonstrates her thieving ability and gets the gig- next stop adventure.
Narm, apprentice Wizard to Madman the Magnifico (or some such) is at the Inn, he spots Shandril and... Dreee-ee-ee-ee-ams. Dream-dream-dream, etc. Oh, and its a two-way thing, Shandril has her eye on Narm.
So, Narm and his boss wander in to Myth Drannor, ignoring warnings, soon after 'the Magnifico' is Devil-food- Narm gets rescued by the Knights of Myth Drannor.
We're going to meet plenty of these fellows in this novel- and they're all pretty great. There are lots (and lots) of v. cool adventuring style folk. The best of which are Torm and (particularly) Rathan- I think.
Back to Shandril, her new party bite off more than they can chew and long story short, she's all that's left of the gang (she thinks) and is captured by Dragon Cultists.
And again, the Dragon Cult(ists), and the good folk of Zhentil Keep (with the wonderful Mr. Manshoon, the Elminster antidote), and the Banites with the High 'camp' Imperceptor (or similar) and all of the villains are really well done. You love them, you loath them- every now and then I found myself wanting the bad guys to take down a name, kill a Knight of Myth Drannor. I wanted (in my DM persona) to play a few of them in game- that would be fun.
Which, again, is all great.
Shandril finds a bone- reads what's on it and then 'teleports' away, and then through a portal and... to Myth Drannor, then captured again, then a nice meeting with a Dracolich, and all of the villains are wonderful (I've said that before, I think)- in speech, and thought, and action. Believable, which is always an odd word to use in a fantasy milieu.
Narm returns to Myth Drannor, with Torm and Rathan in tow- they find Shandril.
Shandril finds Narm… and then SPELLFIRE.
Skip forward nearly 100 pages and there are two dead Dracoliches, various other dead high and low-ranking Dragon Cultists, and (Dial M for) Manshoon has just been shot off his horse (for horse read Ancient Black Dragon) and is learning to brachiate the hard way.
Elminster turns up, and is sage and wise (and tough). Big likes.
Thereafter Shandril and Narm discover the following-
1) a wide variety of the good guys in Shadowdale (and thereabouts),
2) lots more bad guys- close up, and in person,
3) the ways and means of Spellfire (a bit), and a bit of backstory,
4) each other.
Then its chatter, fight, chatter- chatter, fight, until the pair (Sha/Narm) hit the road- making their way back to the start of the novel, and Gorstag (et al) at The Rising Moon Inn.
There's a lot to like about all of this- the insights in to the various nefarious (and good) networks, the villains (I love me some villain), and the heroes- it's all really great, believable (or else the hook is in and I'm just going with it)- a place that comes to life. A story that works- young love and that, good against evil and that, and... well, all the usual themes and memes.
Read, possibly the third best book yet (after Homeland & Exile).