#055 The Ring of Winter by James Lowder (Harpers 5)
Read 1/3/20 to 4/3/20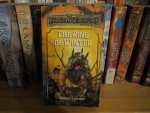 Book 5- and the best of the Harper's yet, and for a variety of reasons.
Here's the thing... I love me some Chult, I did a lot of DMing (back in the day) in the Amedio Jungle (Greyhawk) and then when Tomb of Annihilation came out, and I read it- I wanted to head right back to it, in-game. Alas the opportunity has not arisen thus far, but I'm keen... very keen, and keener still now I've read this one.
So, Artus Cimber and his side-kick mage Pontifax (great name) are after the Ring of Winter, but the search is only the pointer, the journey is everything. The boat trip to Chult was okay but once we arrived in Chult I was all ears, trying to pick up as much as could to use in my game.
There are a bunch of bad guys in this one- the Batiri Goblins and Queen M'bobo, very nice- and well developed in ToA. Does Chult feature in any of the other FR novels? Please say, yes.
The big bad however is Kaverin Ebonhand, who's suitably Bond Villain- although also haunted by the spirits of Cyric, so that's good too. Skuld is a crazy good hench-bastard, terrifyingly effective and almost impossible to kill- and with good (simple) lines, he's going to turn up somewhere in one of my games- promise.
Then there's Mezro itself, hidden city/civilisation, and once there the living embodiments of the one Chultan god- Ubtao, the immortal paladins/protectors of the hidden realm/jungle- the Bara (including Ras Nsi).
It was great when Rayburton turned out to be not at all like the Rayburton you imagined (or else I imagined).
There's a lot to like here, and yet- why do I always have to complain? I'd like more- more time with the Batiri (and other villains), more time with dinosaurs and the dangers of the jungle, more time in Mezro (and with the Bara). There's just a pile of stuff in this one that's just hinted at, or else not explored in any great depth (I get why- page count) but I am gagging for more info. I want to spend more time in Chult and with all of the above.
Oh, but the story- Artus (eventually) finds the Ring of Winter and thusly wins the war, obviously it's a lot more complicated than that- we get to go places, meet new people (most of whom are actually quite nice, even the villains) and see lots of cool things. There's a bit of action (fighting) although its not a massive chunk of the tale, there's a ton of exploration (people and places), and... that's mostly it.
I didn't get Lugg and Byrt- talking Wombats, for some reason my brain went to the Phanatons (is that right) from X1- kinda token cute furry-folk with a simplistic (sorta) way of looking at the world. I love Lugg and Byrt's names, and their chatter, but not the idea of wombats- don't ask me, I'm not sure why not. I get that they're not native to Chult but they were (imho) Dwarf/Ivan & Pikel replacements. I think I would have preferred just plain old Dwarves, again- I get why that would be difficult, you can't keep having comedy Dwarf double acts, but... Wombats. It's just difficult for me to do in-game, or else I just don't wanna. Nice idea- under the confusion wall, but not my fave characters.
The rest... satisfying, and great detail (although I really did want more)- I loved the chatter with Ibn Engaruka "do you see?" I could have spent another 20-30 pages right here with Artus making plans... lots to admire, but over too soon, much too soon.
Is there more Chult to look forward to? Anyone know?
Read.