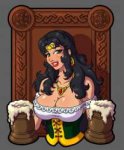 ​
After a long days travel you finally arrive in the village of Hommlet. With the sky turning a dazzling purple and gold as the last crest of the sun sets over the horizon you hear the sounds of music and laughter. Renewed vigor enters your steps as you rush up the porch of the famous tavern and push through the door.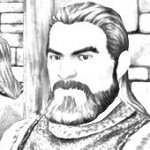 "Ah, travelers,"
says a well to do bearded human from across the room.
"Welcome! Welcome to the Inn of the Welcome Wench!"
he says with a curt nod of his head.
And welcome everyone to the RG for our trip into adventure.
ToEE - IC
Recuritment/OOC Thread
Adventurers:

- KahlessNestor: Emmyr Anvilforge, dwarven male fighter
- Binder Fred: Rana the Green, human female warlock
- industrygothica Hexiros Verad, dragonborn(blue) male fighter
- Shayuri: Aridha, human female druid
- Charwoman Gene: Gwylla, half-elf(high) female wizard
- hero4hire: Templeton, human male rogue
- River Song: Lady Rebekah, half-elf female bard
- Neurotic: Captain Blackpearl, half-elf male paladin

Subs:
- Steve Gorak: undecided cleric or druid
- TallIan: unknown
Last edited: