The Arden-Yesser Meteor Belt, Gamdee System
United Frontier Authority Station Alpha
Level 38, Subsection 13, Office of Daniel Schneider, Deputy Director of Bounty-Assignments
10:32am, November 16th, 2321, Union Standard Time
Rogue's Gallery
OOC Thread
[sblock=UFA Headquarters]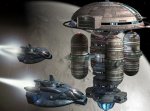 But within a meteor belt not over a planet[/sblock]
The security guard at the door remotely buzzed the locking monitor to the office and signaled for you to enter. The office was spacious but spartan with the stale scent of burnt electronics in the recycled air. The lone human in the room was dressed in a UFA officer's uniform that had seen better days and appeared to have not be properly laundered in many weeks.
"Take a seat and we will get started" the man said, indicating a large plastic briefing table off to one side of the room. You had all meet Deputy Director Daniel Schneider when you first joined the
Regulators
. He was the main UFA official in charge of issuing and paying out bounties for those worlds in Sub-Sector III Delta, nicked named the Demetri Cluster, a number of worlds near the edge of
Reach
space. Some folks thought these worlds were haunted or at the very least cursed by the fates due to many colonies that have suffered from bad luck over the years.
Once everyone had taking a seat, Director Schneider punched a few keys on his dataslate and five holographic portraits appeared in the air before the team; four Human men and one woman.
[sblock=Holographic images]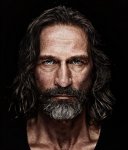 Alexandre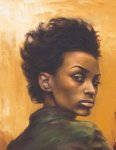 Nicolette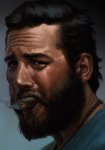 John
Ike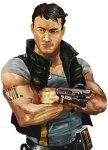 William[/sblock]
"This is the Bernard family, the patriarch Alexandre Bernard and his wife, Nicolette. The father and mother of John, Ike and William. They all have bounty on their head issued by the
Chenzua Corporation
on
Corvus
, in charge of mining operators and terraforming on the planet. Recently the bounds have been increased to activate UFA bounty directives to be issued. Your team happens to be the only available one open at this time and their warrants have been issued to you. This is going to be your first mission and as such is also considered your final test to see if you have what it takes to be full time Regulators. Your continuance with this group is dependent on the success of the collection of these warrants."
Clearing his throat he continues "Alexandre Bernard is 65 standard Terran years old and is wanted on eight counts of first degree murder, ten counts of manslaughter and eight counts of first degree grand larceny. Nicolette Bernard is 52 standard Terran years old and is wanted on seven counts of manslaughter, six counts of grand larceny and eight counts of extortion. John Bernard is 36 standard Terran years old and wanted for ten counts of first degree murder and twelve counts of manslaughter in the first degree. He is also wanted for ten counts of grand larceny and six of bribery of a corporate official. Ike Bernard is 32 standard Terran years old and is wanted for six counts of first degree murder and eight counts of manslaughter. William Bernard is 28 standard Terran years old and is wanted for four counts of first degree murder and one act of terrorism. All of them are wanted a numerous lesser charges including assault, drug trafficking and property damage of Chenzua Corporation holdings.
"Alexandre, John and William each have warrants of 15,000 credits each, dead or alive. The remainder each have a warrant of 10,000 credits if brought in alive, 7,500 credits if dead. Chenzua is also offering a reward of up to 20% of the value of any and all corporate property recovered, depending on damage to such items. The Bernards had recently raided an Chenzua
Zhua
-class Mobile Mining Platform™ worth several million credits which caused the warrant levels to raise to UFA classifications."
Director Schneider punches up a holographic image of the planet Corvus replaces that of the Bernard family. "You have been assigned XII-113 Junk-Scout
Maranda
as a transport. Corvus is 13 parsecs from here in the Corvus Nova system. You should make it in 30 days, requiring four total jump plots.
[sblock=The Planet Corvus]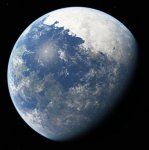 [/sblock]
"Corvus itself is a cold world just coming out of an ice age. Chenzua Corporation has a number of terraforming processing plants that it is using to increase the planet's temperature and increase its' atmosphere. At present you can breathe normally without assistant only in the low-lands. At higher altitude it is recommended that you use Respirator for extended periods or heavy labors. Chenzua has invested and developing heavy mining in numerous locations, meaning the population is fairly spread out, with a planet wide population of just over one hundred thousand souls."
It is at this point that Director Schneider pauses to look each of you in the eyes. He then says "Are their any questions? You will want to contact the general manager of Chenzua on Corvus, one Damian Atos at Alpha City. They should be able to provide additional information and possible leads to the Bernards whereabouts."
GM:
First if you could each describe your characters, what you are wearing. If you want also use your descriptor for your character as you each have meet and know some of the more basic info about each other.

Then any questions and/or requests
Last edited: