Hello everyone, Darryl here with this week's gaming news! A new Pathfinder video game on its way, yet another new D&D 5e Charity release, the
Alien RPG
releases this week, and more!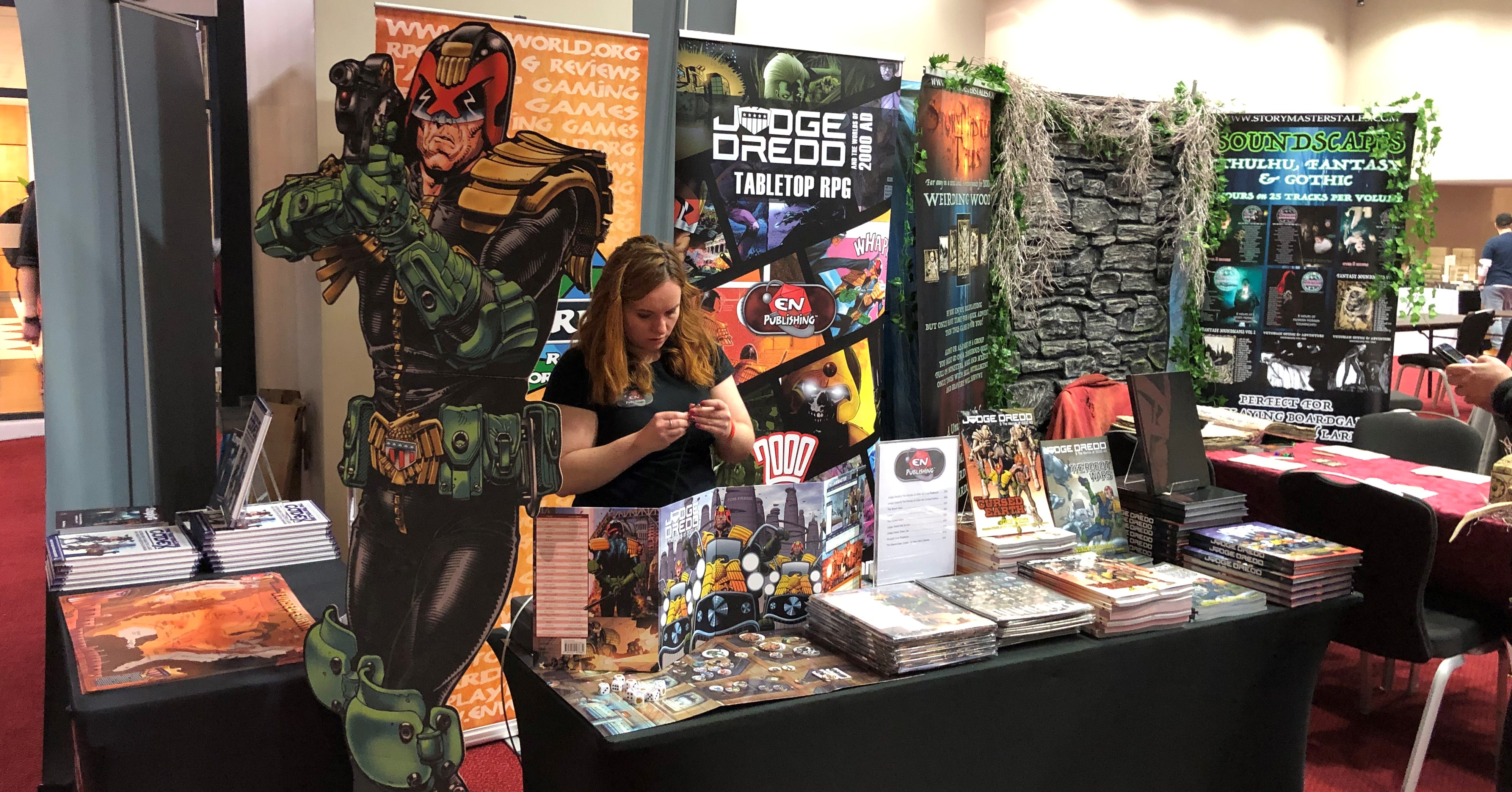 First up, here are all the stories from this week you may have missed on EN World: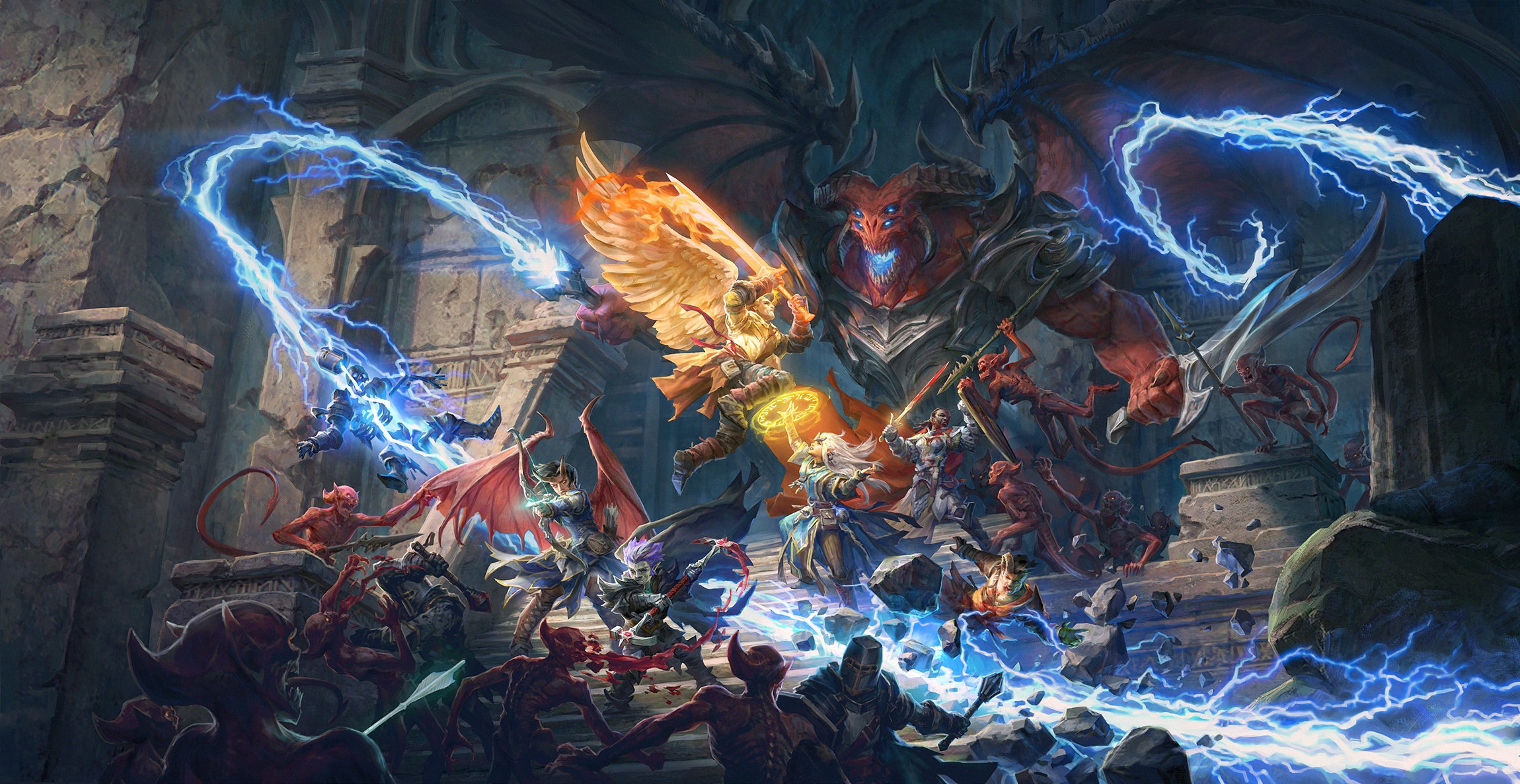 Owlcat Games and Paizo announced Pathfinder: Wrath of the Righteous, a new CRPG based on Pathfinder
.
The new game will not be a direct sequel to Owlcat's previous
Pathfinder: Kingmaker
but will "expand and elaborate on the core elements that made Owlcat's previous installment so successful". Based on the
Wrath of the Righteous
Adventure Path, the game will place the player character and their companions in the path of a demonic invasion of the world with new Mythic Paths to help. The new game will also include new classes including the witch and oracle with more to be announced as well as new character customization options. No release date has been set at this time.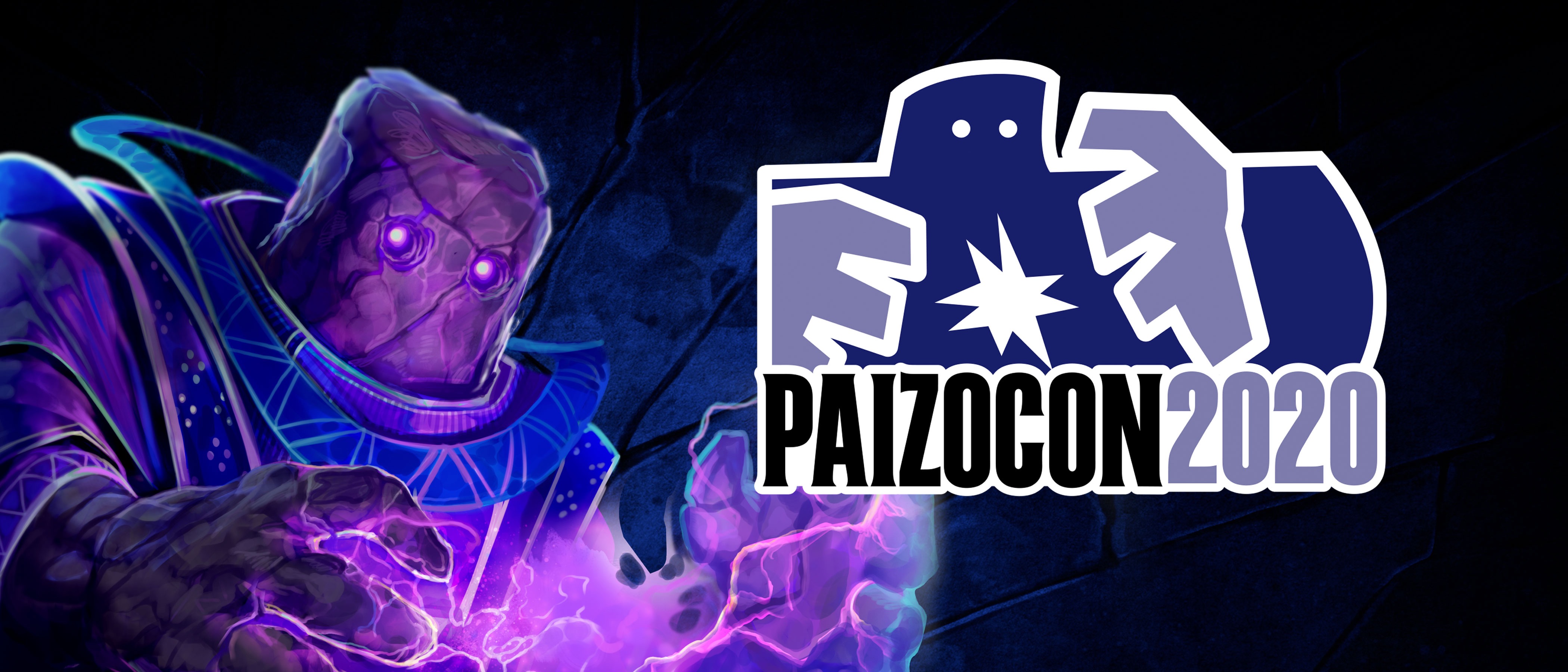 In other Paizo news, badges are now on sale for PaizoCon 2020 taking place May 22-25, 2020, in Seattle, WA, at the SeaTac Doubletree by Hilton
. Four-day badges are $75 while tickets to the May 23 Preview Banquet are an additional $45 (
though you currently receive $10 off if you purchase both
). The Preview Banquet is the major event of PaizoCon with the reveal of the year's release schedule along with previews of new products coming out. Two Guests of Honor have also been announced:
Pathfinder
and
Starfinder
adventure writer Kate Baker and artist and cartographer Damien Mammoliti.
Wizards of the Coast has yet another charity release from DM's Guild, this one Mordenkainen's Fiendish Folio Volume 1 with proceeds going to Extra Life
. The 21-page PDF includes statistics for twenty new monsters including the Fog Giant, Norker, Crab Folk, Mite, and more with challenge ratings from 1/8 all the way to 23 so there's likely to be something in here for any level of play. The PDF is available for $9.99. This book joins the adventures
Infernal Machine Rebuild
and
Locathah Rising
along with the
Infernal Script font
and
the activity book Adventure with Muk
to create a large round of charity offerings this year.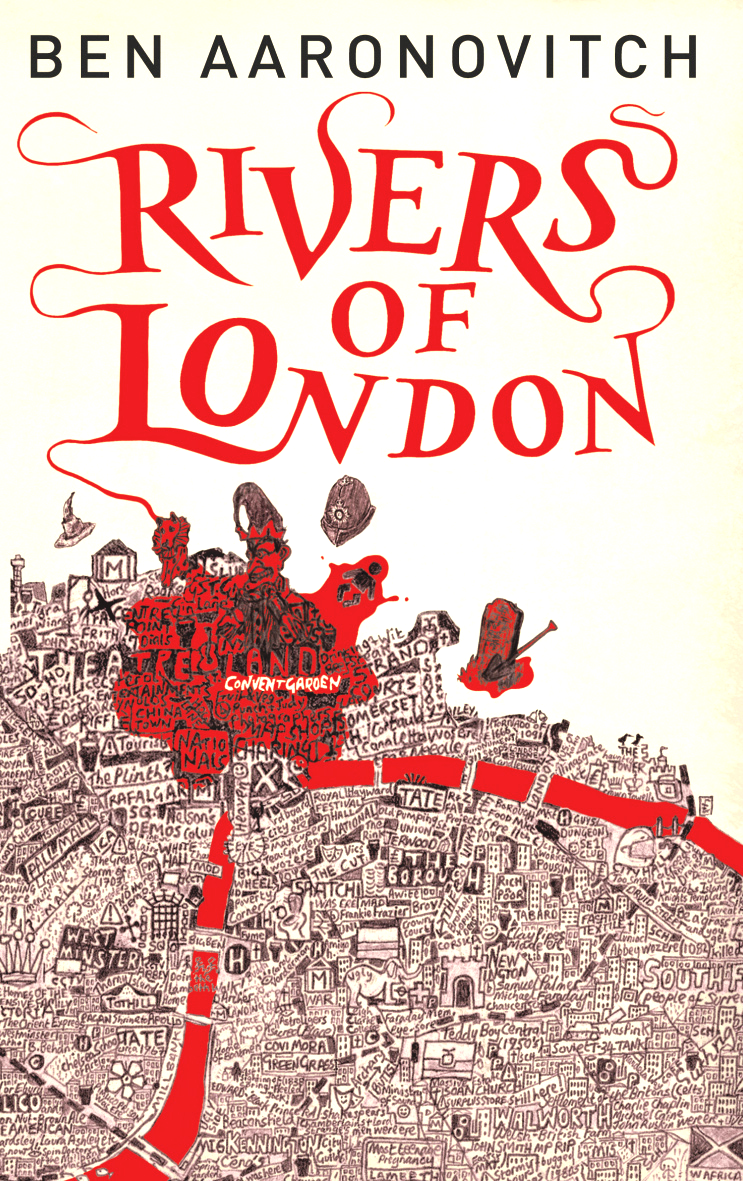 Chaosium announced they've obtained the license to Ben Aaronovitch's urban fantasy Rivers of London series
. The game will use a modified version of the Basic Roleplaying System in order to take advantage of the unique magic system. From the author, "I've been an RPG player since the original
D&D
so I'm terribly excited and honoured to have Rivers of London turned into a proper roleplaying game and especially because it's with Chaosium, who produced
Pendragon
and
Call of Cthulhu
and such brilliant adaptations as
Elric!
" The
Rivers of London
series starts with
the book Midnight Riot about Probationary Constable Peter Grant
who, after an encounter with a witness who happens to be a ghost, ends up tangled in the investigation a series of brutal murders across the city that may be the harbinger of a greater evil.
The eighth book in the series, False Value, is due for release on February 25, 2020
.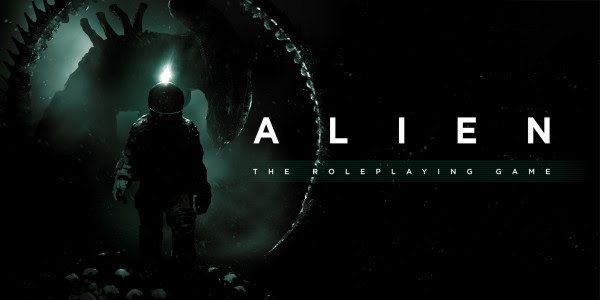 The ALIEN Roleplaying Game is in the hands of the first players following a pre-release at Dragonmeet in the UK with launch events this weekend at PAX Unplugged prior to the full release on December 10
. Additionally, the product line will launch with a deluxe "Game Mother's" screen for $24.99, a Maps & Markers pack featuring a full-color, double-sided map of charted space and floorplans for the first adventure for $19.99, said adventure
Chariot of the Gods
which is a 48-page introductory adventure for $19.99, and a set of custom dice for $19.99. The core rulebook itself weighs in at 392 pages and retails for $49.99.
The annual Worldbuilders fundraiser is underway supporting Heifer International
. Created by author Patrick Rothfuss, the Worldbuilders charity hosts a fundraiser every year benefitting Heifer International with a slew of rewards available. This year, the lottery includes prizes like a Wyrmwood Prophecy Gaming Table, a balcony cabin on the JoCo Cruise in 2021, packages from Wizards of the Coast, Lone Shark Games, Cards Against Humanity, IELLO, James Lowder, Mike Selinker, Jim Butcher, Chuck Wendig, John Scalzi, Joe Abercrombie, John Green, and more. Over 4000 items have already been announced and you get one entry for every $10 you pledge. And if you want to be sure you're getting something,
there's a huge list of auctions going right now
ranging from rare
Munchkin
cards to signed books to exclusive True Dungeon tokens to consultation with experienced authors and editors for your manuscript. And on top of that, there are also individual team pages from groups including Patrick Rothfuss's Twitch stream (
disclosure: the author of this column is a volunteer moderator for Patrick Rothfuss's Twitch channel
), the One Shot Podcast Network, D&D Team Page, Sword & Laser, Reddit's /r/Fantasy, and others many of whom also have their own prize lotteries. The fundraiser runs until December 17 and all proceeds go directly to Heifer International.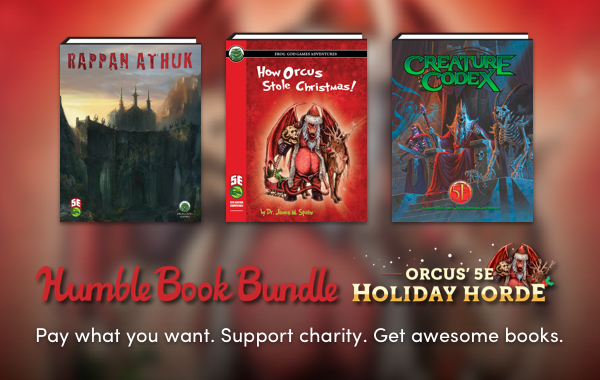 It's your last chance to pick up several bundles up on Humble Bundle right now. Ending this Wednesday, December 11 is the
Pathfinder Roleplaying Game Comics Cache from Paizo and Dynamite Comics
. This bundle features a massive library of
Pathfinder 1st Edition
books and Pathfinder comic books all DRM-free.
The Music & Sound FX Bundle ends on Tuesday, December 10
and is a must-have bundle for any content creator has it includes a massive library of sound effects, music, and even vocal cues for multiple voices including zombies and goblins. Perfect whether you make YouTube videos, podcasts, video games, or just want some sound effects for your game.
And if you want a holiday treat for you and your players, there's the Orcus' 5e Holiday Horde full of OGL 5e material
. Not just sourcebooks and adventures, the bundle also includes digital assets for use in any virtual tabletop and even assets specifically for Fantasy Grounds. This bundle runs until Wednesday, December 18.

I'm not sure if One More Thing has the best or the worst timing for a Kickstarter of a particular theme
as this narrative-based two-player mystery game is exactly what I wanted walking out of the film
Knives Out
. Named after the catchphrase of 80s detective Columbo, this game is almost a meta-mystery as one player takes on the role of the Detective and one the Murderer. The Detective is always going to catch the Murderer, but the Murderer's goal is to garner as much sympathy as possible from the "audience" to outpace the evidence the Detective gathers against them. It's a fascinating take on the mystery genre in tabletop gaming and, if it ended maybe another week later, it may have gotten a bigger boost from the word of mouth of
Knives Out
. You can get the print-and-play version for $12 or the physical game for $30. This project is still just short of its $5000 funding goal, but it has until Monday, December 9 to make it across the finish line.
This edition of
Dungeons & Dragons
has been very good for introductory adventures with no less than four different official Starter Sets released so far. But sometimes, you just want a nice one-shot to set up a campaign or want some options beyond Phandelver for a starting place.
The Book of Beginnings is there for you with a collection of ten low-level adventures meant to spark epic campaigns
. The collection includes four 1st level adventures, four 3rd level adventures, and two 5th level adventures each designed to be played in one to two sessions complete with maps and monster stats in the book. You can get the PDF for a $15 pledge or the softcover for $30. This Kickstarter is fully funded and runs until Sunday, December 15.
If you're willing to wait a little while for delivery,
the Tome Tote would be the perfect holiday gift for the hard-to-shop-for player in your life
. Or you can just pick it up for yourself! The Tome Tote is a natural leather book cover-slash-case made of two sturdy pieces of leather and several straps made to hold and protect your essential books. And, when your small library is released from its strappy confines, the covers double as a dice tray. This is a very limited Kickstarter with only a few available rewards at each level because these are hand-crafted and customized just for you. The dice tray on its own is available for a $50 pledge while the full cover-and-strap system is available for $130. This Kickstarter is fully funded and runs until Monday, December 13 (though honestly, the limited quantities available are more likely to be an issue).
That's all from me for this week! Don't forget
to support our Patreon
to bring you more gaming news content. If you have any news to submit, email us at
news@enworldnews.com
, and you can get
more discussion of the week's news on Morrus' Unofficial Tabletop RPG Talk
every week. You can
follow me on Twitch where I have a sporadic fundraising stream of The Outer Worlds planned throughout the week,
subscribe to Gamer's Tavern on YouTube for videos on gaming history, RPG reviews, and gaming Let's Plays
, or you can listen to
the archives of the Gamer's Tavern podcast
. Until next time, may all your hits be crits!
Note: Links to Amazon, Humble Store, Humble Bundle, and/or DriveThru may contain affiliate links with the proceeds going to the author of this column.
Last edited: