Hello everyone, Darryl here with this week's gaming news! A new Sage Advice update with D&D 5e rules clarifications, the rogue playtest is available for Level Up 5e, the unseen finale to the
Dungeons & Dragons
cartoon, and more!
Don't forget, you can get all the week's gaming news with
Morrus' Unofficial Tabletop RPG Talk
! This week, Morrus and Peter are joined by Marc Langworthy to talk about the Hellboy RPG and the new Rogue Trooper campaign book for Judge Dredd and the Worlds of 2000 AD!
You can also find out all the crowdfunding projects ending soon with the new podcast,
Our Favourite Game in All the World: Guess the Kickstarter from Just the Name and Nothing Else
!
Or you can check out Egg Embry's weekly RPG Crowdfunding News column to find all the projects ending soon
.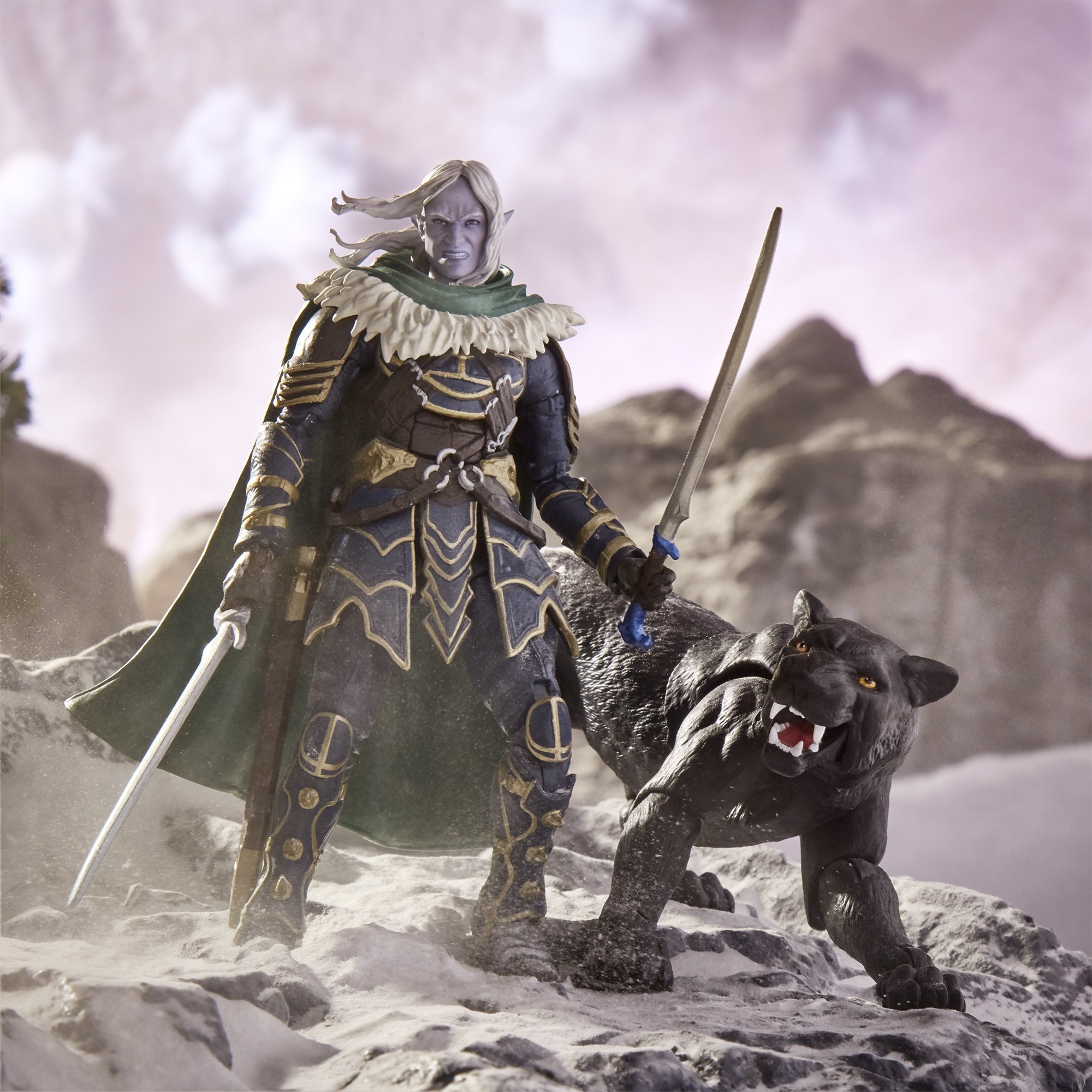 In case you missed it elsewhere on EN World this week: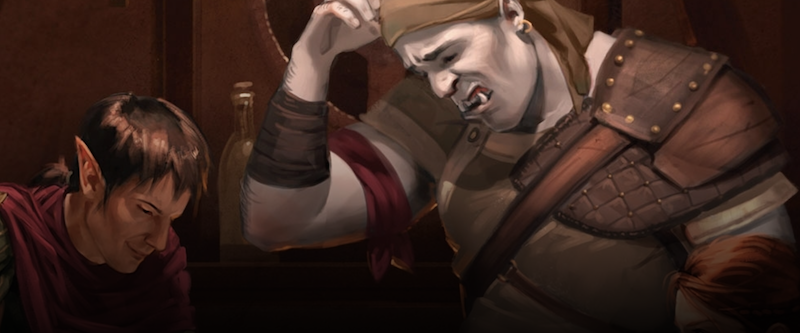 Wizards of the Coast posted an update to the Sage Advice Compendium, the archive of advice, rules clarifications, and errata for Dungeons & Dragons 5th Edition
. Updates include clarifications on class abilities for the Artificer, Bard, Cleric, Fighter, Paladin, Ranger, Rogue, and Wizard classes and subclasses. There are clarifications about various rules from throughout the game system, which are easy to find by searching the document for the "[NEW]" tag in front of each updated entry. There have also been updates to some of the errata for 5e books including
Dungeon Master's Guide, Monster Manual,
and
Player's Handbook
all also marked with the [NEW] tag and entirely new errata for
Curse of Strahd
,
Ghosts of Saltmarsh
,
Storm King's Thunder
,
Tomb of Annihilation
, and
Volo's Guide to Monsters
. The latter is most interesting in an overall sense for the line as it includes major changes to the Orc and Kobold player character races to bring them in line with the current presentation style of races ("Menacing" has been replaced with "Primal Intuition" for orcs and their ability score adjustments no longer include a penalty to intelligence, while kobolds no longer get an ability score adjustment to strength).
Hasbro and Renegade Game Studio announced an expansion of their licensing agreement for tabletop gaming with the big announcement of an official Mighty Morphin Power Rangers tabletop roleplaying game based on the 5e ruleset
. Demos of the new Power Rangers RPG along with a new Power Rangers deckbuilding game will be available at Renegade Con from October 9-11 and at Renegade's Morphin Meet Virtual Event beginning on October 23. The game itself is scheduled for release on the second quarter of 2021. This licensing expansion also includes popular Hasbro properties like G.I. Joe, Transformers, and My Little Pony, and Renegade Games says in their press release (reproduced in the link above) to expect announcements about those franchises in the coming months.
Fans have created a version of the never-made finale to the 1980s Dungeons & Dragons animated series
. The script for the finale leaked several years ago and, despite the original upload being taken down…well, the internet never forgets and copies have popped up on sites and filesharing services ever since. Fans took this script, an audio drama version released on the 2006 DVD collection (including original voice actor Katie Leigh reprising her role as Shelia), and footage from across the show to painstakingly re-create the episode in a fully animated form.
It is currently available on YouTube to watch for free as a not-for-profit fan creation
, which unfortunately isn't enough to protect it legally if rights holders decided to take it down (the profit status of a work is only considered in educational uses under United States copyright law). However, the recreation has gotten the blessing from Ernest Gygax Jr., the son of D&D creator Gary Gygax, who said, "This fan generated not for profit episode is first rate and deserves to be seen and shared with other D&D Gaming fans." Though the DVD set for the 27-episode series is currently out of print,
you can still find it available from many retailers including Amazon
.
EN Publishing's team on Level Up 5e released another playtest packet, this time for the Rogue
. This expansion to the 5e class has information for the first 10 levels and follows along the lines of
the previously-released Fighter playtest packet
by expanding your options in the class. The rogue gets new Exploration Knacks and Combat Maneuvers suited to the more dexterous, stealthy rogue. Additionally, there are new class abilities such as Innocent Façade, Shrewd Judgment, and Low Profile which each provides three options for bonuses on social interactions. You can download the playtest packet at the link above, and don't forget to provide your feedback in the surveys for the rogue when it becomes available soon along with
the fighter playtest packet and the new ancestries
, both available now.
Paizo announced several changes to their Pathfinder Society Organized Play for the update to Year Two of Pathfinder 2nd Edition
. The guide, linked above, provides guidance for updating characters to the new Year Two format including Schools, Fame/Boons, Home Region, and other clarifications.
This guide comes alongside the normal monthly update for Pathfinder Society
. No new books have been sanctioned as none released during the period, but plans are in place to have sanctioning posts for
Extinction Curse
and the remainder of
The Threefold Conspiracy
.
The freshly updated Pathfinder Society (Second Edition) Guide to Organized Play is also available for download now
.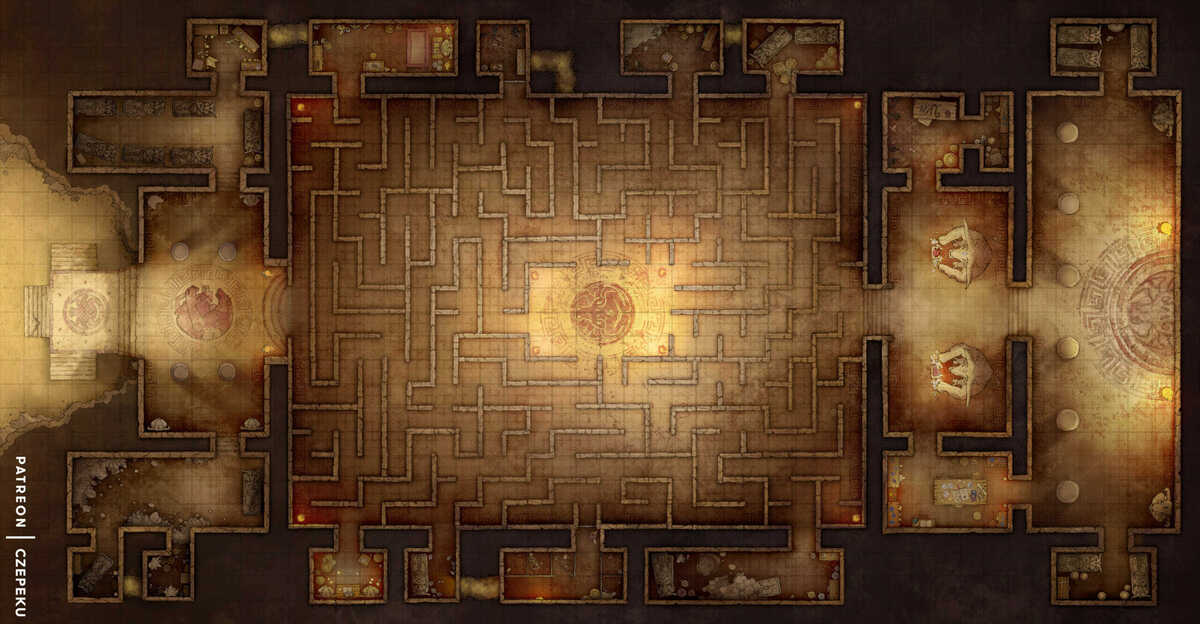 Cartographers Cze and Peku have released 52 free battlemaps ready for use in virtual tabletops
. I should note that many of these maps are
huge
, as the one above had to be rotated and rescaled just to keep it from taking over the entire column. The full version of the labyrinth above is gridded and scaled so you can zoom in properly during play.
These maps represent the first 52 maps released on the couple's Patreon account
, which updates with a new map every week and includes an archive of over 500 maps. You can download the free maps from the Imgur link above.
GAMA announced an initiative for the charity Toys for Tots for the holiday season where every game you purchase gets a free copy donated to children in need
. Local game stores who sign up by November 6 to participate in the A Game on Every Table charity campaign can order one extra copy of any game they order at 50% or more off wholesale to be donated to their local Toys for Tots location, so benefits stay in their communities. Participating publishers include AEG, Asmodee, Amigo, HABA, Calliope, Renegade Game Studio, Fireside, Devir, and Atlas. There are some restrictions (base games only, only games which are "family games" for ages 14 and under), but every game purchased provides a game to a local family in need so every child has something under the tree this holiday season.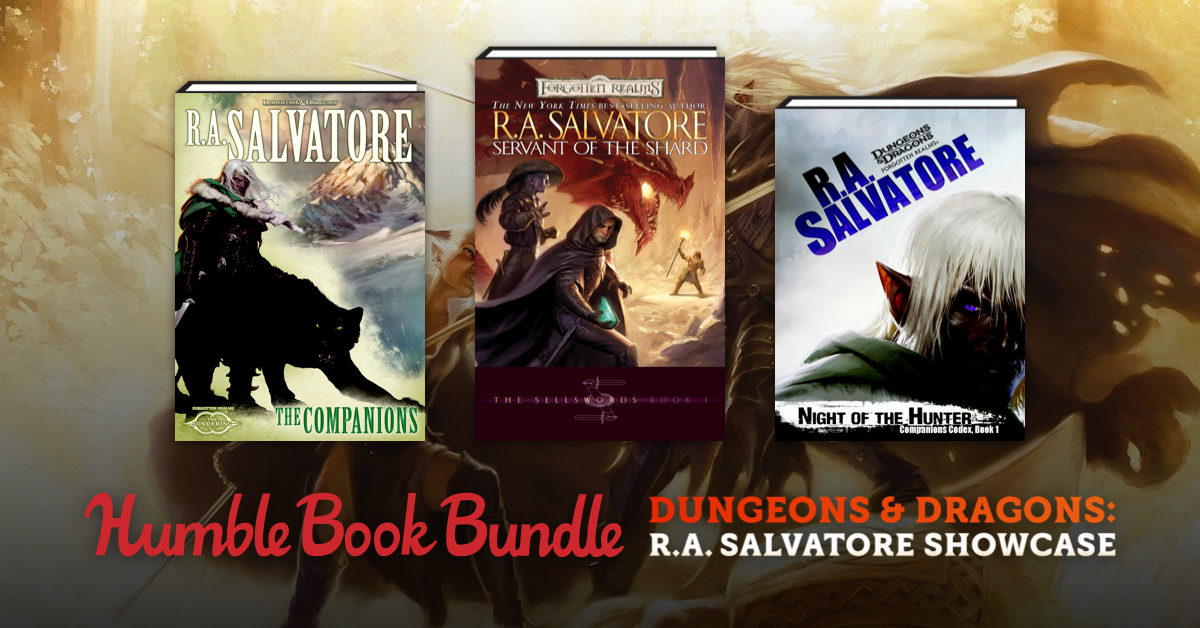 The R.A. Salvatore Showcase bundle from Wizards of the Coast and Humble Bundle is still available
. You can get DRM-free multi-format ebooks for 27 novels featuring the iconic Drizzy Do'Urden plus the entire five-part Cleric Quintet series starring the cleric Cadderly. This bundle benefits Extra Life and runs until Wednesday, October 14.
There's also the One Special Day bundle for the SpecialEffect event on October 2 bringing awareness to gamers with disabilities
. This bundle features
Idle Champions of the Forgotten Realms
starter set for Celeste, the digital edition of the classic fantasy board game
Talisman
plus three expansions, and the Steve Jackson Games combat tank wargame
OGRE
plus several other video games. This bundle benefits SpecialEffect and runs until Tuesday, October 20.
That's all from me for this week! Don't forget
to support our Patreon
to bring you more gaming news content. If you have any news to submit, email us at
news@enpublishingrpg.com
, and you can get
more discussion of the week's news on Morrus' Unofficial Tabletop RPG Talk
every week. You can
follow me on Twitch where I'll stream a few warm-up streams in anticipation of the release of Baldur's Gate III,
subscribe to Gamer's Tavern on YouTube for videos on gaming history, RPG reviews, and gaming Let's Plays
, or you can listen to
the archives of the Gamer's Tavern podcast
. Until next time, may all your hits be crits!
Note: Links to Amazon, Humble Store, Humble Bundle, and/or DriveThru may contain affiliate links with the proceeds going to the author of this column.
Last edited: