Hasbro Pulse announced today an exclusive Drizzt Do'Urden action figure as part of their Hasbro Pulse pre-order system.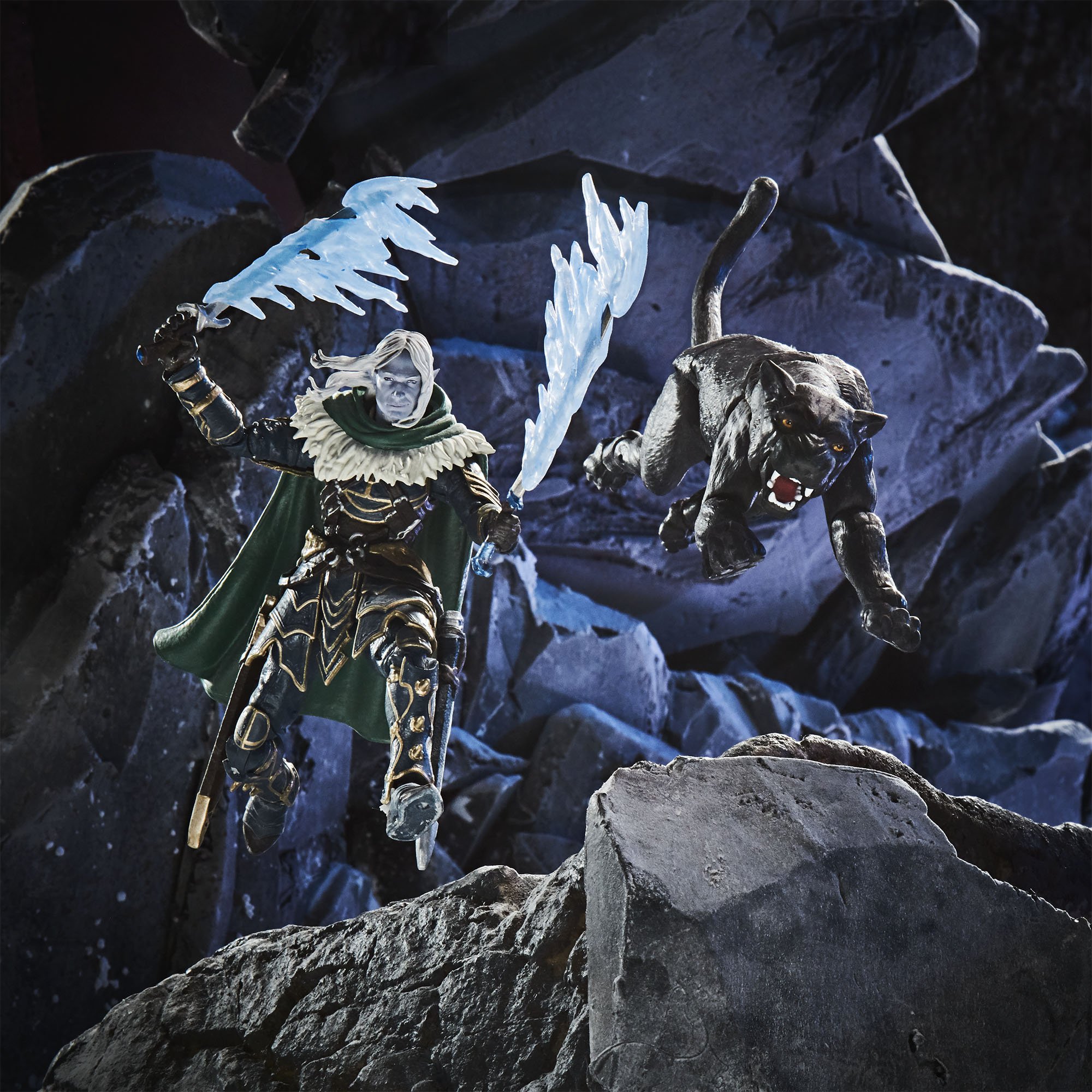 From the product description:
Fans and collectors can finally add one of the most popular and recognizable Dungeons & Dragons characters to their action figure collections with the Drizzt Do'Urden figure!

Imagine epic battles from the Forgotten Realms with this Drizzt & Guenhwyvar 6-inch-scale action figure 2-pack! Featuring multiple points of articulation, these highly poseable figures feature premium design and deco, inspired by the Dungeons & Dragons: Dark Alliance video game. Drizzt & Guenhwyvar come battle-ready with 10 accessories, including iconic swords Icingdeath and Twinkle, 6 cards featuring exclusive artwork, and an oversized Icewind Dale d20. And with custom artwork by Max Dunbar, the Dungeons & Dragons Drizzt & Guenhwyvar package will make a mark on shelves. Available exclusively through Hasbro Pulse.

Includes: 2 figures, 10 accessories, 6 cards, and Icewind Dale die.

A drow from the Underdark city of Menzoberranzan, the third son of Matron Mother Malice of House Do'Urden -- born on the eve of battle
The highly poseable, fully articulated Drizzt and Guenhwyvar 6-inch-scale figures feature premium deco, inspired by the Dungeons & Dragons: Dark Alliance video game
This Drizzt action figure comes with 10 character-inspired accessories, including 2 swords -- Icingdeath and Twinkle -- and the Figurine of Wondrous Power
This Hasbro Pulse exclusive action figure 2-pack features custom artwork created by the talented comic book and concept artist Max Dunbar
This Dungeons & Dragons Forgotten Realms Drizzt & Guenhwyvar action figure set is available exclusively through Hasbro Pulse, and comes with 6 cards and an oversized Icewind Dale d20

Ages 12 and up

WARNING: Small parts and small balls.
The announcement also came with
an interview with R. A. Salvatore about Drizzt and Dungeons & Dragons in general
as well as
an interview with Max Dunbart that features concept art
from the box and character design for the figure.
The figure is available for pre-order now with an estimated shipping date of December 18, 2020
.
Note: Like all Hasbro Pulse pre-orders, this offer is only available for residents of the United States and its territories and Canada.