Notorious Liquefactionist
Welcome to part SEVEN in the art appreciation series- One Piece of Art! Prior columns can be found here:
Part I (Classes)
Part II (Monsters)
Part III (Magic Items)
Part IV (Races)
Part V (Places)
Part VI (Maps)
Today's topic ... Spells! This one is a special request from
@Sacrosanct
, so remember- all credit goes to me, and all blame ... yeah, Sacrosanct. Hey- I don't make the rules! Oh, wait ...
What D&D Art Made You Love a Spell?
Now, for purposes of this thread, a necessary disclaimer. Please construe "spell" to mean, well, a spell. Some piece of D&D art that shows something magical that is, uh, not a magic item.
Now, with that out of the way ... please note the following rules for the thread-
1. ONE piece of art. You shall count to one. If you do two, you've gone two ... um, too far. Three is just way out. And zero means you forgot to post something. Now, I know that everyone just ignores this ...
2. It has to be art you love, and please explain why! Maybe you think it just looks cool. Whatever! It's your love, don't make me put a label on it.
3. Explain the art source (incl. artist if known), the spell (if known), and why you chose it. Please!
Now, as usual, I will start this thread off. Have to admit, not a big spell person. My first thought was the iconic cover of Deities and Demigod, but I used that (places). My second thought was the Illusionist in the Rogues Gallery ... but I used that, too (Classes).
So you know what ... GO BIG, OR GO HOME!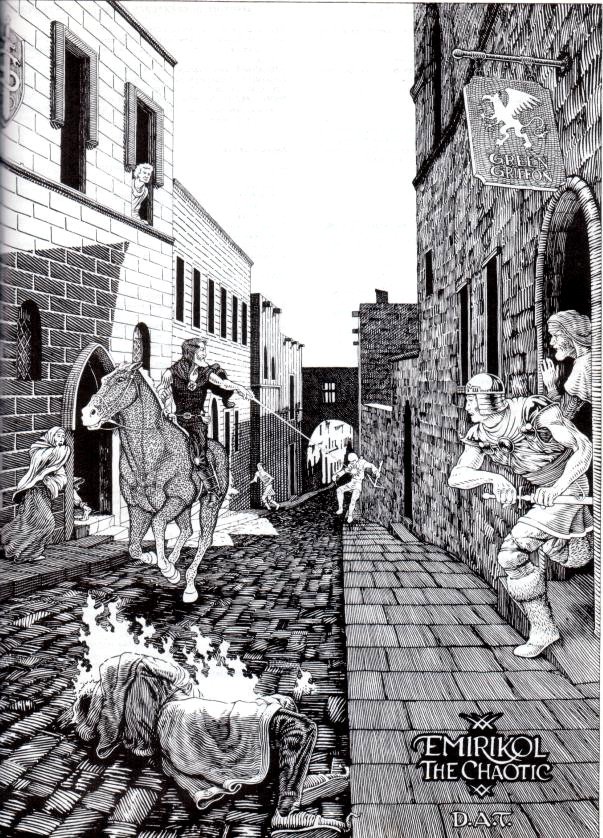 Artist
: David A. Trampier
Source
: DMG (1979)
Spell
: ?????
Rules? I don't need no steenkin' rules! If you actually read, you know, the RULES, this image doesn't make a whole lot of sense. Magic Users can't cast spells from galloping horses (they need to be relatively stationary). Given that each round is one minute, it does not seem likely that Emirikol could both roast the guy in front of him and zap the guy behind him before anyone hits him. And what spell is he even using? Bigby's Finger of Flaming Death?
BUT WHO CARES? That, right there? That's the mind's eye image of what we all imagine. Making your escape, blasting the people in your way, and looking cool while doing it. What's the name of that spell? IMA BADA** M*T*E*F*CK*R, that's the name of that spell.