We saw
the fighter last week
; today it's the turn of the rogue! Paizo's Stephen Radney-MacFarland gives the inside scoop on rogue features, and feats.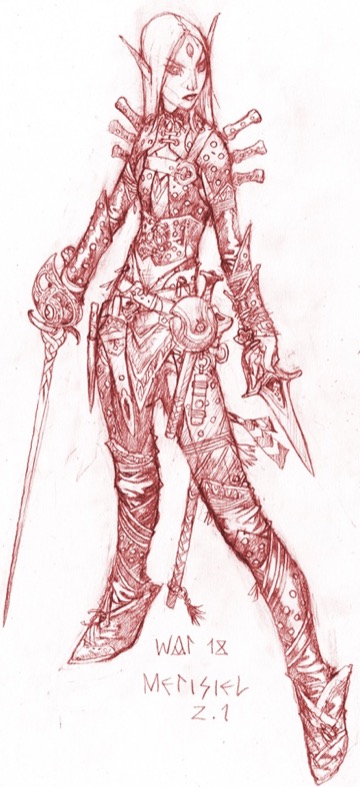 Rogue by Wayne Reynolds
​
What do we know
from this latest blog entry?
Here's some class features:
Sneak Attack (1st level) -- Rogues get Sneak Attack as their first class feature. Extra d6s of damage vs. flat-footed foes (such as flanked enemies, or those who fall victim to the Surprise Attack feature).
Surprise Attack (1st level) --

"during the first round of combat, the rogue treats any creature that has not taken its turn yet as if it were flat-footed."

Debilitating Strike (9th level) -- entangle or enfeeble targets in addition to damage. Higher levels add more conditions.
Master Strike (19th level) -- ... culminating in Master Strike, which is an insta-kill at 19th level.
More skill ranks, proficiencies, and skill feats than any other class. One skill feat per level rather than every other level.
And here's some class feats a rogue can take:

Nimble Dodge -- +2 AC at a whim.
Mobility (2nd level) -- move half speed and ignore reactions like attacks of opportunity.
Reactive Pursuit (4th level) -- a sticky ability which allows the rogue to chase after foes who try to disengage.
Dead Striker (4th level) -- treat frightened creatures as flat-footed.
Gang Up (6th level) -- treat enemies within melee range of of your an ally as flat-footed.
Twist the Knife (6th level) -- if you do sneak attack damage, do ongoing bleeding damage equal to half your sneak attack dice.
Instant Opening (14th level) -- make a creature within 30' flat-footed until the end of your next turn.
Cognitive Loophole -- ignore a mental effect for a round before it takes hold.
Blank Slate (16th level) -- immune to detection, revelation, and scrying effects.
[FONT=&amp]Save[/FONT][FONT=&amp]Save[/FONT]​