Following up on the fighter and the rogue, Paizo has posted a preview of
Pathfinder 2nd Edition's
Alchemist class!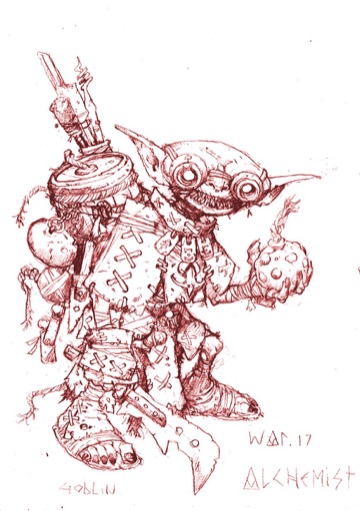 By Wayne Reynolds
​
Alchemist Class Preview --

Alchemist and oracle are the most popular character classes.
Alchemist features --

Alchemical Crafter (it's Crafting skill feat, but the alchemist gets it for free)
Four bonus formula (plus the four from the Alchemical Crafter feat) + 2 each level.
Quick alchemy action.
Spend resonance to create alchemical objects on the fly.
Empower Bomb (3rd level) -- multiples bomb damage. Multiplier increases with level to 6x at 19th level.
Mutagens (5th level).
Craft free poisons each day; can also heal and disable traps.

Class Feats --

Efficient Alchemy (4th level) -- create more items during downtime.
Enduring Alchemy (4th level) -- improves Quick Alchemy by making items last longer.
Calculated Splash (4th level) -- Int mod smash damage rather than 1 splash damage.
Powerful Alchemy (6th level) -- increase effect DC of items.
Precise Bomb (6th level) -- hit enemies only with splash damage.
Debilitating Bomb (6th level) -- inflict conditions; has greater versions a 10th and 14th level.
Feral Mutagen (8th level) -- gives teeth and claws, boosting Intimidate checks.
Stalker Mutagen (10th level) -- enhances stealth, allow movement at full speed.
Improbable Elixirs (18th level) -- create potions.
Perfect Mutagen (18th level) -- ignore mutagen drawbacks.

There's also an interview about the Alchemist with Paizo's Stephen Radney-McFarland over at TechRaptor.
[FONT=&amp]Save[/FONT][FONT=&amp]Save[/FONT][FONT=&amp]Save[/FONT][FONT=&amp]Save[/FONT]
[FONT=&quot]Save[/FONT][FONT=&quot]Save[/FONT]​