Gaming is fun, and fun is for everyone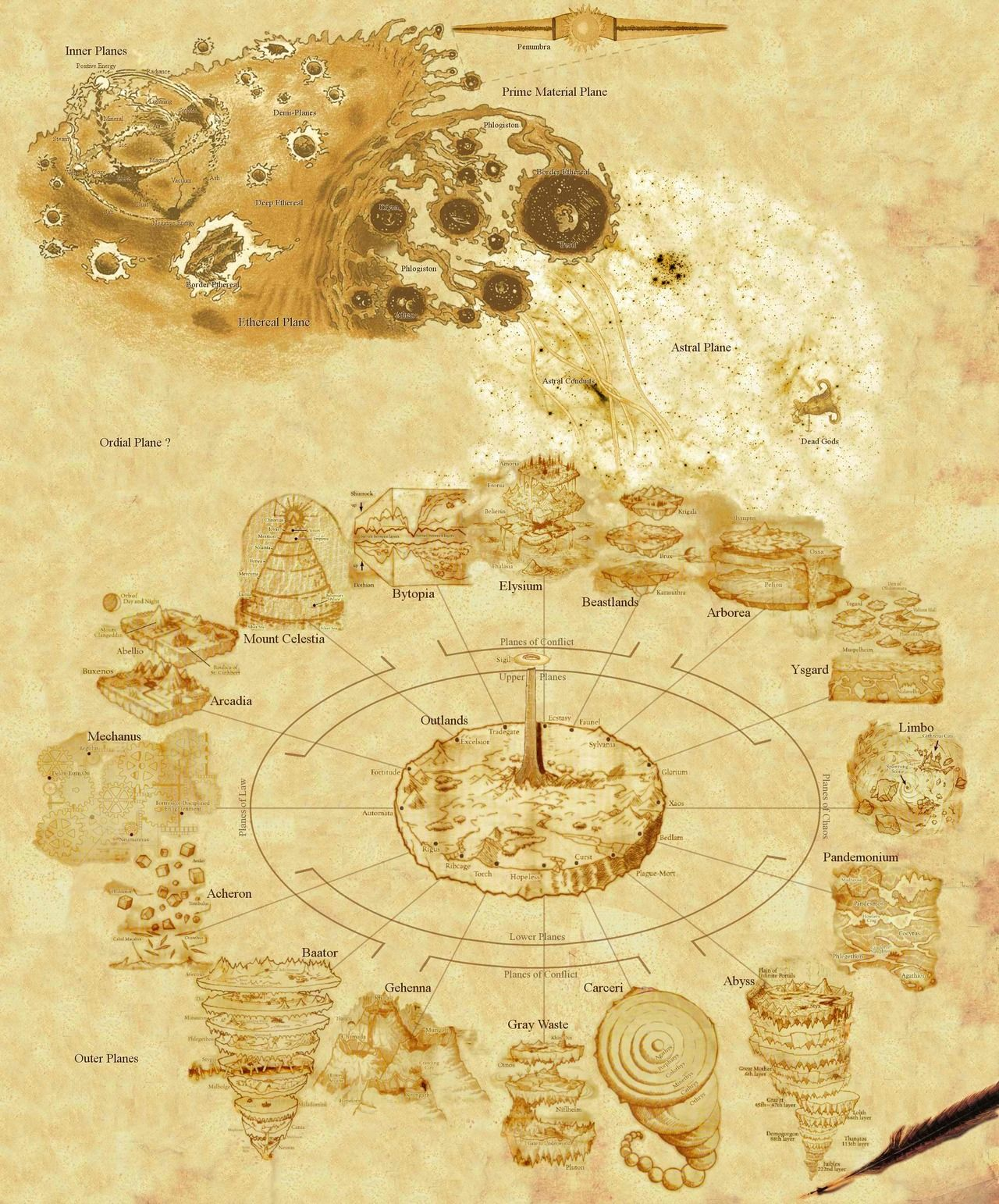 Hi everyone! So with the recent announcement that
Magic the Gathering
will be releasing a
Forgotten Realms themed set of cards
in 2021, it looks like the integration of the different worlds of
Magic the Gathering
and
Dungeons & Dragons
continues.
Note: Yes this thread is technically about what the "canon" cosmology is, but D&D canon is just the default assumption of people's games. The DMG makes it clear you can throw that assumption away in your own game. That means any debate about people using the "wrong" cosmology is silly, as there is no wrong way to play D&D. But this thread is about that default assumption of cosmology now that MtG and D&D are more closely connected.
Now, there is actually very little content that mentions the connection between MTG and D&D. Both the setting books for Ravnica and Theros don't mention the cosmology beyond that affecting their own planes, and no other D&D book mentions the planes of MTG except for Acquisitions Inc, which just confirms travel between the worlds of D&D and MTG is possible (but does not explain how). The best explanation of cosmology for 5E is from this Crawford interview;
Now the focus here is largely on Eberron on actually doesn't address many of the unique cosmological elements behind MTG worlds, but there are some important takeaways here.
1. The Material Plane contains a multitude, and essentially infinite, number of worlds. Unlike the Outer Planes which have certain rules, a world on the Material Plane can be completely different than another (or nearly identical).
2. Smaller cosmologies can fit within the Material Plane; the example of Eberron is used, with its Orrery cosmology actually still within the Material Plane.
3. Although the Great Wheel cosmology applies to all worlds within the Material Plane, a world within the Material Plane can be cut off from the Great Wheel, making travel to and from specific worlds extremely difficult. Again Eberron is used as an example here; traveling to and from Eberron is extremely difficult, and explains why nearly all Eberron residents are unaware of worlds beyond their own.
There! So those are actually some pretty big rules, and on their own explain most of how Ravnica and Theros work within D&D. Theros specifically has its own unique cosmology, but it stands to reason that the gods of Theros purposefully cut off their world to avoid the gods of the Outer Planes interfering in their affairs. Why Ravnica would be cutoff is less clear, though there are extremely powerful individuals like demons, sphinxes and dragons that could be responsible.
The last piece of note is the two primary means of planar travel; the planeshift spell in the case of D&D, and planeswalking in the case of MTG. For the former, I would argue that the planeshift spell would technically work for worlds cut off from the Great Wheel, but that due to them being cut off, the material needed to actually plansehift to another plane of existence would be extremely rare, and therefore extremely expensive. In the case of Planeswalking, this form of travel is able to bypass any barriers set up between worlds, but of course the limiter here is that only one in a million people have a planeswalking spark (and even fewer ever have it ignite).
So let's now establish for example, how a world like Theros works in practice, within D&D cosmology. The world begins to form its gods (Theros gods are largely created by the belief of mortals). These gods do some sort of spell or ritual to cut off Theros from the Great Wheel, to remove the competition of external forces like those of the Abyss of Mt Celestia. Once this barrier is set up, there is only one way in and out of Theros, Planeswalkers. Now, a Planeswalker could technically travel with a rod of metal from the Plane of Fire, leaving it behind and allowing a Theros wizard to use the plane shift spell to travel there with the material component. But this situation is highly unlikely; the wizard would have had to invent the plane shift spell, or been taught it from said Planeswalker. A similar network of communication and trade would need to be set up for teleportation circles and Sigil sequences to other worlds. Both a technically possible, but rely on a willing Planeswalker to set up the connection. Add that the gods of Theros are likely to act against any such connection being set up, and you have your reasoning for why planar travel to and from Theros is nearly impossible for non-Planeswalkers.
The reasoning for Theros is pretty clear; for other MTG worlds, it is less so. But here are some "rules" that every MTG world likely has, making the lack of connection to the Great Wheel more obvious;
1. Some force, either an individual, a group, or even something incidental or of the natural order, has cutoff this world from the Great Wheel (likely a barrier, much like Eberron).
2. The barrier is able to block almost all travel to and from the world, like Spelljammers, but Planeswalkers are able to bypass this block easily.
3. There are forces within the world who want to maintain the barrier, or keep connections to other worlds at a minimum. They work to thwart any attempts at material components from other worlds being traded, or the building of teleportation circles.
In my opinion, I think it is more fun to imagine each MTG world having its own unique circumstances for the above three points. However, if you need consistency, perhaps it is the same group enforcing these for some reason of your own; perhaps it is the gods of the Outer Planes themselves who purposefully cut of the worlds of MTG!
Anyway, discuss below, and please throw the criticism at me of points I probably missed. I could have gone into more details (like, can someone born in Eberron become a Planeswalker) but didn't want the first post to become too long.