Elkhorn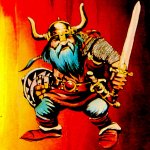 Name: Elkhorn
A/B/C: Dwarf (male) Pathfinder Hopeful Fighter
Align: LG, Deity: the Dwarven pantheon
Languages: Dwarf, Common
Perception: +4 (E) Dark vision
AC: 17 TAC: 16 chain shirt + heavy steel shield
HP: 23/23, Resonance: -1/-1
Speed: 20 ft, Dwarf trait: Unburdened 5' Hero Points: 1
STR 16 +3, DEX 14 +2, CON 16 +3
INT 10 +0, WIS 14 +2, CHA 8 -2
FORT +5 (E), REF +4 (E), WILL +3 (T) Ancients Blood: +2 vs magic related saves
{combat section}
Long Sword: +5 d8+3 slashing versatile-piercing
Clan Dagger: +5 d4+3 piercing agile, dwarf, parry, versatile-bludgeoning
Shield: If I ever use it as weapon I'll do the math.
Hand Crossbow: +4 d6 piercing Range: 60' Reload 1 Ammo: 10
Skills: *=signature
Athletics* +3 (+2 with shield (T)
Crafting* +1 (T)
Lore (Pathfinder)* +1 (T)
Lore (Geography)* +1 (T)
Survival +3 (T)
Armor: Chain shirt, heavy steel shield
Weapons: Long sword, Clan dagger, hand crossbow
Feats
Ancestry: Ancients Blood - +2 vs magic based saves, -2 Resonance pts.
Background: Additional Lore (warfare)
Class: Reactive Shield
Class Features
Opportunity Attacks
Equipment
Backpack (-)
Belt pouch (-)
chalk x10 (-)
extra clothing - ordinary (-)
Compass (-)
Mug (-)
Oil - 3 pints (-)
Pitons x5 (-)
Bed roll (L)
Lantern, hooded (L)
Hammer (L)
Rations x3 (L L L)
Waterskin (L)
Rope, 50', hemp (1)
Chain shirt + heavy steel shield (3)
Long sword (1)
Clan dagger + hand crossbow + 10 bolts (L L L)
Money
SP:
CP: 9
Description/History/Etc
Elkhorn is dwarf warrior currently working for the PF society. As there always seems to be another fool sage or explorer heading off somewhere dark, dank, & dangerous he's never wanted for work....
Advancement
When needed.
Last edited: