The sky has darkened and the lightning strikes light up the night, the bonds of friendship are being stretched as the old alliances crumble.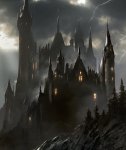 The golden age of Dakar is fading and a dark force is arising out of the east.
The world of Dakar has had peace for almost a century; the Kingdom of Men has learnt to live alongside the many different races of the world. As men have prospered in peace the gods of old have faded from sight and fewer and fewer men are able to channel their power. With the power of the clerics fading a dark presence has risen in the east. The dead have begun to rise and serve in the armies of the Necromancer King.

It is in Crevasse City, the fortified mountain pass that serves as the gate way to the east that you have been summoned by Lord Severus, a mysterious figure that is rumored to be in the service of the Necromancer King.

The last light of day filters in the floor to ceiling window of the great hall of the Baron Von Crevasse's keep. Two guards are stationed at both the doors to the North and South entrance to the great hall.
The remaining wall is made of the living rock of the mountain. Dressed in black tunics trimmed with purple, the guards stand silently in their leather armor with their shortswords sheathed at their side.

No one had said anything to the four people who had been summoned to this room except the servant who had instructed you to make yourself at home, while you wait for Lord Severus, but to not speak to the guards. In the center of the 100ft by 50 ft hall is a long table covered with food, ale, wine and several bottle of Von Crevasse bourbon.