It's been an issue in dispute for decades, over various editions of D&D, but WotC has officially confirmed that - at least in 5E -
Dragonlance's
Takhisis is, indeed, currently Tiamat. In previous editions, Tiamat has varied from being a big dragon to a minor goddess, while Takhisis has been a greater god on Krynn. At times they've been the same entity, and at others different entities. Today, WotC is putting its foot down and saying that Takhisis and Tiamat are, indeed, the same being.
Of course, this is not an opinion universally held.
Dragonlance
co-creator Margaret Weis emphatically stated that "TAKHISIS IS NOT TIAMAT, DAMN IT!"

Fizban's Treasuryof Dragons
confirms that the beings echo across various settings.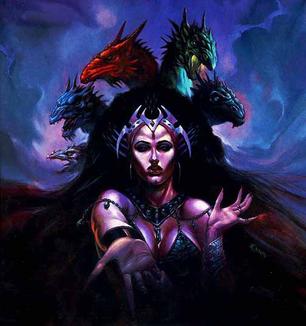 According to WotC's James Wyatt, Fizban's Treasury of Dragons introduces a new cosmology for dragon gods, where the same beings, including Fizban, echo across various D&D campaign settings with alternate versions of themselves (presumably like Paladine/Bahamut, or Takhisis/Tiamat). Also... the...

www.enworld.org
Last edited: