We got a preview of weapon math from the creator summit thing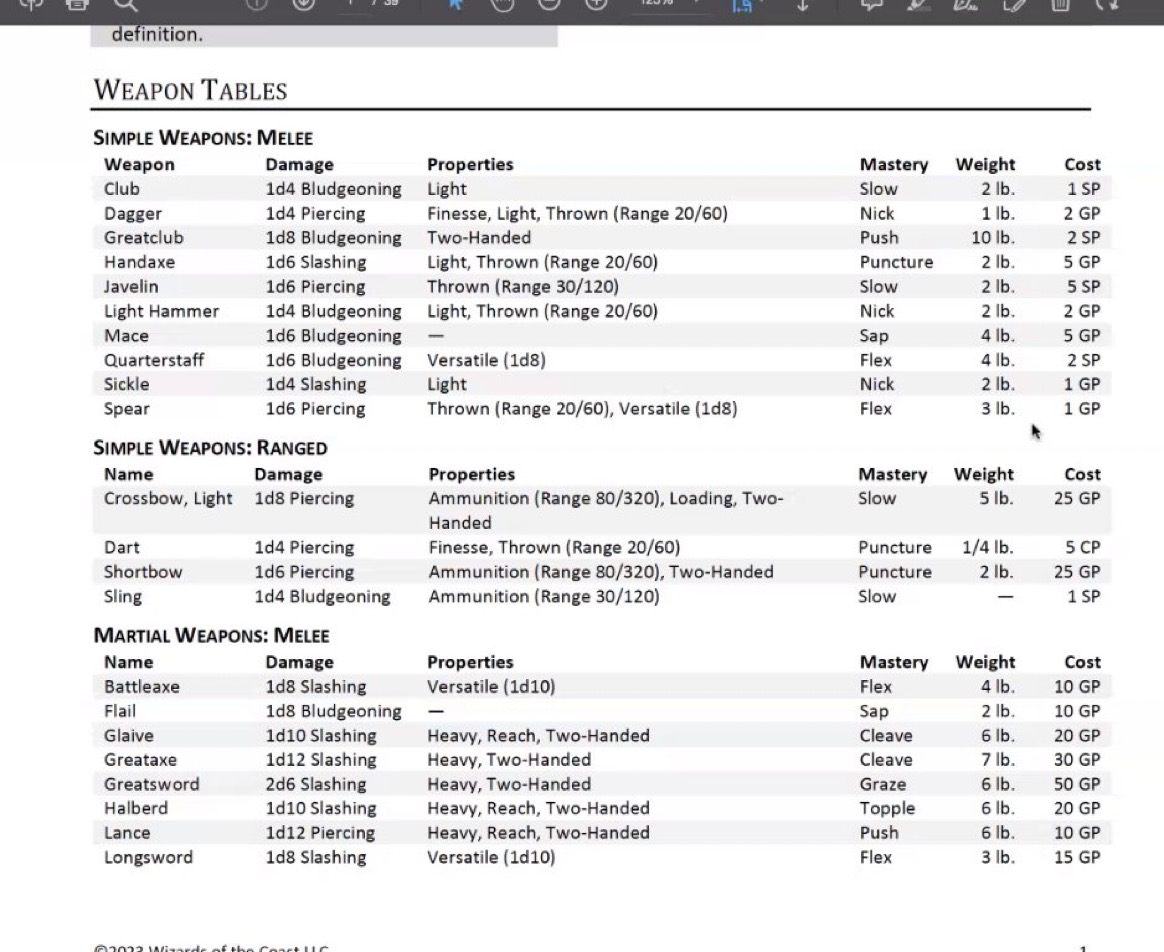 We've got 1d4 1d6 1d8 1d10 1d12 & 2d6 with simple spanning
1d4
(avg2.5)
1d6
(avg 3.5)
1d8(avg 4.5)
up to
1d10(avg 5.5)
and martial spanning 1*
1d4
(avg2.5)
1d8(avg 4.5)
1d10(avg 5.5)
1d12(avg 6.5)
&
2d6(avg 7 but not)
. Most of these weapons are likely to be mechanically rated as "unusable" by players & the math will support their venom should the dm
dare
expect them to waste precious ink/graphite/bits adding one to the list of loot. That's a situation that is grossly unfair to DMs. If you look only at the average, those weapons have an average are all
roughly
equal in except for the d4 & d6 before considering probability & other mechanics.
Probability & other mechanics skew things dramatically because players are not likely to make enough attacks in one round one fight one session or maybe even one campaign for the average to balance out. All but one of those weapons has an
equal
chance of rolling any possible value & can roll a 1 just as often as max or somewhere in the middle. The one outlier is that
2d6
where you have a nice skewing of probability towards a reliable 5-9 with 50% odds & only a 16.67% chance of rolling a value less than 5. Coincidentally 16.67% is the same odds of rolling
exactly
seven. What this says is that the sole 2d6 weapon is an absolute must take choice for any 2h build capable of using it.
Abilities that allow a PC to reroll ones or reroll ones & twos creates serious problems in further forcing that option above all other trash options though because those are pretty common. Setting aside the sole dual die weapon, with simple weapons spanning an average of 2.5-5.5 & martial single die weapons 2.5-6.5 it makes for little tangible value in martial weapons if a player's build is not using that dual die weapon & that's a problem. Those abilities grossly overinflate the value of that one weapon.
Here
is the anydice result for 2d6 reroll ones & twos which is obviously dramatically better than straight
2d6
. How much better might not be entirely obvious just from the shape of as graph in isolation but things change if you look at comparing the probability of getting over a given value for damage on any given roll, you can see that probability comparison of 2d6 crs 2d6 reroll 1s & 2s
here
.
Comparing 2d6 2d6 reroll 1s & 2s against every other weapon provides this even more starkly problematic graph
.
Back in 3.x weapons had a numeric crit multiplier & numeric crit range on top of the damage die itself that allowed room for many weapons to be useful to
someone
due to the presence of three variables rather than one. These new weapon mastery tags might put some subjectivity in place between two equal die weapons, but lets be honest & admit that there are going to be must take winner masteries even if those are build specific leanings that pigeonhole a certain weapon to certain builds It doesn't need to be that way though.. 2d4 is slightly better average than 1d8 & gives the a similar dual die probability shift, likewise for 1d4+1d6 compared to 1d10 or 3d4 vrs 1d12 & 2d6 with all of those visible in
this anydice output
. By adding those extra two & three dice combos to weapons on the table it might not make every weapon desirable, but if done well it could make most builds have more than a single weapon worthy of subjective consideration.
* Yes one point of damage.. seriously WTF guys... why is this so low
and
martial. If the goal is to allow fluff this should be simple. If the goal is to gate this a bit, it should at least be competitive with a sling.