Father in law made this for wife's birthday.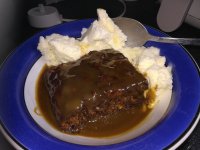 Sticky date pudding.
Only the ice cream was store bought.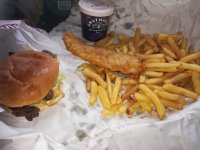 Fish and chips store bought. Blue cod with tartare sauce, chips and a steak and egg burger. Fish and chip shops, Chinese and burger joint often the same thing. This hop also sells deep fried cheese rolls go figure.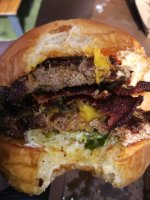 And a weird burger. Had Sriracha mayo and peppini in it and jalapenos. Was nice wife got a glorified cheese and bacon burger and it rocked. This one was very nice and very greasy.
Apart from this stuff just the boring usuals more or less living off rabit food and oats.
Made a nice spiced pumpkin nut salad and tonight's effort was a chicken salad on pita very basic.