Are you a fan of Eastern Fantasy Noir Steampunk? I'm not 100% sure what that is, but I do know that Storm Bunny Studios is prepping for a D&D 5E supplement called
Mists of Akumal
which will be Kickstarted throughout May. Designer Mike Myler has sent me along some exclusive peeks at what they have in store - a 200 page book with new races, land and prefectures, backgrounds, and class options. This preview takes a look at some Martial Arts Feats!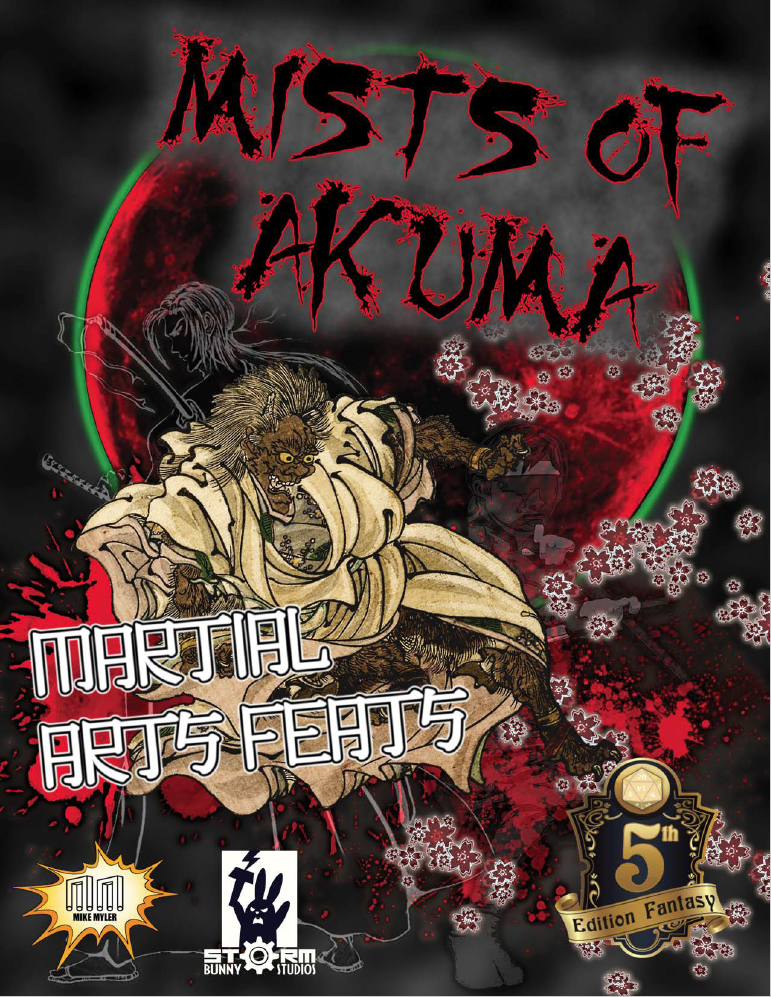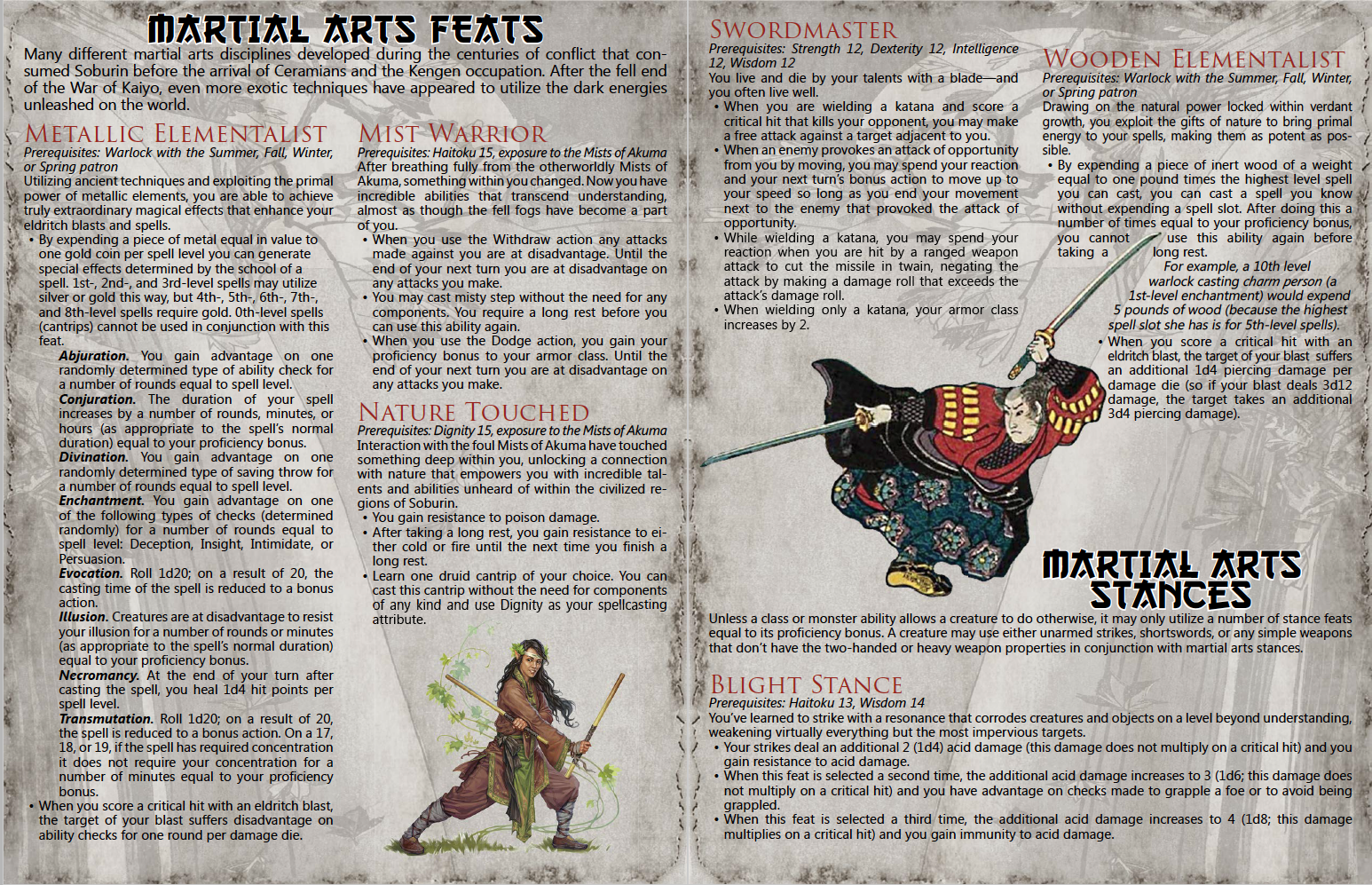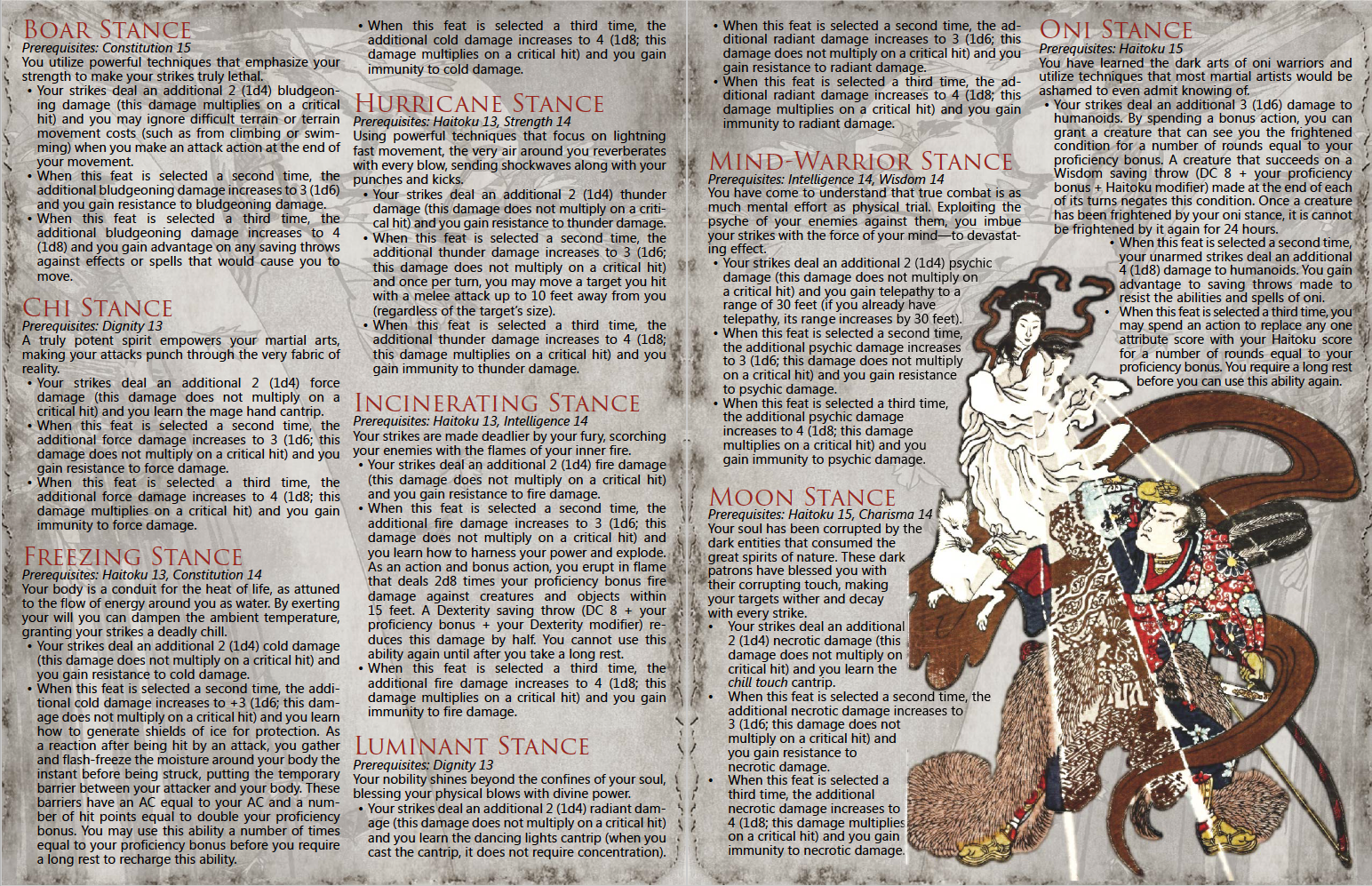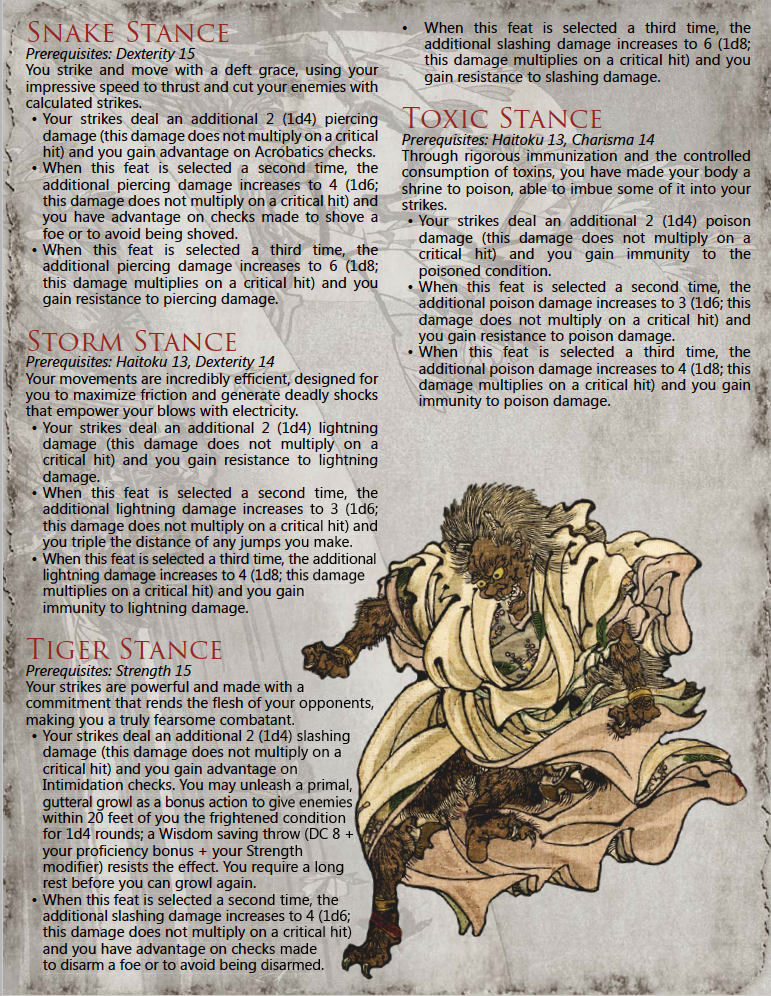 ​
They've also sent me previews of some Imperial Dragons, Tsukumogatami (an animated item), and some new backgrounds, race, and class options, which I'll share soon. Lots of images for one little article!
"The year is 3466; monsoons have become more and more common since the roiling, demon-spewing Mists of Akuma fi rst appeared, and the sun's light grows duller with every day that passes after the end of the War of Kaiyo more than a century ago. A pall of darkness has fallen on Soburin and even its greatest heroes are mired in the petty intrigues and never-ending slights of aggressive clans. Spellswords and mercenaries cross the countryside in search of fortune, leaving the poor and meek to fend for themselves or die in the harsh reality of a broken world where technology has been either abandoned as heresy or perilously embraced."
Here's what the setting contains, according to the quick primer they sent me.
Scores of beautiful, brand new illustrations from several talented artists to truly depict the unique world of Soburin in all of its dark, gritty glory
Detailed workings of Sanbaoshi, the capital of Soburin and home to the Imperial Palace of the Masuto Dynasty
Information on the Star of the North, Chikan, one of the unique scientifi c prefectures of Soburin
A section on Nagabuki, Gem of the South and one of Soburin's most traditional states
The 22 great clans of Soburin, each with statistics for a unique Bengoshi (government agent) and henchman
Five different imperial dragons and over a dozen oni, fi lling your game with exciting new monsters
A treasure trove of new class options!
Bushibot Martial Archetype, Circle of Blight, Circle of Shifting, Clockwork Adept Arcane
Tradition, College of the Gun, Detective Rogue
Archetype, Herbalist Rogue Archetype, Mage
Arcane Tradition, Martial Artist Monastic Tradition,
Ninja Rogue Archetype, Priest Monastic Tradition, Samurai Sacred Oath, , Shinobibot Archetype,
Tsukumogami Hunter Ranger Archetype, Wu-Jen Warlock Pacts (with four patrons for every season of Soburin)
New races for players in Soburin!
Humans (Soburi, Ceramian, and Ropaeo),
Bakemono, Enjin, Hengeyokai (of the
Cat, Dog, Monkey, Rat, Crane, Fox, and
Spider varieties), Kappa, Mutants, Necroji,
Oni-Touched, Psonorous, Pyon, Shikome,
Steametic, Tanuki, Tengu, Umibozu
Dozens of new feats for spellcasters, warriors, and dedicated martial artists
Eastern armor and weapons, as well as a retinue of steampunk equipment
Two new attributes to instill flavor into your game: Dignity and Haitoku
As I mentioned above, I have more stuff to share, but it's a lot for one article. Keep an eye on the news page for more!
SaveSave​