Title? I don't need no stinkin' title.
The other big difference is that minions dealt enough damage and have sufficient attack bonus to make them scary. Albeit, Bounded Accuracy more or less handles the attack bonus part.

Sure, you could use a kobold as a 5e "minion" against a high level party, but the damage from that kobold will be piddly at best. Even in vast numbers, they won't have the threat that comes from a proper 4e style minion.

IMO, to properly implement the concept of a minion, you give them 1 HP. Up their damage (and possibly attack bonus) to the point where they are threatening. Additionally, they negate any damage taken after making a successful save.

Veering into house rules for a moment, I've been toying with the idea of having minions who avoid damage by making a successful save fall prone. This helps to avoid the odd Rambo minion who just keeps making saves and refuses to die. (The idea is that they can't use their damage negation when already prone.)
Personally I always thought high level minions were a bit odd, it reinforced the whole "levels are just a treadmill" idea. I liked the concept, just felt odd in practice.
So if I want a low level monster to be a real threat I'll use mobs. Or this guy: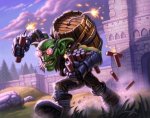 [EDIT: I don't mean to make this a slam on minions in 4E. They were fine for that version of the game. I just like the thought of a goblin sapper running at the group cackling maniacally as the group frantically tries to take it out before it reaches them.
]
Last edited: