Hey Guys... I really need your help.
So... I want something like this:
Human - gives only bonus feat.
Half Celestial - Give a lot of pluses, Like:
+1 Natural Armor
Special Abilities - 5 Hit Dice.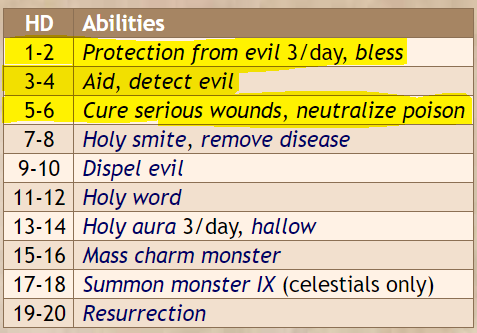 Daylight effect at will,
Smite Evil once per day,
Damage Reduction 5/Magic, Resistance to 10 Acid, 10 Cold, 10 Electricity, +4 Fort vs Poison, Immunity to Disease, Darkvision 60 feet (something Human don't have.), Spell Resistance 15 (10 + 5HD)
+4 STR, +2 DEX, +4 CON, +2 INT, +4 WIS, +4 CHA
The Human becomes an Outsider... but doesn't get any skill points or stuff like this... Little Disappointed But I want the wings.
He will be Fighter - Level 5, Because Level Adjustment +4
Alignment: Chaotic Good* (Fixed from Evil)
Number of feats to use + The feat I choose.
Human gives 1 Bonus Feat (1) - Two-Weapon Fighting
Level 1 gives 1 Bouns Feat (2) - Weapon Focus - Scimitar
Fighter Level 1 gives 1 Bonus Feat, (3) Weapon Focus - Battleaxe
Fighter Level 2 gives 1 Bonus Feat (4) Combat Expertise
Level 3 gives 1 Bonus Feat (5) Improved Trip
Fighter Level 4 gives 1 Bonus Feat (6) High Sword Low Axe
At Level 6 I will get 2 Bonus Feats... And Prestige Class Occult Slayer.
But until this... I'll use my melee combat...
So... After I got all of this, Which Items I can use to become powerful?
Or maybe you think there's even a good fighter style or something that can be more powerful at fighting?
The Campaign:
We're Fighting an Necromancer and Also We're Right now on Psionic Area... Then We will go into Elves Kingdom... After that we will be on Desert Area... But we already fought against:
Undead Creature's, Wight Undead Creature... Barbarians... On Psionic Area Dromites and also Half-Giants and 1 Maenad.
We try to find the killer (We think he's a necromancer) That killed a lot of good clerics.
The reason the play Human Half Celestial Fighter is because I wanted to play Planetar... But it's impossible so, I've found this good option, But I don't really know if this fighting style is ok.
Also, Which Armor Planetar use?
Best Regards Everyone!
Eden.
Last edited: