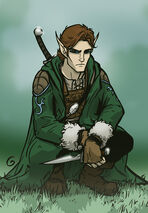 "Yet more to come? This is not good, I tend to believe. But then, maybe we can dog-ear some of them for early demise"
So saying, Sylvain reaches back into his mind to find the words of summoning. As his mind is uncannily sized this might actually take a second or two. Here they go. Pronouncing the arcane syllables is like singing a buzz. No that comparison is not appropriate right now. Singing a green cloud is better. Forth they come to materialize in the form of that viscious dog, ready to tear into the blasted insects.
[sblock=OOC]
[/sblock]
[sblock=Actions and Rolls]
Cast Summon Monster I to summon the dog into U28, ready to attack S18 whenever it can.
Dog attack and possible Damage: 1D20+2 = [11]+2 = 13
1D4+1 = [2]+1 = 3

The Dog will stay two rounds.
[/sblock]
[sblock=MiniStats Dog]
Init +1
Senses: darkvision, low-light vision, scent
Perception +8
DEFENSE
AC 13, touch 12, flat-footed 12 (+1 Dex, +1 natural, +1 size)
hp 6
Fort +4, Ref +3, Will +1
SR 5
OFFENSE
Speed 40 ft.
Melee bite +2 (1d4+1)
STATISTICS
Str 13, Dex 13, Con 15 [191], Int 2, Wis 12, Cha 6
Base Atk +0; CMB +0; CMD 11 (15 vs. trip)
Feats Skill Focus (Perception)
Skills
Acrobatics +1 (+9 jumping)
Perception +8, Survival +1 (+5 scent tracking)
Racial Modifiers
+4 Acrobatics when jumping
+4 Survival when tracking by scent
[/sblock]
[sblock=Sylvain Mini Stats]
Sylvain
AC: 15 (13 flat-footed, 12 touch)
HP: 13/13
CMB: +1
CMD: 13
Fort: +1
Reflex: +6
Will: +3
Initiative: +3
Perception: +3
Perform: +8
Disable Device: +9
Bardic Performance: 7/7
Cantrip remaining: Unlimited
Level 1 remaining: 2/3
Current Weapon in Hand:
Masterwork Longsword
Current Conditions in Effect:
Temporary items in possession:
Masterwork Panpipes (Wind Instrument)
Items not currently in possession:
Items depleted:
none[/sblock]