[sblock=Full Picture (I seriously need to draw Amien again)]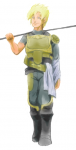 [/sblock]
"Amien. I am looking for work, and it seems this kidnapping business in some alley is right up my alley."
the man states simply, his response should give attention to his already being stood up and with his arms crossed ready to set out.
"I hope that this 'doing good and rescuing others' thing proves to be as rewarding as a philosopher would say it is."


He waits patiently like the others for a response from the warrior that had shown up.
[sblock=Mini-stats]HP: 28/28
AC: 15
AC Touch: 12
AC Flatfooted: 13
Initiative: +2
Glaive Attack: +5, Glaive Damage: 1d10+4
Heavy Flail Attack: +5, Heavy Flail Damage: 1d10+4
Sling Attack: +4, Sling Damage: 1d4+3[/sblock]
[sblock=OOC]I am going to show my friends that pic. Hilarious stuff.[/sblock]
Last edited: