Hello everyone, Darryl here with this week's gaming news! Dragonlance lawsuit withdrawn and dismissed, two big releases for
Judge Dredd & The Worlds of 2000 AD, Dark Crystal
RPG announced, new
Pathfinder
miniature previews, and more!
Don't forget, you can get all the week's RPG news every week with
Morrus' Unofficial Tabletop RPG Talk
! This week, Morrus and Peter count down the top 10 favorite RPG podcasts in the Talk and Actual Play categories based on a poll of EN World readers!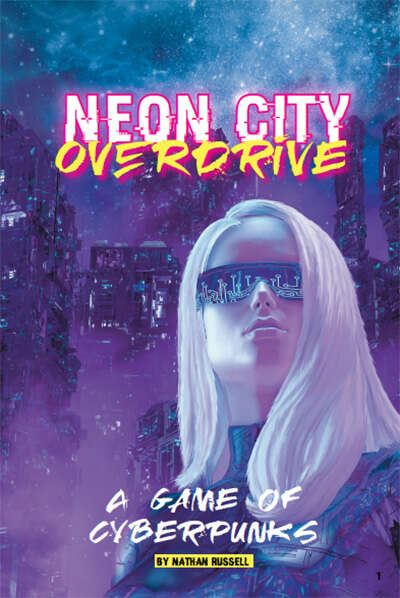 In case you missed it elsewhere on EN World this week…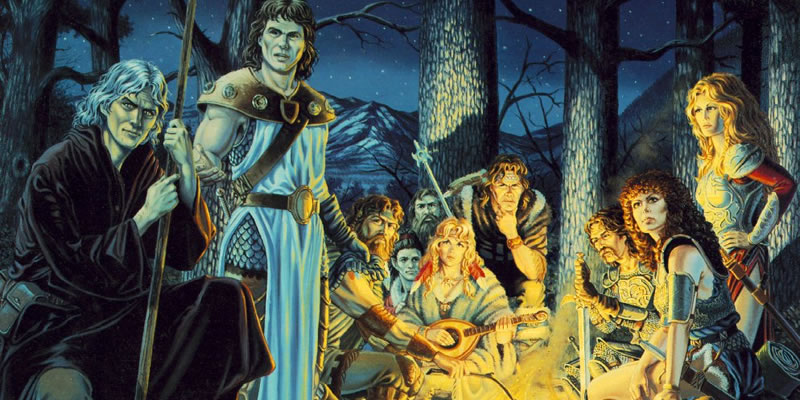 The lawsuit from Margaret Weis and Tracy Hickman against Wizards of the Coast has been withdrawn and dismissed without prejudice
. Normally when covering these sort of legal proceedings, I would explain what's going on with the legal filings, but in this case all we actually know is Margaret Weis and Tracy Hickman filed to have the lawsuit withdrawn and dismissed without prejudice (meaning it can be re-filed in the future) before Wizards of the Coast had responded to the original complaint (WotC has filed no legal motions in regard to this case with the court) and before any discovery took place (neither party in the lawsuit had submitted any evidence to the court). That's all we know for sure and it's not likely we'll know much more than that for sure. Anything beyond that is speculation.
Now to speculate just a bit, the most likely scenario is that the lawsuit has been settled out of court. This sort of legal filing to withdraw a lawsuit without prejudice is typical of what you would see if a case was settled. "Without prejudice" means that the lawsuit can be filed again should either side break the agreement of the settlement and there is a need to go to court again to resolve the dispute. Another (far less likely) possibility is that Weis and Hickman realized they did not have a strong enough case at the moment so wished to withdraw the lawsuit for now and re-file it later after they have built a stronger case. The reason a settlement is more likely is that both Weis and Hickman have made positive statements regarding this –
Weis saying on Twitter
"I can't say anything yet, but watch for exciting news in the weeks to come!" and both Weis and Hickman retweeting an announcement from
the fan-run Dragonlance Nexus account that the lawsuit was settled
. The reason we don't know for sure and will likely not know much about what were the terms of the settlement is that legal settlements are almost always sealed and both parties agree to an NDA not to discuss the terms of the settlement.
Either way, we should see at least some of the results of the settlement soon and that will open up all new avenues of speculation.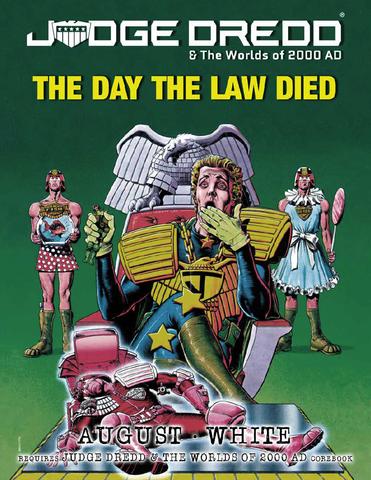 It's been a big week for EN Publishing, the RPG publishing arm of EN World.
The first is the release of the newest setting/adventure book for Judge Dredd & The Worlds of 2000 AD, The Day the Law Died
. This book covers Judge Dredd's return to Megacity One to find the tyrannical Chief Judge Cal in the middle of a power grab that ends up with Dredd framed for murder, needing to both clear his name and take down the corrupt Chief Judge. The book features in-depth coverage of the Special Judicial Squad (the internal affairs branch of the Justice Department) along with new options like troggies and Kleggs, new careers for civilians, perps, and Judges, new equipment and vehicles, and more.
The PDF is available now for £12.99 and the softcover (with free PDF delivered immediately) available for £24.99 shipping in January
.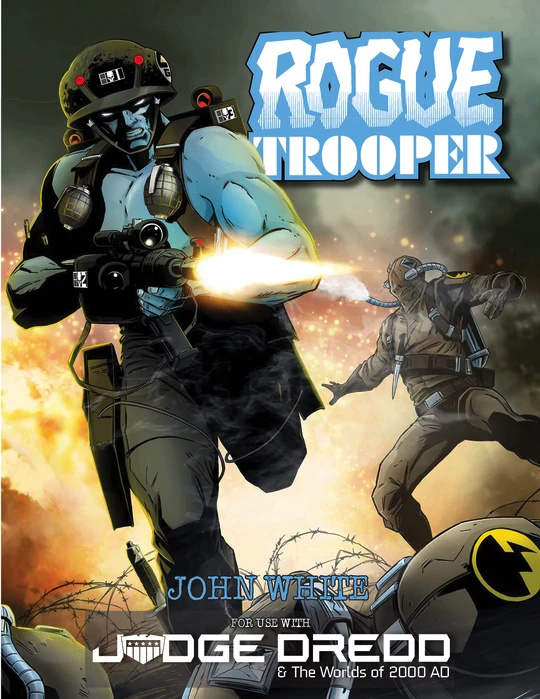 The other big release for Judge Dredd & The World of 2000 AD (and again exploring the "Worlds of 2000 AD" part) is the next big campaign setting, Rogue Trooper
. From the product description,
"In Rogue Trooper's universe, the battle for Nu-Earth dominates everything. The Greater Nordland Republic and the Souther Confederacy wage an endless war for control of a poisoned planet. Desperate for an edge, the Southers have developed superhuman soldiers known as Genetic Infantrymen, or GIs, and thrown them against their enemy in the hopes of stalling the Nort's inexorable advance. Despite being outgunned and outnumbered, even a single GI can often be enough to turn the tide of a battle."
The hardcover (with PDF included) is available now for £34.99 while the PDF is available for £14.99
.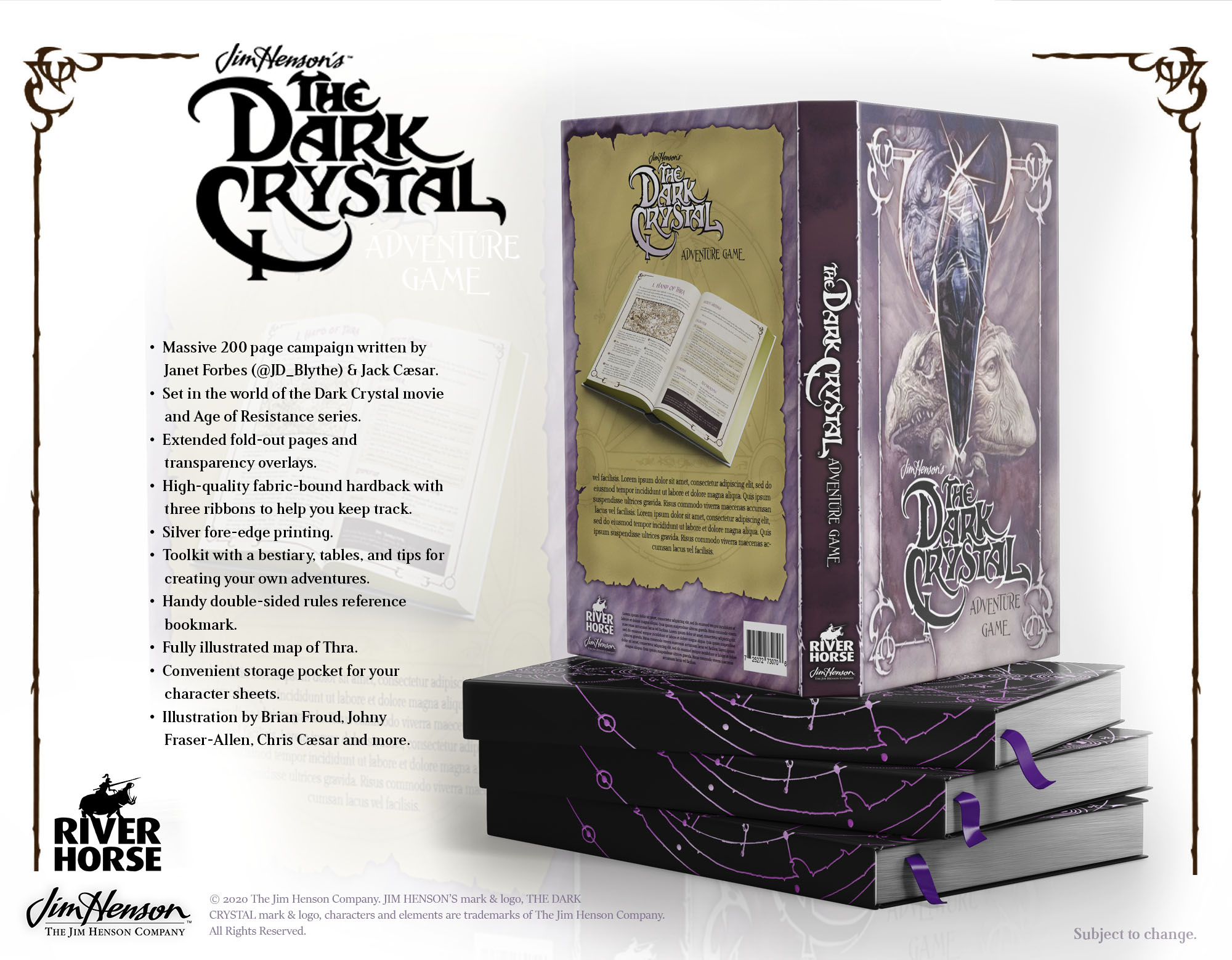 River Horse announced Jim Henson's The Dark Crystal Adventure Game based on both the 1982 Dark Crystal film and the Netflix series The Dark Crystal: Age of Resistance
. Like the company's previous game based on
Labrynth
, this is one of those games that will cause discussion as to whether or not it's technically a "roleplaying game", but I'll leave pedantic lexicon arguments to others. The game features a simple rules system and GM toolkit, fold-out maps, transparency pages, and a 100-series adventure that can be assembled into a single session game or an entire campaign. Oh, and the adventures are system-neutral so you can play them with any game system you like. No price has been announced, but the game is scheduled for a 2021 release.

Paizo posted new preview images from the upcoming Pathfinder Battles: Darklands Rising set of pre-painted minis from WizKids
. So an aside – back in October I ran community movie nights three nights per week, programming horror movie triple features for each one. That was thirty-nine total horror movies plus horror TV shows, short films, game trailers, and more. I say that so that you'll have context for when I say that these miniatures are some of the best, creepiest images I've seen all year. A kobold skeleton wearing a dress holding a stuffed bunny that is far more unsettling than it has any right to be, the eyeless abomination of the leshy fungus, one of the best renditions of a shoggoth I've seen, a truly terrifying jack-o-lantern head bearing scarecrow, and a lot more. The
Darklands Rising
miniature set will be available in randomized boosters containing either 2 medium/small figures and 2 large figures or 3 medium/small figures and one huge figure for $19.99 each, coming to stores in April 2021.

The Origins Awards have updated their nomination categories for the second time for the 2020/2021 award cycle
. The new changes come after feedback from the Awards' RPG jury and updates the categories for roleplaying games to Best Role Playing Game – Core Rules Set, Best Role Playing Game – Supplement, and Best Role Playing Game – Adventures. This change replaces the previous genre split of the RPG category between Family/General Audience, Fantasy, and Science Fiction in the last round of updates to the categories. Nominations for other game types such as board games, miniature games, and card games remained unchanged from the last update.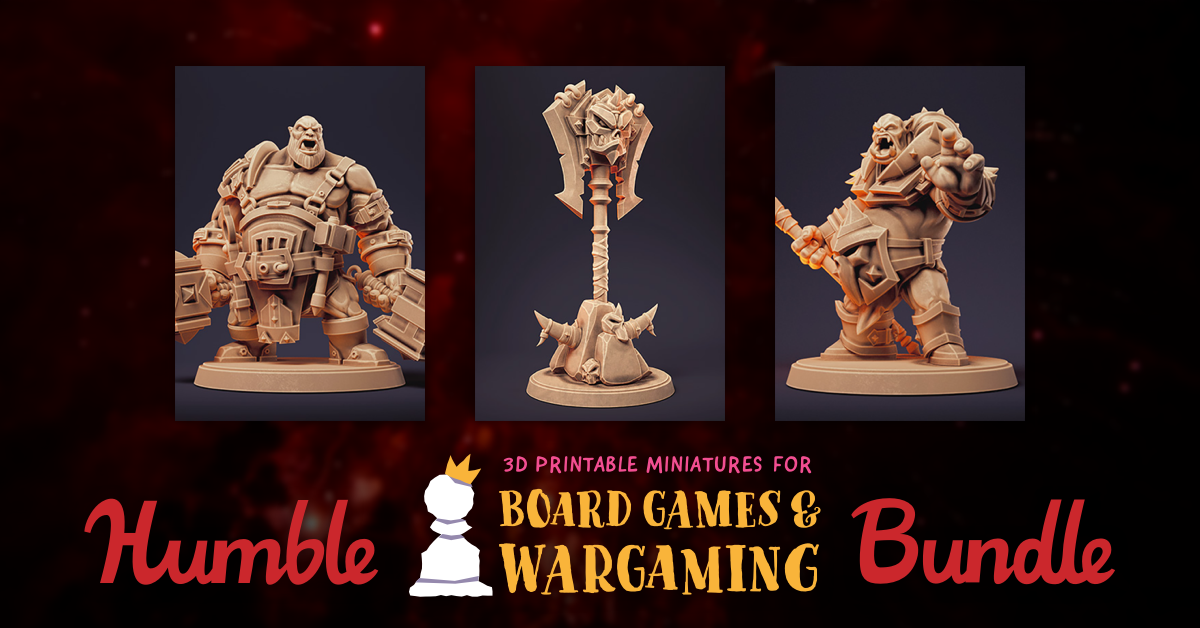 Were you lucky enough to get a 3D printer for the holidays but don't have anything to print?
The 3D Printable Miniatures for Board Games & Wargaming has you covered
with a selection of over thirty monster and hero models ready to be printed. This bundle benefits No Kid Hungry Connection, Extra Life, and St. Jude Children's Research Hospital and runs until Wednesday, January 13. There's also still time to get in on the two big RPG bundles, the
Pathfinder Monster Lore Bundle featuring Pathfinder 1st Edition sourcebooks rich in lore and adventure hooks usable in any fantasy game
and
the Cyberpunk Bundle from R. Talsorian Games featuring an entire library of Cyberpunk 2020 rulebooks and sourcebooks full of game lore plus the Jumpstart Kit for Cyberpunk RED
. The Pathfinder bundle benefits Comics for Kids while the Cyberpunk bundle benefits Able Gamers, and both bundles are only available until Monday, January 4. Finally,
don't forget the Maps Extraveganza Encore bundle featuring software, assets, and instructional tips to create your own maps
for dungeons, cities, castles, world maps, and more. This bundle benefits Save the Children and Game Changer and runs until Wednesday, January 6.
That's all from me for this week! Don't forget
to support our Patreon
to bring you more gaming news content. If you have any news to submit, email us at
news@enpublishingrpg.com
, and you can get
more discussion of the week's news on Morrus' Unofficial Tabletop RPG Talk
every week. You can
follow me on Twitch where I'll be streaming some test streams this weekend,
subscribe to Gamer's Tavern on YouTube for videos on gaming history, RPG reviews, and gaming Let's Plays
, or you can listen to
the archives of the Gamer's Tavern podcast
. Until next time, may all your hits be crits!
Note: Links to Amazon, Humble Store, Humble Bundle, and/or DriveThru may contain affiliate links with the proceeds going to the author of this column.