Hello everyone, Darryl here with this week's gaming news!
Doctor Who
5e on its way, tabletop Kickstarters grow in 2021, Roll20 hits 10 million users, PaizoCon 2022 announced, and more!
Don't forget, you can keep up with all the week's gaming news with
Morrus' Unofficial Tabletop RPG Talk
! This week, Morrus and Peter talk about the price of RPGs.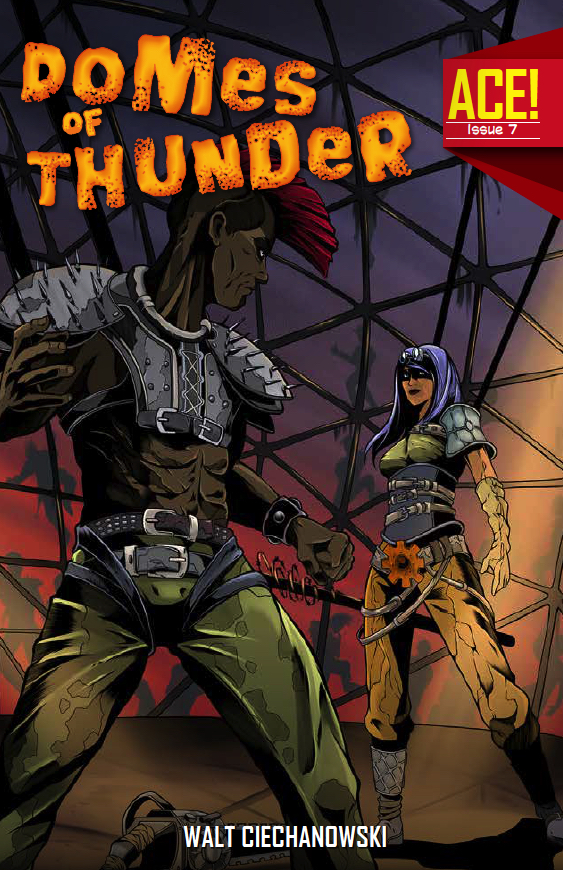 In case you missed it elsewhere on EN World this week: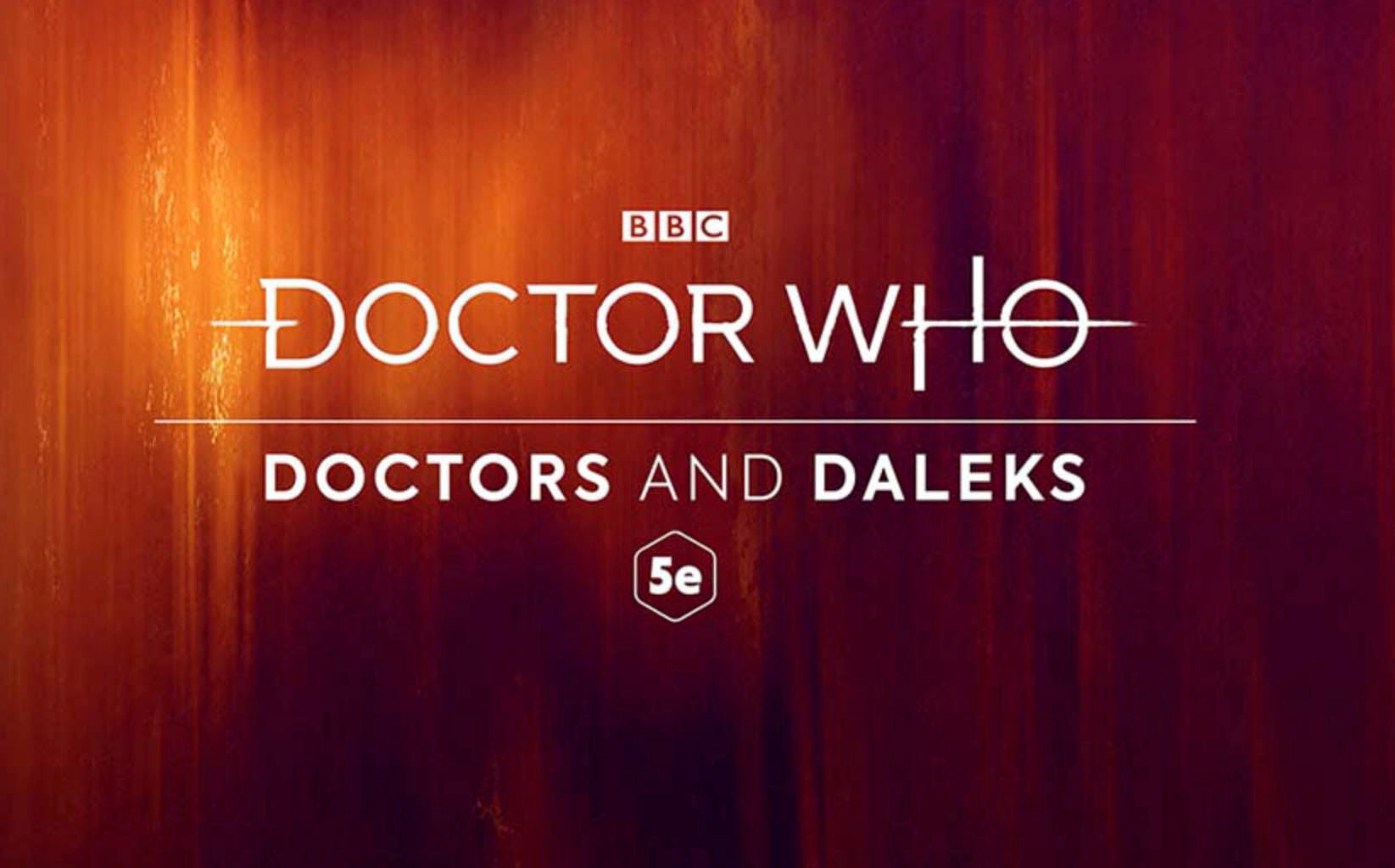 Cubicle 7 announced a new iteration of their Doctor Who roleplay game line, Doctors and Daleks Player's Guide using the 5e rules system
. Few details are available yet, but the announcement caused a large discussion on social media that dominated the TTRPG space about 5e adaptations. The backlash caused both
D&D lead Ray Winninger and designer Dan Dillon to comment on statements that Dungeons & Dragons 5e is "ninety percent combat"
. Some designers on
Doctors and Daleks
reported they received harassment over the announcement. Cubicle 7 has held the license to the
Doctor Who
franchise for over a decade at this point and
released a second edition of their original system Doctor Who: The Roleplaying Game last year
and, as part of the announcement of the new 5e version, stated that both games will continue to receive support in the future.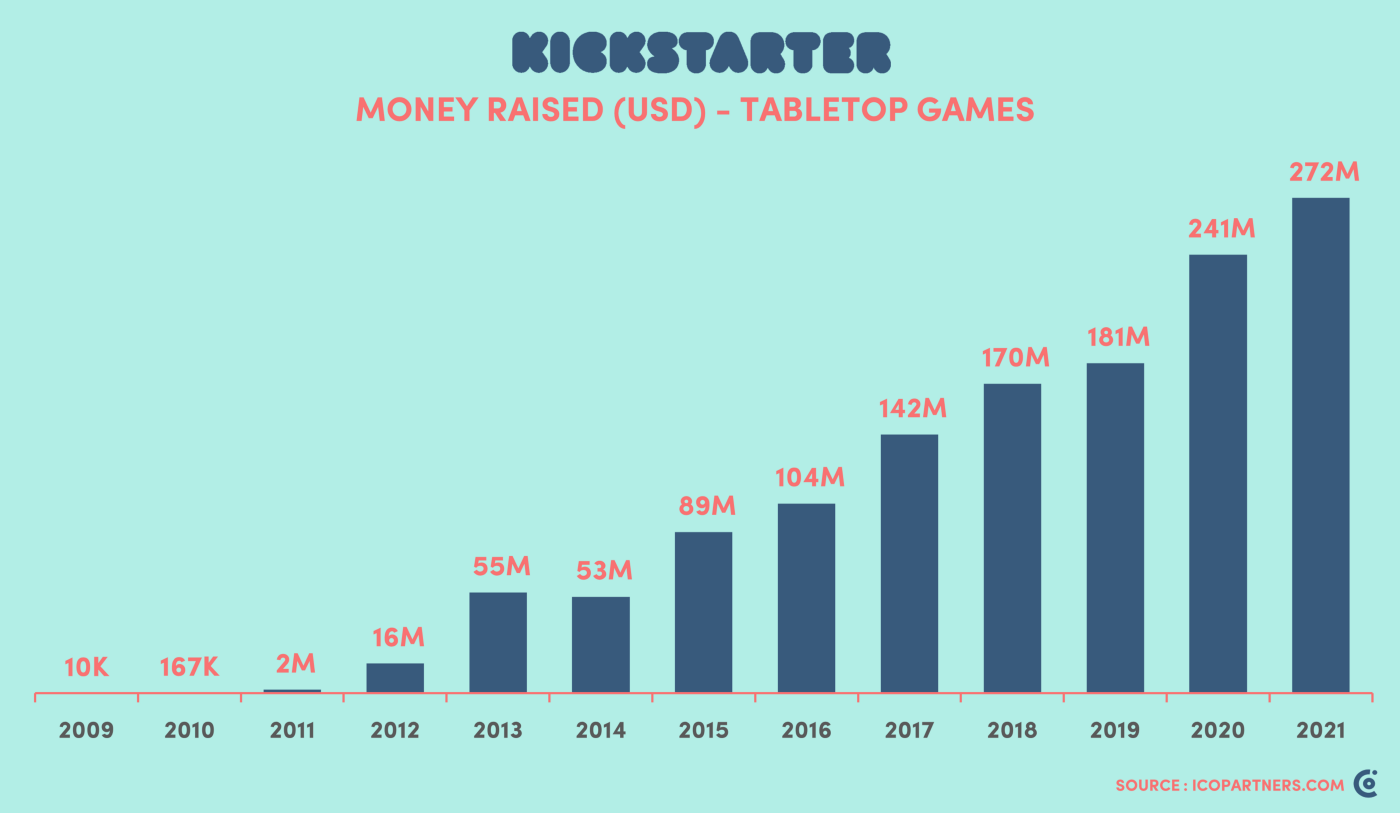 ICO Partners released statistical information on the performance of tabletop games on Kickstarter in 2021
. In 2021, there were a total of 3516 projects raising over $272 million in total. This marks yet another year of growth for tabletop games on the crowdfunding platform, which it has done almost every year since the site's founding, with the sole exception being 2014. However, the growth has slowed with total funding in 2021 up only 13% over 2020, compared to 33% growth between 2019 and 2020. The growth isn't just from the "big projects" though as over half of all funded projects were under $10,000 and projects funding for less than $500,000 accounted for well over $100 million of the total funding. Meanwhile, the big projects funding at over $500,000 hit an all-time high with 101 projects reaching that milestone. The question now is whether this growth will continue for the platform with
the controversy over Kickstarter's move to blockchain technology
and competition from platforms
like Gamefound, which recently received a large investment from Ravensburger AG
.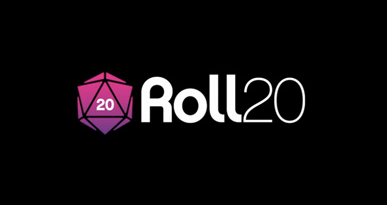 Speaking of growth in the industry, Roll20 announced that their userbase is now over 10 million
. This means that the userbase of the platform has doubled in just under two years, as a March 2020 report announced a userbase of 5 million. This news comes along with a major change behind the scenes, as co-founder Nolan T. Jones will step back from his role as CEO of the company with Ankit Lal taking over the role. Roll20 stated that they plan more updates in the future including an overhaul of the user interface for the site, performance improvements, and new features for GMs.
Ed Greenwood, creator of Forgotten Realms, released a new sourcebook for the setting on DM's Guild, Land of the Red Wizards
. The book was written by Greenwood along with Alex Kammer and Alan Patrick covering the realm of Thay. From the product description:
Known to the wider Forgotten Realms® as a sinister land of Red Wizards, slavers, and marching undead armies, Thay is the distant—or uncomfortably close—menace that "may become our doom if Szass Tam turns his attention in our direction."

And Thay is that, but it is also so much more. A truly magical land (thanks to a secret that even the goddess Mystra helps to keep) of rich culture, a rising middle class, ambitious nobles and Red Wizards who fear Szass Tam more than they hate him, but may soon be forced to defy him, and wealth beyond the imaginings of even wealthy and proud realms elsewhere.

This tome is your guide to the Thay of right now, a valuable resource for Dungeon Masters and players alike. It sets forth the people and places of the Land of Red Wizards, what life is like, and seeds, hints, and secrets sufficient to spur adventures for years of enjoyment at your gaming table.
The 108-page book is available now
on DM's Guild in PDF for $17.99, premium hardcover print-on-demand for $39.99, or a combo package with both for $48.98
.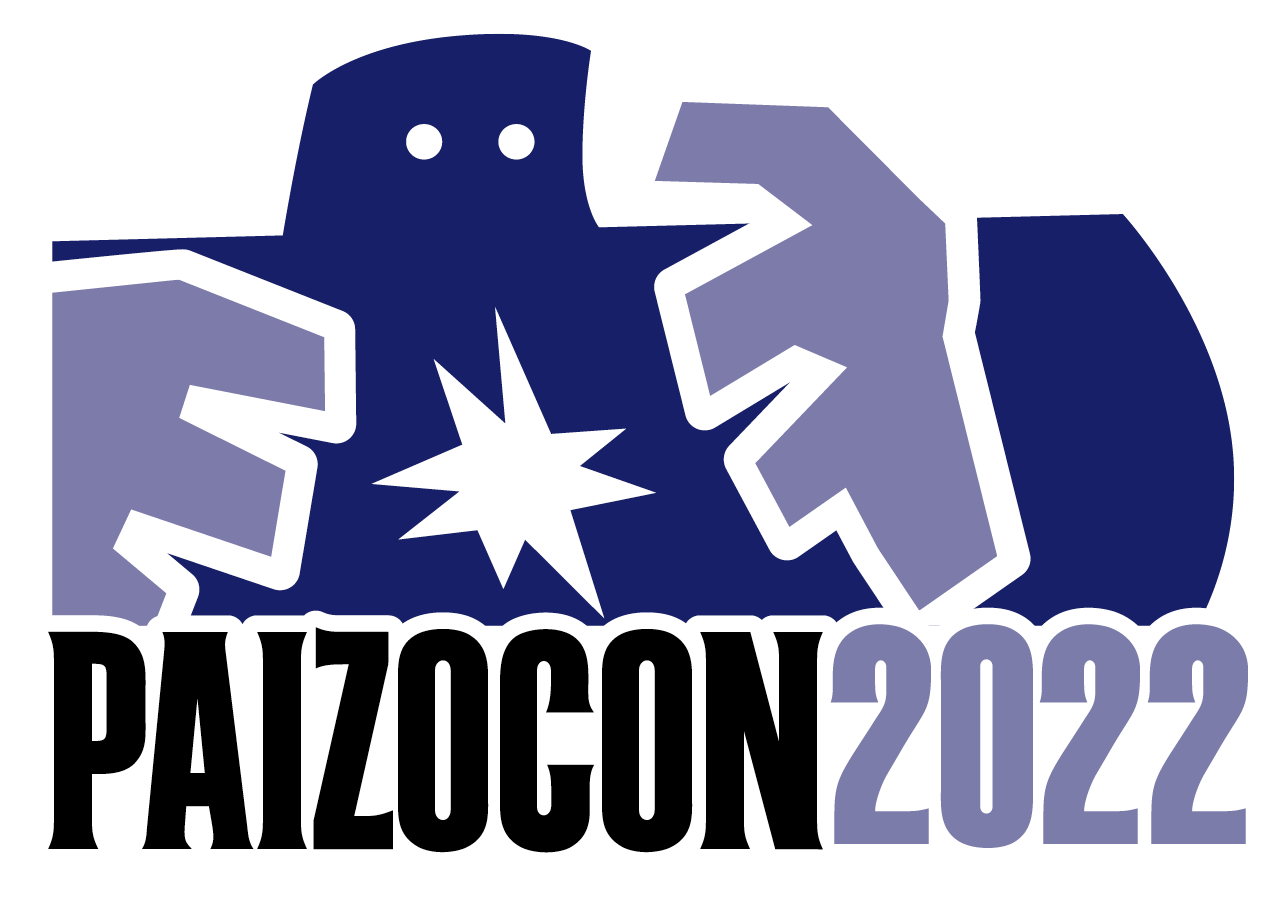 Paizo announced information for PaizoCon 2022 in time for the 20th anniversary of the publisher
. The convention will be held both in-person and online, with the physical show limited to 500 attendees. The convention will take place on Memorial Day weekend, May 27-29, at the Doubletree in Seattle, Washington. Both events will include Pathfinder Society and Starfinder Society games including the launch of Starfinder Society Year 5, a return of the PaizoCon Puzzle Hunt, a new Starfinder Special #4-99, and of course games running all weekend. The annual banquet has been canceled for safety reasons, but the keynote speech from Erik Mona will be streamed live along with other panels featuring release updates and big announcements. All attendees at the physical convention will require proof of vaccination plus required boosters along with mandatory masks at all events. Holders of tickets to PaizoCon 2020 who previously chose the option will have their tickets rolled over to the 2022 event, or they may request refunds through customer service through March 11. Registration will open for general purchase on March 16, an initial event schedule will be announced on March 21, and sign-ups for events will begin on April 16 (with Warhorn VIP members getting access a day early). The announcement that Paizo "will pivot to an online-only event should conditions take a turn for the worse."
Applications are also open for volunteers for the convention with a deadline of March 17
.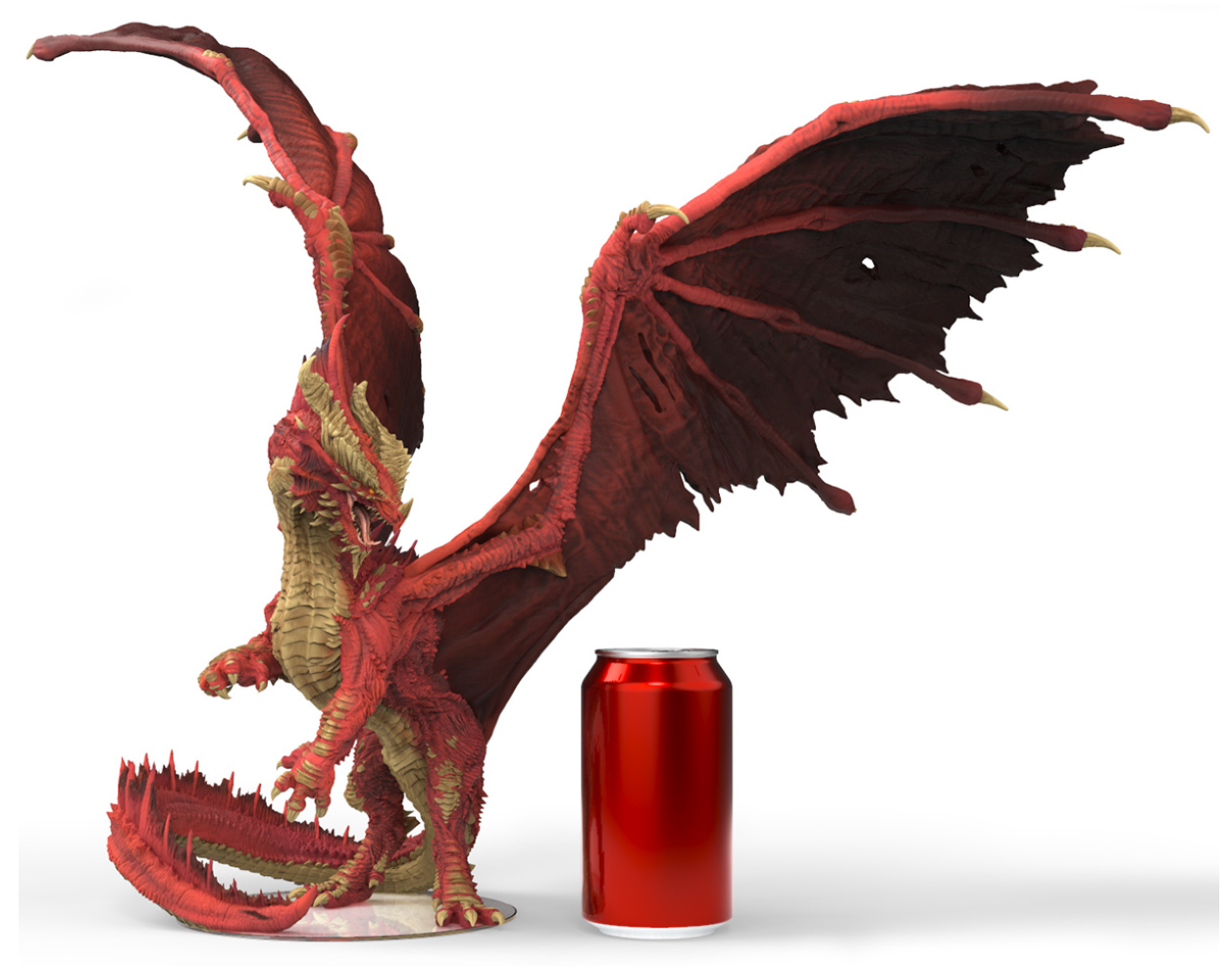 WizKids announced several new pre-painted miniatures this week, though I think we really should find a new term considering the size of some of these.
First coming in June and pictured above (with soda can for scale) is Balagos the Ancient Red Dragon
. This gargantuan-scale mini is over eighteen inches tall with a wingspan of almost two feet, and the wings and tail are both detachable. This figure will retail for $399.99. Next are a pair of deities starting with
Yeenoghu also known as the Prince of Gnolls, the Beast of Butchery, and the Ruler of Ruin, available in May with a retail price of $79.99
. We also have an
Aspect of Tiamat that stands over six inches tall, set for release in May with a retail price of $129.99
. Finally, WizKids in partnership with Kidrobot will release
a new series of three inch vinyl figures based on the 1st Edition AD&D Monster Manual
. The figures are similar in design to other plastic collectible figures like Funko Pops based on the iconic monsters from the original edition of D&D, including beholder, displacer beast, roper, rust monster, mind flayer, xorn, remorhaz, and more. The first series features thirteen different figures in randomized boxes releasing in August, though no price has been announced at this time.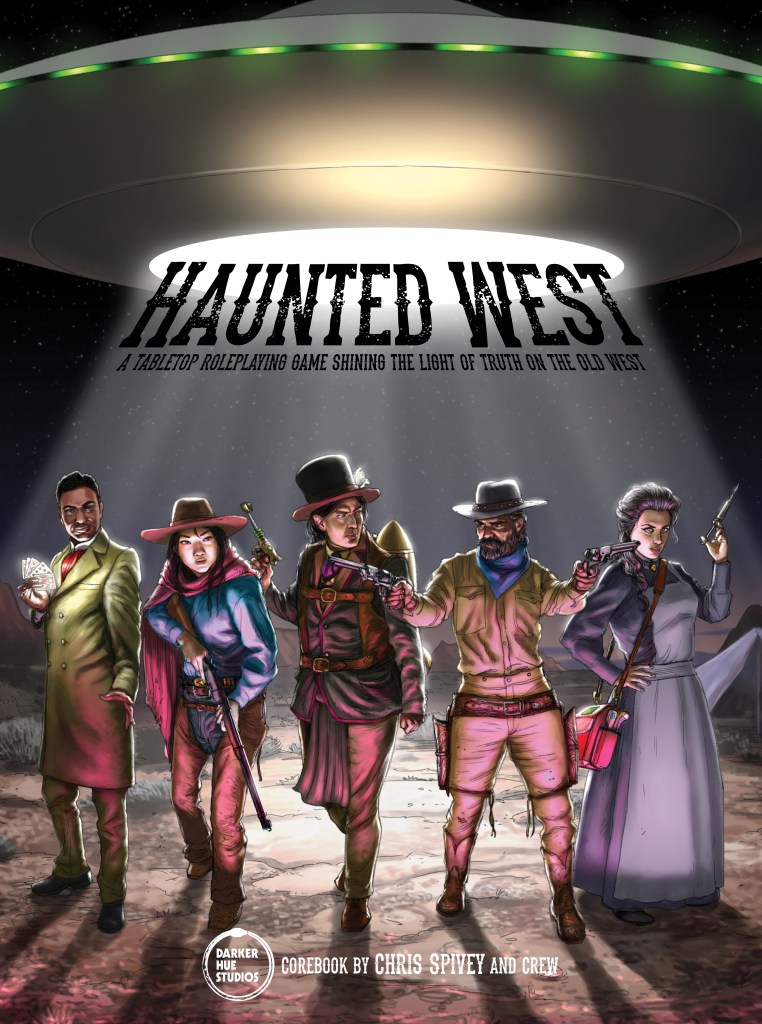 R. Talsorian Games announced a publishing deal with Darker Hue Studios to distribute Haunted West by Chris Spivey
. The game is an alternate history of a post-Civil War era America where the Reconstruction continued past its abrupt end and providing more opportunities for those previously oppressed. Focusing on the often unheard voices of the American West, the rules and setting both allow groups to customize the level of complexity of the system and the amount of supernatural elements in the setting from historical to full-on weird west.
Haunted West
originally crowdfunded on Kickstarter in 2019 with a total of $53,883 from 889 backers, with
the 799-page core rulebook releasing directly from Darker Hue in October 2021
. R. Talsorian will handle distribution to wholesalers and retail as well as provide direct sales to customers through their webstore.
Black Isle Studios announced that the original Baldur's Gate Dark Alliance 2 will receive a remaster and make a debut on PCs
. Back in the early 2000s, publisher Interplay had great success with the
Baldur's Gate
series but was unable to port the game to consoles. In order to make the most of the
Dungeons & Dragons
license, they released two console-only games
Baldur's Gate: Dark Alliance
. After Interplay's closure, many members of the developer formed Black Isle Studios, which has now taken on the task of remastering the previously console-only sequel game
Baldur's Gate: Dark Alliance 2
and bringing it both to modern consoles and to PCs. No release date is available yet, but the game is expected sometime this year. Black Isle Studios joins the other Interplay-descended modern game studio, Obsidian Entertainment, in revisiting an acclaimed former property as
news broke that Obsidian is in "very early talks" to begin work on Fallout: New Vegas 2
.
That's all from me for this week! Don't forget
to support our Patreon
to bring you more gaming news content. If you have any news to submit, email us at
news@enpublishingrpg.com
, and you can get
more discussion of the week's news on Morrus' Unofficial Tabletop RPG Talk
every week. You can
follow me on Twitch to get notifications when I go live,
subscribe to Gamer's Tavern on YouTube for videos on gaming history, RPG reviews, and gaming Let's Plays
, or you can listen to
the archives of the Gamer's Tavern podcast
. Until next time, may all your hits be crits!
Note: Links to Amazon, Humble Store, Humble Bundle, and/or DriveThru may contain affiliate links with the proceeds going to the author of this column.