Hello everyone, Darryl here with this week's gaming news! New playtest release for
One D&D
,
Pathfinder: Wrath of the Righteous
video game comes to consoles, new D&D miniatures from WizKids,
Alien RPG
and
Mutant: Year Zero
come to Nexus, and more!
For a quick summary of the week's news, Jessica Hancock will bring you up to speed with
EN Live's This Week in TTRPG every Friday
.
Don't forget, you can keep up with all the week's gaming news in detail with
Morrus' Unofficial Tabletop RPG Talk
. This week, Morrus, Peter, and Jessica talk about how to be a good player in an RPG
In case you missed it elsewhere on EN World this week: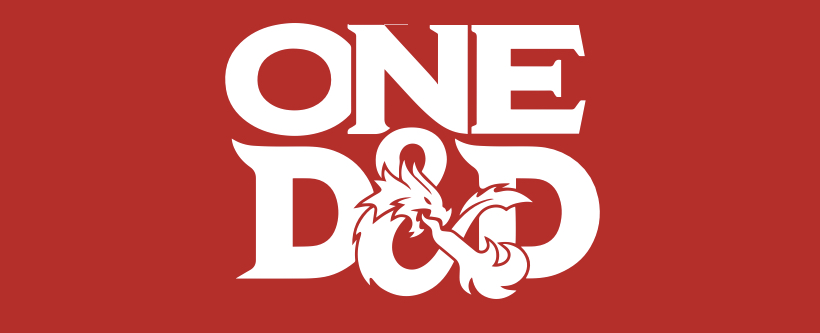 It seems that Wizards of the Coast have applied their "announcement-for-the-announcement" promotional strategy to the
One D&D
playtest as
they posted a video discussing the upcoming playtest packet
before the release of the new packet.
The new "Expert Class" playtest document came out on Thursday and includes updated versions of the Bard, Ranger, and Rogue
. The "Expert Class" is a new category that defines those three classes along with the Artificer (which is not included in the playtest as it is not part of the
Player's Handbook
) to stand in contrast to the Mages (Sorcerer, Warlock, Wizard), Priests (Cleric, Druid, Paladin), and Warriors (Barbarian, Fighter, Monk). Only one subclass for each class is included (Bardic College of Lore, Hunter Ranger, and Rogue Thief) but the playtest does include a brief guideline for adapting other subclasses to these updated classes. The second half of the document includes updated character feats with many new feats included among reworked versions of the original feats. The feedback survey on the Expert Classes playtest packet will open on October 20.
Free League and Demiplane announced the release of two digital toolsets for Nexus, Alien RPG and Mutant: Year Zero
. The
Alien Nexus
features a digital version of the
Alien: The Roleplaying Game Core Book
for $29.99 with pre-orders available for the
Colonial Marines Operations Manual
sourcebook and
Destroyer of Worlds
adventure. Purchases will unlock access to digital references for careers, talents, spacecraft, organizations, alien species, and gear. Players can also use the site's video, voice, and text chat along with the matchmaking service to join games along with their favorite virtual tabletop. The
Mutant: Year Zero
site offers the core rulebook for $29.99 but includes for free the
Starter Booklet
and the
Year Zero Engine
SRD with access to mutant roles and mutations. Both sites are currently in early access with the planned release of character creators coming in 2023.
Free League also opened pre-orders for the Lord of the Rings Roleplaying, the 5e adaptation of The One Ring RPG
. The 236-page core rulebook featuring six new classes, six cultures, journey and council rules, new monsters, and new magical items. Also available for pre-order is
Shire Adventures
, a 104-page hardcover with five short adventures along with pregenerated versions of famous Bagginses, Tooks, and Brandybucks. Pre-orders of both of these books will include immediate access to PDF versions of the books prior to their March 2023 full release.
The Lord of the Rings Roleplay 4e
is available for 518kr (US$46.50, £41.68) and
Shire Adventures 5e
for 398kr (US$35.73, £32.03). While the
Loremaster's Screen
with the
Rivendell Compendium
booklet is also up for pre-order for 318kr (US$28.55, £25.59), the PDFs for those products are not yet available. There is also a bundle of all three is available for 998kr (US$89.60, £80.31)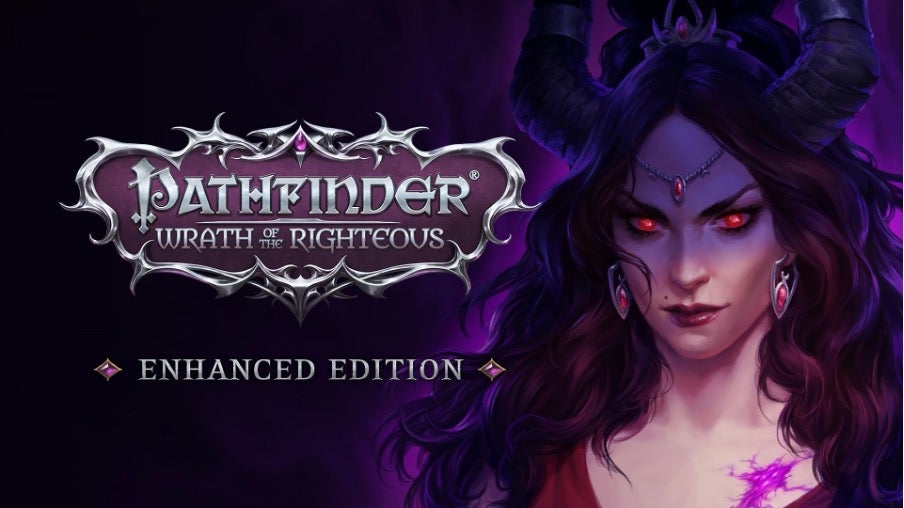 Owlcat Games and Paizo announced the console release of Pathfinder: Wrath of the Righteous along with a free update for PC editions of the game
. The console release is now available digitally through the Playstation Store, Xbox Games Store, and Nintendo Switch Cloud Streaming including all the free DLC already included. Meanwhile, the new v2.0 Enhanced Edition is available as an update for players on PCs with new features including controller support, appearance customization. UI enhancements, photo mode, and extra quests and events for specific playstyles.
Pathfinder: Wrath of the Righteous
raised over $2 million on Kickstarter in February of 2020 with over 35,000 backers and originally released on PC in September 2021. The game is available on consoles with a retail price of $49.99 while the PC version is on sale until October 3 for 60% off on
Steam
,
GOG
, and
Epic
for $19.99.
Wizkids announced yet another slew of miniatures for
Dungeons & Dragons
.
The Nolzur's Marvelous Miniatures line of unpainted figures will get ten new figures
: Sea Elf Fighters, Water Weird, Pixies, Death Knights, Piercers, Perytons, Locathah & Seal, Merfolk, Sahuagin Baron, and Draconian Dreadnought. Prices range from $4.99 to $14.99 with a release coming in December 2022.
Eight more miniatures will join the line in March 2023
: Halfling Wizards, Half-Elf Warlock, Shifter Fighter, Orc Fighter (Female), Halflight Rogue (Female), Aasimar Cleric (Female), Aasimar Cleric (Male), and Earth Genasi Fighter. All will retail for $4.99 except the Female Aasimar Cleric which will be $8.99.
Over to their pre-painted line, the Warband set features a collection of miniatures in a theme and
the newest one is probably the most unique so far, the Mimic Colony Warband
. The collection features mimics in the shape of a chest, a barrel, a table, a flowerpot, a chair, a wardrobe, and a bear skin rug. The Mimic Colony Warband will be available in June 2023 with a retail price of $59.99.
Finally, coming in April 2023 is Zuggtmoy, Demon Queen of Fungi
. The figure will be between 4 and 5 inches tall and fully painted with a retail price of $49.99.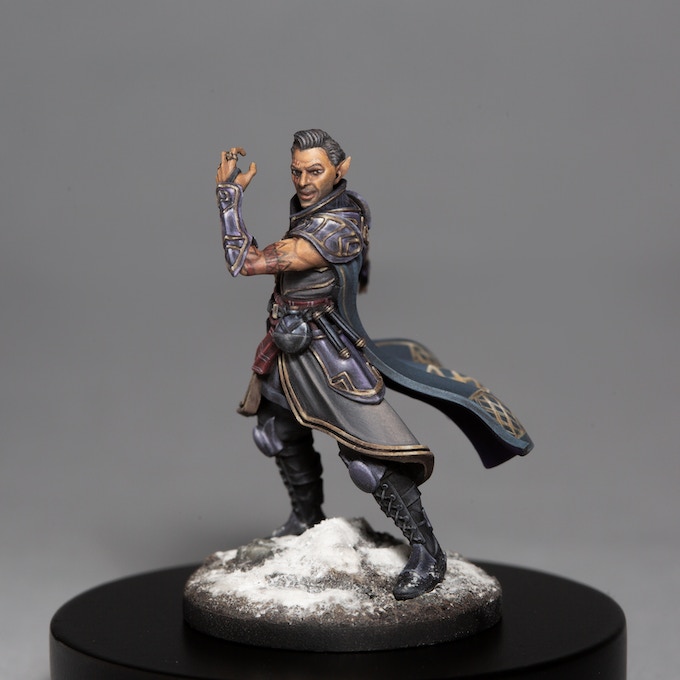 Thanks to Dark Dice and Kickstarter, you can now get your own elf sorcerer version of actor Jeff Goldblum
. This isn't quite as random as it might seem as
Goldblum appeared as a cast member in the Let's Play podcast series on the network, The Long Road
. The miniatures will be produced by Strata Miniatures and are available in sets based on seasons of the podcast as well as an option to purchase STL files for those with 3D printers. And if you're still confused how the star of
Jurassic Park
and
The Fly
ended up on a D&D podcast, you can find out more
with Morrus' Unofficial Tabletop RPG Talk #154 featuring podcast producer Travis Vengroff
. The Kickstarter is fully funded and will run until Friday, October 7.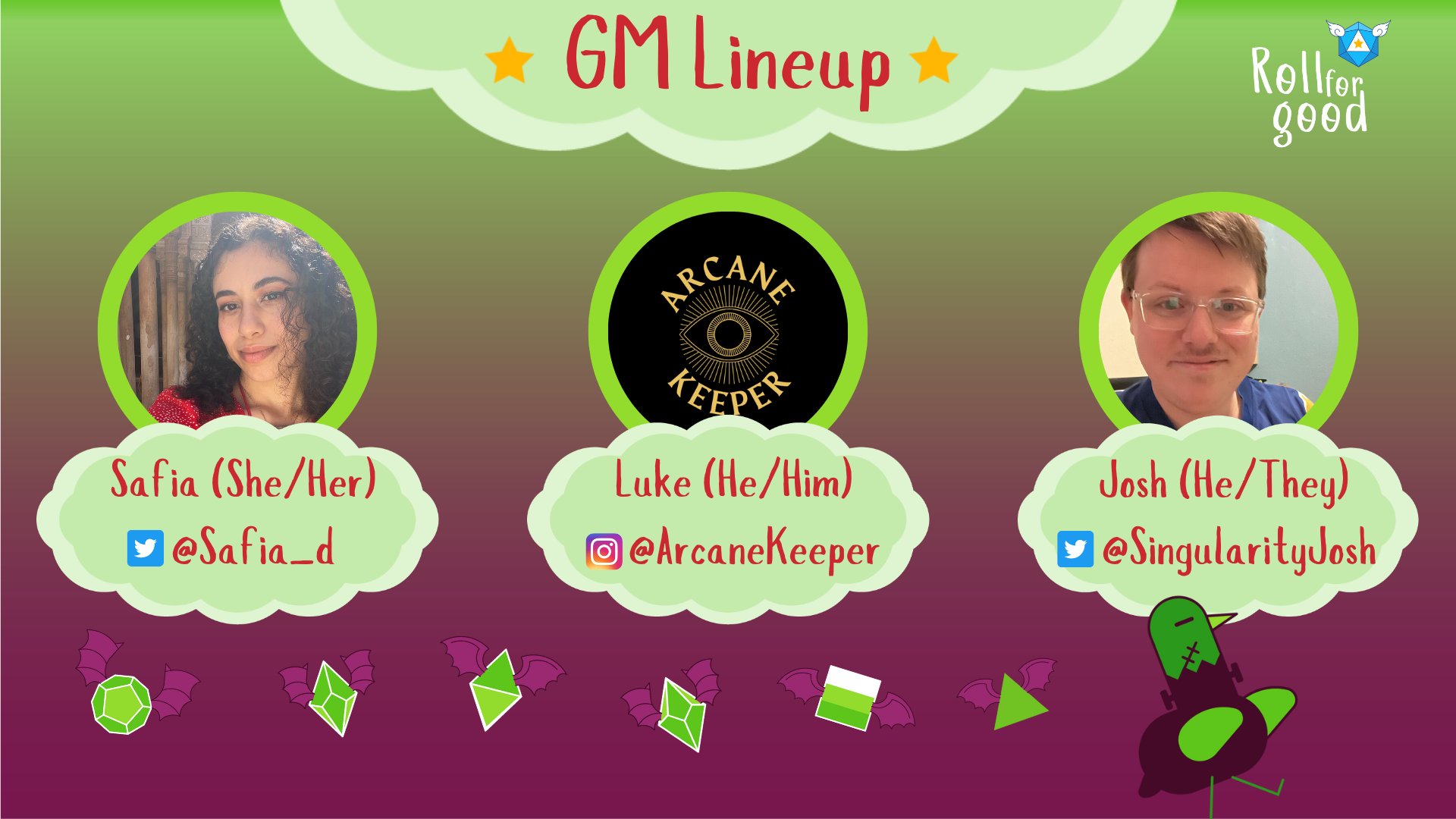 Twitch channel Roll for Good announced their Halloween Hijinks 2022 event raising money for the UK LGBTQ+ charity Mermaids
. The day-long marathon will take place on Saturday, October 22, with three different games run. Starting at 12 PM BST, (7 AM Eastern, 4 AM Pacific) with a game of
Dungeons & Dragons
run by Safia with the following description: "Somehow you've landed an office job in a fantasy world, with the suspicious code of conduct signed and the job title of "hireling 0019", you begin your first day of shenanigans today, at 7:00 am sharp, dress code: adventurer casual." Following it up at 4 PM BST (11 AM Eastern, 8 AM Pacific) will be a game of indie summer camp horror game
Camp Slaughter
run by Josh as the players try to enjoy their last party before the end of the season as
something
stalks them from the woods. The day will close out with Luke as Storyteller for a
Vampire: The Masquerade
game starting at 8 PM BST (3 PM Eastern, 11 AM Pacific) where the fate of all Kindred rests with on an elite vampire heist of the Vatican Archives. All proceeds from the fundraiser will go to Mermaids UK supporting transgender and gender-diverse youth.
That's all from me for this week! Don't forget
to support our Patreon
to bring you more gaming news content. If you have any news to submit, email us at
news@enpublishingrpg.com
, and you can get
more discussion of the week's news on Morrus' Unofficial Tabletop RPG Talk
every week. You can
follow me on Twitch to get notifications when I go live,
subscribe to Gamer's Tavern on YouTube for videos on gaming history, RPG reviews, and gaming Let's Plays
, or you can listen to
the archives of the Gamer's Tavern podcast
. Until next time, may all your hits be crits!
Note: Links to Amazon, Humble Store, Humble Bundle, and/or DriveThru may contain affiliate links with the proceeds going to the author of this column.