This week, Morrus and Peter are joined by TrooperSJP to talk about the statistics of RPG streaming on Twitch. In the news, Doctor Who getting a 5e adaptation, tabletop games grow again on Kickstarter in 2021, WizKids releases another "miniature", and more! Plus Our Favourite Game in All the World and a brand new sketch about the struggles of joining a thieves guild.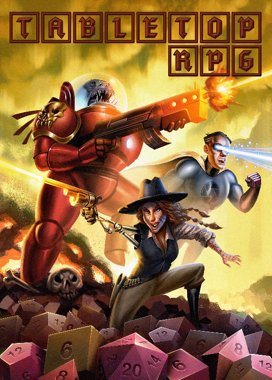 Subscribe on iTunes | Google Play | YouTube | TuneIn | Stitcher | Blubrry | Podbean | Spotify | Android
​
Our Guest
TrooperSJP on Twitch
--------------------
News
Doctor Who: Doctors and Daleks for 5e
D&D 5E - Doctors & Daleks - Cubicle 7 Brings Doctor Who to D&D 5E
Emmet Bryne on Doctors and Daleks discourse
Is D&D 90% Combat?
D&D 5E - Is D&D 90% Combat?
ICO Partners statistics for tabletop games on Kickstarter
Tabletop Grows 13% On Kickstarter
Roll20 tops 10 million users
Roll20 Now Has 10 Million Users
Land of the Red Wizards sourcebook on Thay from Forgotten Realms creator Ed Greenwood
D&D 5E - Thay Land of the Red Wizards Available From Realms Creator Ed Greenwood
WizKids Red Dragon "Miniature"
D&D 5E - I Think We Need A Bigger Shelf
News Digest for the Week of February 25 (Haunted West to be distributed by R. Talsorian)
News Digest for the Week of February 25
Tales of Xadia Release Date Announced
Tales of Xadia announces a release date for The Dragon Prince's official roleplaying game
Last calls for Judge Dredd, Rogue Trooper, and Strontium Dog
Last Calls for Judge Dredd, Rogue Trooper, & Strontium Dog
Domes of Thunder comes out for Awfully Cheerful Engine
We May Need Another Hero
--------------------
Kickstarters
Cyran's Magnificent Walking Marketplace
https://www.kickstarter.com/projects/unlimitedrealmsltd/cyrans-magnificent-walking-marketplace
Hell on the High Plains
https://www.kickstarter.com/projects/545820095/hell-on-the-high-plains-a-deadlands-booster-campaign
Epic Legacy Tome of Titans Vol 2
https://www.kickstarter.com/projects/2cgaming/epic-legacy-tome-of-titans-vol-2
Starkhollow Hall
See all the crowdfunding projects ending soon with Egg Embry's RPG Crowdfunding News
RPG Crowdfunding News – DCC, Deadlands, Cthulhu, Zweihander, and more
--------------------
The Statistics of RPG Streaming on Twitch
TrooperSJP on Twitch
Twitch Tools by CommanderRoot
Twitch Tools by @CommanderRoot
--------------------
Please support us on Patreon at
http://patreon.com/morrus
Don't forget to join the Morrus' Unofficial Tabletop RPG Talk Facebook group at
https://www.facebook.com/groups/1033145023517295/
and join us on Discord at
https://discord.gg/VAuxX8M
--------------------
Hosts: Russ "Morrus" Morrissey and Peter Coffey
Editing and post-production: Darryl Mott
Theme Song: Steve Arnott
Kickstarter Game Research: Egg Embry
Kickstarter Game Theme: Lyrics by Russ Morrissey, Vocals by "drwilko", Guitar by Darryl Mott
Malach the Maleficent played by Darren Morrissey