@clearstream
recently had a couple of
threads on this topic
. One of the DMs in my secret cabal decided to give it a try for a dungeon crawl called "Dugholdeep." I will be playing in this game which starts in a couple weeks.
It's 3d6 for stats in order, but one random stat can be replaced by a 3d6k2+6 roll (keep two highest of the d6 rolls then add 6) if the random stat it chooses is lower than this result. So, you might be able to improve one stat or you might not. Here's the result I got for my character: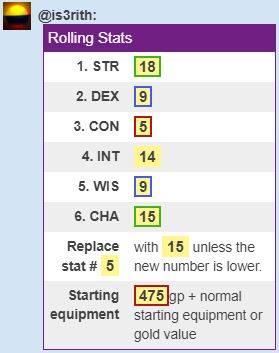 Check out that Constitution! At least two other party members also have terrible Constitutions (8 or less), so as a result we're basically trying to correct for that in our 5th-level character builds. I have created the following character based on these stats which I'm told is basically a 39/27 point buy.
I went Hill Dwarf for the +2 Con, then did my 4th-level ASI to Con. That brought me up to a respectable 9 Con, plus the hill dwarf gives +1 hp per level so it's kind of like having a 10 (where hit points are concerned anyway). My Wisdom is not quite where it should be in my view, but it's not terrible and obviously Strength is great, so I intend to get into melee and chose to limit all my spell selection to non-Concentration spells and nothing that requires a save or spell attack roll. Mostly the spells are healing or utility, plus Spiritual Weapon which I've refluffed to be a picket sign that says "Strike!" on it. I intend to make use of a 3rd-level Aid spell daily to help my sickly friends and make me better at tanking. I hope any Con saves I have to make are due to poison.
Kol Blacklung is a coal miner from the hill country and hard times have fallen upon his people due to the burgeoning whale oil industry. So he's a union organizer and voice for the flinty workers of his native land. He recently underwent some job retraining to become an adventurer to help make ends meet. An aged fellow who has spent most of his life in the mines, he has a terrible hacking cough but this doesn't stop him from smoking his hand-rolled cigars. With the respect of the stout folk and his trusty war pick, Kol intends to use his success to revitalize the local hill dwarf economy by setting up jobs programs and working towards exporting coal to the elf lands.
So, the experiment has been fun so far. We'll see how this all goes down in actual play. I don't think the DM is pulling any punches as we've been asked to make backup characters. I haven't made that character yet, but I did roll its stats: Str 10, Dex 13, Con 13, Int 10, Wis 11, Cha 6 with 525 gp starting gold. Yeesh. That's 15/27 in point buy terms. Which I guess averages out with Kol's stats! (Please don't die, Kol.)
If there's sufficient interest, I'll report on how Kol does on his adventures. In the meantime, please feel free to offer your suggestions to tweak his build or tactics. And if you have any ideas for my backup character, I'd welcome them.