Creator of The Untamed Wilds
OOC:
This thread is a PbP designed for starting characters, using The Untamed Wilds gaming system. Free Goggle Documents of the first two chapters of the Players' Guide, which describe an overview of the system and how to generate a character, are available for viewing. PM me or Email me for any interest, as this requires the sharing of Email adresses.

By consensus of the players, Character Records for this game are being stored as Google Documents with me having editing permission, to assist in development.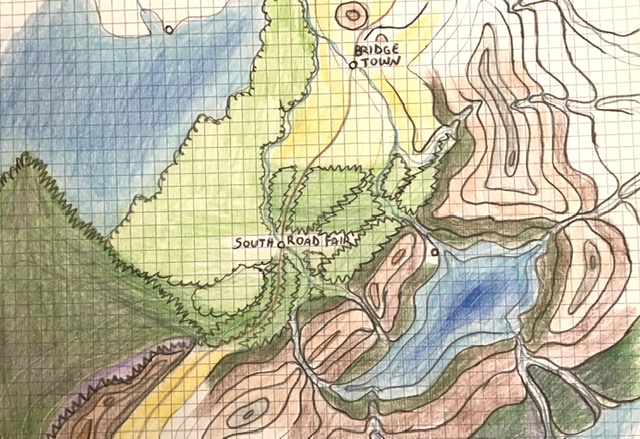 South Road Fair is build upon a rivulet in the middle of the the strip of piney woods that run mostly east to west across the Southern Trade Road. It is an open array town with no wall, though it does employ roving guards, some of whom have been trained by the former South Road Seekers, a retired adventuring group. The forest is about 3 or 4 day travel, by foot, in width, north to south. Town buildings are marked by placards designating their function, because knowledge of reading and writing is scarce. The common language is Ansylin, though many residents, especially newer immigrants, speak Centrin. A small clan of Rheini and another of Spiofthests have, also, recently established residence within town, both lending skills to community development, and both recruited by the South Road Seekers. There exists no prejudice to the function of the community and all peoples are welcome to trade.
Growing up in South Road Fair is, in itself, a pretty good life. The river is cool and clear, containing many fish. The forests is serene and full of wildlife, though not all wildlife is simple game, some denizens are quite dangerous. Though trade had been interrupted between Asylim to the south and Boga City to the north, for about a year, everything seems to be back to normal, and new trade was established with the discovered Maldrog community of Bergbaulager, to the east.
With the departure of the only two active members of the Seekers, it falls to someone new to take up the mantle of solving mysteries and eliminating threats. The itch of mystery always tickles a few young adults, when reaching that age of desired independence.
One evening, at the Boar's Head Tavern where all information transpires, Giodavi, the Mayor, expresses a minor concern and asks for volunteers to look into it.
"
It is an odd thing, but the level of the river seems to be rising. This is not some seasonal fluctuation. The increase has been steady enough to be noticeable. My bet is that something downstream is blocking the flow. My guess is that the obstruction is some distance due to the slowness of the rise
."
Last edited: