Edmond and Manachan leave the room with the chests to check on their missing comrades, to find them slumped asleep, but unharmed, around the corner. Suddenly a bell rings and the room lurches again. Manachan just manages to roll forwards into the room to avoid being sliced in two by moving walls in the doorway. As suddenly as it started to move, the room shudders into a new position.
The corridor with the murals has gone, replaced by a room with two alcoves, one of which bears a lever.
[sblock=OOC]
Ignatius and Mhairi are both in a magical sleep. I was kind an re-united the party before moving the dungeon...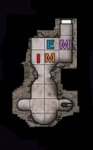 [/sblock]