GM:

NEW INITIATIVE COUNT:
(Sleeping Hobgoblins (S1-S4) still get their "turn" at initiative count 2.)

Sphynx: 21a (Because of readied action.)



-Hobgoblin Chief & Elites-:

21b


-Hobgoblins #3,#4,#5-:

21c

Nimbar: 18
Ordred: 15
Quixt: 12
Hawke: 7



More Hobgoblins (#6,#7,#8)

: 5


Sleeping Hobs:

2

GM:

INTENTIONS:
Sphynx: Magic Missile
Nimbar: Magic Missile
Ordred: Crossbow
Quixt: Coup De Grace
Hawke: Charge

Everyone hears one of the side doors to the southern room burst open! A commanding male voice shouts orders in the Goblin language! The Hobgoblin who speaks is not yet in view, but it is obvious to everyone who he must be: THE HOBGOBLIN CHIEF!
With the chief, there are four, heavily armored females, more than likely his royal guard! Whereas the other Hobgoblins you've fought so far were wearing studded leather, and using wooden shields, these Hobgoblins are all wearing full suits of chainmail, and carrying the larger, steel shields of professional soldiers! They also each carry a heavy crossbow!
Sphynx is able to get line of sight on Female #4, and he lets a
Magic Missile
fly!
GM:
Damage: 9 pts. Female #4 is

Moderately Wounded.
The missiles have their desired effect, but this Hobgoblin is more stout that those previously encountered; the female screams in pain, staggering back a step from so serious a shock to her system; however, she recovers quickly, kneeling to aim her crossbow!
Neither the chief, nor any of his other female guards have line of sight for missile fire, and none of them wish to expose themselves to the burning grease, so they delay their actions. Only Female #4 has line of sight this round. She cannot see Sphynx; the only person she can see is Nimbar, and he has 50% cover from the corner.
| | |
| --- | --- |
| GM: | Attack Roll: (5) = missed. |
The shot she takes is taken too quickly, while she is frustrated and off-kilter. The big bolt is deflected by the corner of the wall, and skips away harmlessly.
Hobgoblins #3 and #4 also shoot their crossbows.
| | |
| --- | --- |
| GM: | Attack Rolls: (12,18) = Both missed. |
The Hobgoblin guards, both of whom are concentrating their fire on Nimbar, prove unable to get past his magical protections; the bolts skip harmlessly off of Nimbar's mystical shielding.
Nimbar, whose spell is unfettered by things so mundane as making it around corners, flies straight and true, slamming into the female Hobgoblin!
GM:
Damage: 8 pts. Female #4 has taken 17 pts. of damage; Female #4 is

GRAVELY WOUNDED.
The female screams again, apparently VERY injured from the multiple spells, but somehow, she is still clinging to life, despite her predicament!
Kobold #2 said:

Kobold #2 (In Draconic):

"He can't understand you. Speak in Goblin. Only the Gnolls and the Cave Mother can speak our language."
Remembering something one of the Kobolds had said earlier, Nimbar shouts to his friends in the
Draconic
language:
Nimbar shouts, in Draconic:
"That's 2 out of 4 missile spells! But I have a few other options after that."
| | |
| --- | --- |
| GM: | Ordred crossbow attack: (13) = Missed. |
Trying to follow up on Sphynx and Nimbar's effectiveness, Ordred fires a bolt at Female #4; but alas, the arrow flies high, missing her. Seeing that he could have a better field of view from the stairwell, Ordred moves forward slightly, directly in front of Nimbar.
Quixt takes a step forward (free, 1-square adjustment) and dispatches another Hobgoblin!
GM:

Coup De Grace:
Automatic Hit
Automatic Crit
Damage: (2d6+6) + 1d6 Sneak Attack = 16 pts.
Hobgoblin DIES. [-10]
Saving Throw is not necessary.

Using his short sword, Quixt makes short work of another sleeping Hobgoblin!
Knowing that there are enemies just out of sight in the southern roon, Hawke charges down the hallway, leaping over the burning grease, in a blind charge, attacking the first Hobgoblin he sees as he lands, which happens to be Female #2.
GM:

Charging distance: 45 ft.
Balance check x2 (DC 5) for running through two squares of stairs.
(Stairs are wide, long, and flat, not steep; thus, Balance DC is low.)
Check: (6,10) = Made it.
Jumping over the flaming grease requires a 15-ft forward jump. (DC 15)
Check: (22) = Made it.
Although Hawke lands next to the Chief, he cannot twist his body enough to attack him. He MUST attack the Hobgoblin in his forward front, which is Female #2.
Charge w/ Pounce Ability: 3 attacks at +11 each.
Hawke calls 5 points Power Attack.
Attack Rolls: (29,26,14) = (PA: 24,21,9) = Hit, Hit, Miss.
Damage: (12,9) = 21 pts.
Female #2 is down and dying. [-2]
Since Hawke did not actually RUN through square G15 (he was in mid-air), and since G15 clips the corner, the Hobgoblin Chief will have a 50% miss chance on his attack of opportunity: Attack roll (11) = Missed anyway.

As Hawke is in mid-air, the Hobgoblin Chief takes a swipe at him with his longsword, but the attack is not well-aimed, and it misses badly.
As Hawke lands, he calls upon his raw, brute power, slamming both hammers into his opponent. The big hammer crushes the female's left shoulder, and the smaller hammer slams into her ear, and cracks her skull! The elite guard crumples in a heap at Hawke's feet!
Just as this is happening, 3 more Hobgoblin guards arrive, although they are unable to attack this round, because they ran to get here!
GM:

Sleeping Hobs finish their second round of sleep.
Grease burns for round 3 of 3. (It will be completely out at the start of next round.)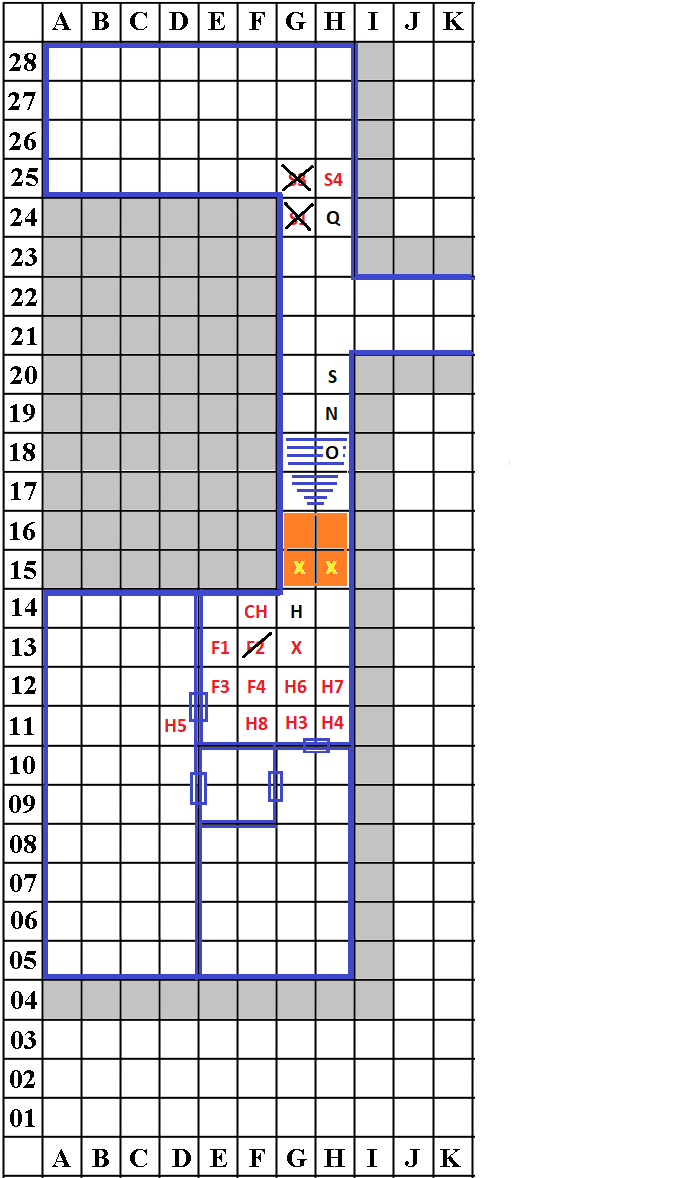 EVERYONE: What do you do? (State intentions.)
Last edited: