Honestly, the big draw for Greyhawk for me is the fact that it isn't very well fleshed out. Even with all the material out there for Greyhawk, it's still very, very largely a blank slate. I mean, folks are talking about how dragonborn wouldn't fit into the setting. Why not? There are so many empty areas that you could plunk them down into that would be so easy. Pomarj works, for one. Amedio Jungle for another. Arrivals from other lands works. Or, heck, arrivals from other dimensions works as well - it's not like that's a new thing for Greyhawk. Good grief, crashed spaceship.
Adding in new races/elements to Greyhawk is just so easy. There's so much of it that no one knows anything about.
To me, that's the primary difference between GH and FR. FR is DETAILED. It is, without any hyperbole, probably the most described fantasy setting there is. Good grief, there was an old Greenwood article on the WotC site detailing the SHAPE of WINDOWS in some town in FR. That's how detailed the setting is.
GH is a much blanker slate. Even post GH Wars and whatnot, it's still largely a blank slate. I mean, here's my cut up map for Hold of the Sea Princes from the fantastic Anny M maps: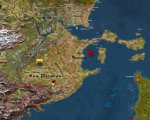 That's a HUGE area. Each of those hexes is 12 miles across. Look at the area labeled Scarlet Brotherhood. There are only 4 named settlements. In an area about 200 MILES in diameter. I live on an island in Japan that's about this size and has thousands of towns, villages and cities. A population of nearly 13 million people. That's a HUGE amount of empty canvas for an aspiring DM.
To me, it's not the "humanocentric" or "sword and sorcery" or whatever you like to call it. That's dependent on a lot of things, and, frankly can be done in a lot of other settings too. I mean, Dragonlance is Humanocentric. That's hardly unique. What is unique about GH is the fact that anyone who uses GH makes a very unique campaign because there is so little that is filled in for you. It's great.
Last edited: