Looks Like Modiphius will be discussing the new Star Trek Adventures RPG with Rick Sternbach. Sternbach helped define the look of the 24th century that would be used throughout
The Next Generation
and the series that followed it.
During his time in the
Star Trek
art department at Paramount, Sternbach was also responsible for a number of starship designs including the Cardassian
Galor class starships
, the Klingon
Vor'cha
and
Negh'Var class starships
and Federation starships such as the Prometheus class, the Dauntless, the Nova class and the
USS Voyager
itself.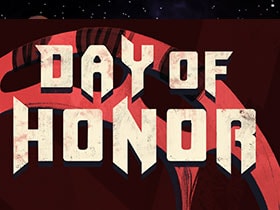 On July 11th, it will be a Day of Honor. Star Trek Online is teaming with Modiphius, Streampunks, and Eaglemoss to bring you a day of livestreamed interviews and panels.
www.arcgames.com
Modiphius – Featuring Rick Sternbach
12:15 - 1:15
Join Modiphius's
Star Trek Adventures
development team and writers and special guest Rick Sternbach for an hour-long discussion on Rick's experiences with Star Trek, and how we're supporting Clear Skies and the Streampunks group with their new shows, future STA products, and any questions fans have regarding the game.